Apple Fitness+ instructors promote video workouts before launch
Instructors for Apple's soon-to-launch Fitness subscription have prompted the service on Instagram, with posts to their personal accounts showing what they will look like while recording workouts for subscribers.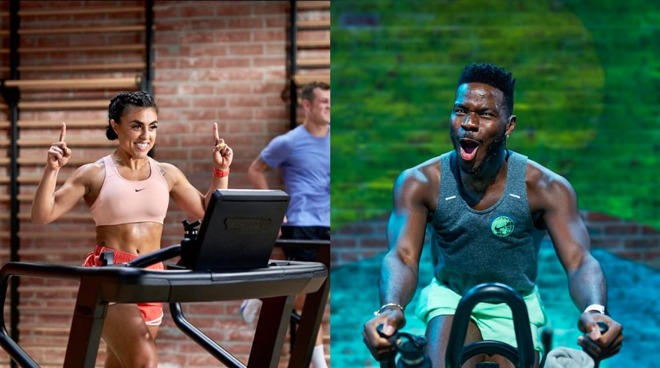 Sam Sanchez and Tyrell Desean, two of the instructors for Apple Fitness+.
Slated to arrive before the end of 2020,
Apple Fitness
will offer guided workouts fronted by a roster of instructors. Ahead of the launch of the service, those same instructors are putting the word out about the service, suggesting its launch could happen very soon.
Posts to accounts managed by Apple's fitness coaches on Instagram,
spotted
by
9to5Mac
, show them seemingly mid-recording of a video session, which will be streamed to users. The posts, published over the last few days, also include references to the
@AppleFitnessPlus
Instagram account, as well as the
#CloseYourRings
hashtag, well-known to be in reference to the Apple Watch.
While many of the posts largely follow the pattern of the instructors expressing they can't wait to see their followers try out the service, some offer more of an introduction of the instructor to a potential new audience.
View this post on Instagram
A post shared by Amir Ekbatani (@amiritemusic)
Josh Crosby's
post
mentions his 15 years of coaching indoor rowing and "coming from 3 generations of rowers." Amir Ekbatani
brings up
losing his leg in 2012, how fitness "had always been my sanctuary," and how his life "has never been filled with more purpose" after realizing he could inspire others into working out harder.
Unveiled
during the "Time Flies" event in September, Apple Fitness+ is a multi-platform workout app that will be available on iPhones, iPads, and the
Apple TV
. The service will combine data from a user's linked
Apple Watch
with the on-screen workout to monitor their progress, complete with graphics showing their progress on top of the video workout.
New studio workouts will be offered on a weekly basis, covering a wide variety of workout types such as HIIT, Yoga, and Strength Training.
When it launches, it will cost $9.99 per month or $79.99 per year, with a 30-day free trial available. Buyers of a new Apple Watch will get three months of free access, with the app requiring an
Apple Watch Series 3
or later to participate. Offered with Family Sharing support, it is also available as part of the
Apple One
subscription.