Here are 60 of our favorite iPhone 12 and iPhone 12 Pro cases for every taste
Posted:
in iPhone
edited December 2020
AppleInsider has spent a few weeks now gathering up our favorite cases for Apple's new
iPhone 12
and iPhone 12 Pro. Here are some of the best options out there and what we thought of them.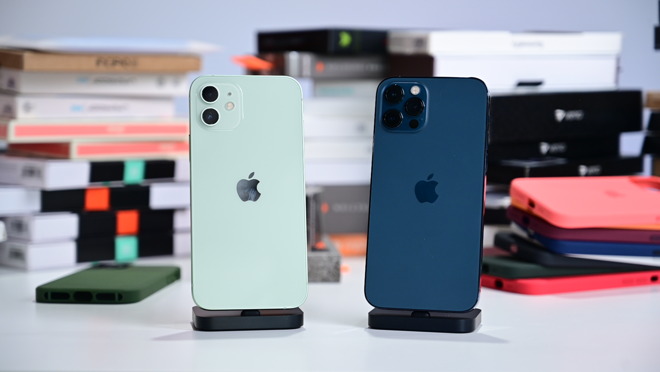 A pile of cases for the iPhone 12 and iPhone 12 Pro
As a reminder, the iPhone 12 and
iPhone 12 Pro
are the same size, meaning cases can work interchangeably between the two devices.
Apple
Silicone cases
We've already
taken a close look at Apple's own first-party cases
for iPhone 12 and iPhone 12 Pro. They are very similar to their previous designs and covers all sides of the phone, including the bottom.
The silicone material has a nice soft touch to the outside and provides ample grip for your new phone. The buttons are easy to press, and there are many colors to choose from.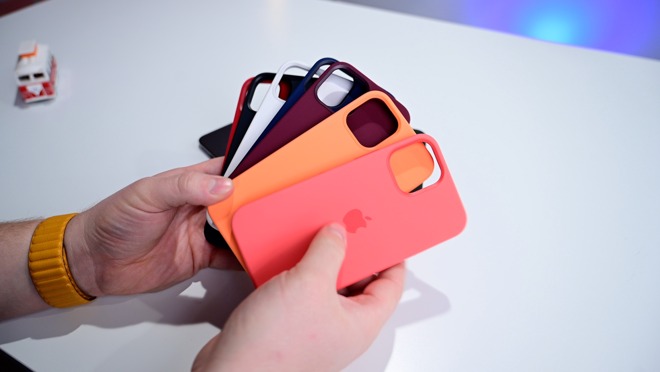 Apple's silicone cases for iPhone 12 and iPhone 12 Pro
Besides a few select Otterbox models, Apple cases are the only ones that have MagSafe integrated into them. If you intend to use MagSafe, this will be a key differentiating factor when choosing a case. If a case does
not
have MagSafe built into the case, the thickness of the case will weaken the magnets' pull, and it could cause MagSafe accessories to fail to connect.
Apple's Silicon cases with MagSafe for the iPhone 12
start at $49
and can be ordered from Amazon.
Moment
Thin case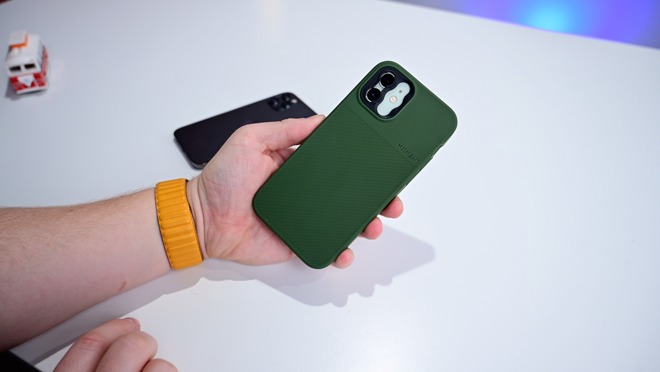 Moment's Thin case for iPhone 12 and iPhone 12 Pro
Moment's initial line of iPhone 12 and iPhone 12 Pro cases don't have MagSafe support, but the accessory maker has already opened preorders for its updated model that does.
In the meantime, Moment's Thin case is still a solid choice, and it gives us an idea of what the MagSafe version will be when it begins shipping. It comes in several different colors, provides a good grip, and is made of biodegradable materials.
These cases are thin enough to continue using MagSafe, but the magnetic attraction is less than ideal. The charger is fine, but mounts will be a no-go.
Moment's Thin cases have a drop-in insert around the camera module that allows for full support of any of Moment's M-series lenses. Quickly add a fisheye, wide-angle, additional telelens, or others to your iPhone for incredible photos and video.
Casely Bold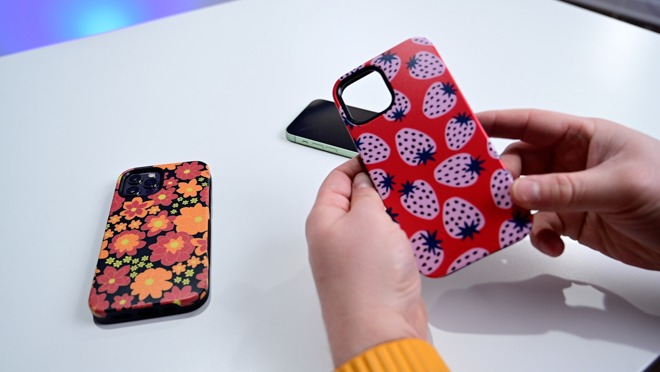 Casely Bold
We love the designs of the new Casely Bold line. We see, as evidenced from this list alone, many cases that are black, blue, or grey. Not too many come in bright, vivid colors and styles. Casely does.
We checked out two patterns for our iPhone 12 and iPhone 12 Pro. One with strawberries and the other with butterflies. The colors pop, and the designs are fun and delightful. They are also protective enough to guard against most situations you'd encounter.
Casely Bold case options for the iPhone 12
start at $35
, with coupon code
GIFT25
knocking 25% off at press time.
Totallee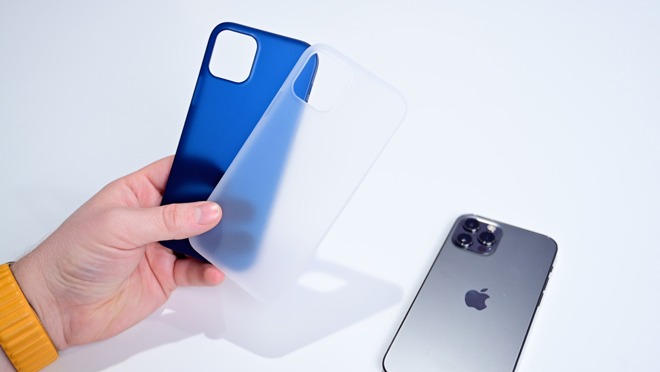 Totallee's ultra-thin case
Totallee has, for some time, been one of the go-to's for minimalist cases. Totallee had cases in customer's hands
before
the new iPhones even launched, offering a guaranteed fit or they'd replace them.
We had a frosted color and a blue one to check out, and they fit like a glove. They snap on perfectly and are much easier to take off, thanks to the new flat sides rather than the curved edges from before.
Due to their paper-thin nature, they will fully support MagSafe without any issue. The MagSafe charger easily snaps onto the back and has what appears a full-strength hold.
Apple's iPhones always have beautiful designs, and cases such as this offer enough to guard against scratches and light drops while still letting the iPhone shine.
Totallee cases for the iPhone 12 and 12 Pro
sell for $35 on Amazon
.
Alto
Metro 360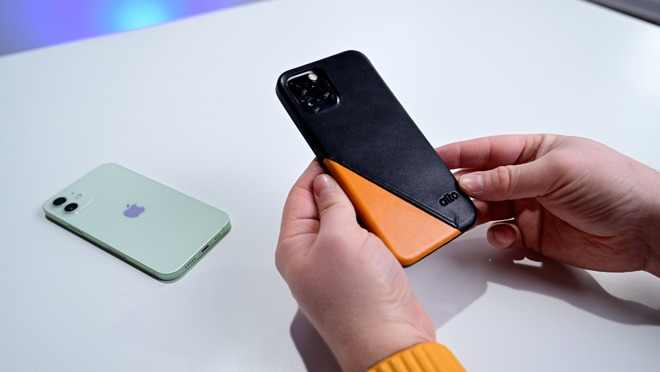 Alto Metro 360 leather case
Alto's Metro 360 is a new revision on its popular design. It now fully covers the bottom of the phone, which we don't love but many prefer. Hence the name, as it has 360-degrees of protection.
These cases are made of gorgeous aniline-dyed Italian leather, which has a soft, supple feel and protects your phone from drops up to five feet.
Alto also goes out on a limb with its color options, which are much more vibrant than your typical brown and black hues. The colors pop and look great. If you like the look and feel of the Metro 360, Alto also offers one with a rear-facing card pocket and one with a shoulder strap.
The Alto Metro leather case can be
ordered on Amazon for $59
. At press time, the case manufacturer is offering a $3 clippable coupon on the designer case.
Mous
Extreme Protection Limitless 3.0 speckled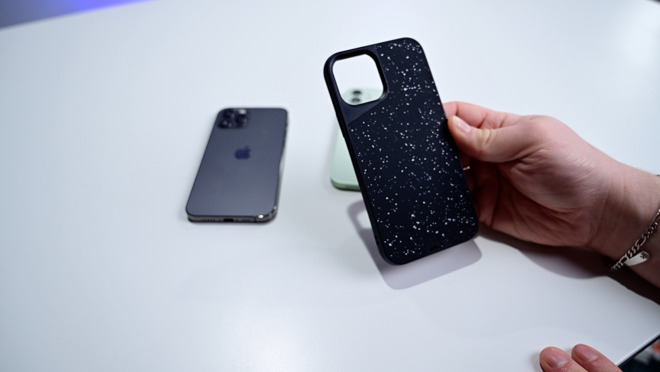 Mous Limitless 3.0 case
Mous has been using magnets long before MagSafe for iPhone was a thing. Rather than being called MagSafe, Mous referred to it as its Limitless system, which is now on version 3.0. It allowed a vast array of different accessories to be mounted to the back of your iPhone, including, but not limited to, folios, wallets, and mounts.
The new cases for iPhone 12 still support the Limitless 3.0 accessories, and AutoAlign+ helps keep them in place. All done with magnets, similar to MagSafe.
Our case had a very cool speckled material on the back, but there are leather, carbon fiber, and wood choices as well. Even though the case is a bit thicker, it still works with Qi wireless charging.
One last neat trick is that inside the case is a storage tray for a SIM card removal tool and two backup SIM cards. This makes it an excellent case for travelers who do have to swap SIM cards from time to time.
The Mous Extreme Protection Limitless 3.0 in the fun Speckled Black Leather style
sells for $49.99 on Amazon
.
Nomad
Rugged Case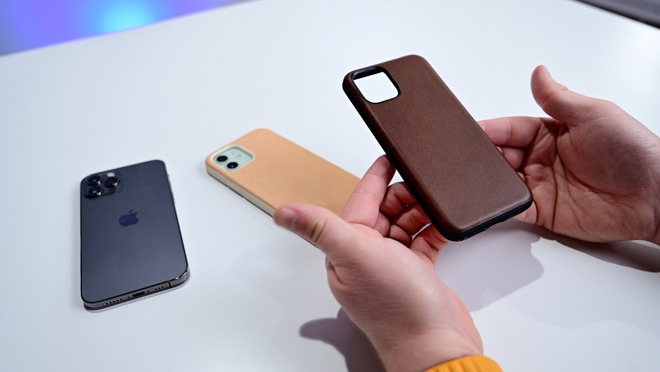 Nomad's brown leather with natural leather in the background
Nomad didn't do much different this year with its case lineup. They remain as handsome and as durable as ever -- if a bit uninspired -- with their reused designs. Nomad cases have always been incredibly popular and only look better over time as the quality Horween leather ages and develops a rich patina unique to you.
What has changed this year is a new color option. Alongside black and brown, the Rugged case has a new Natural colorway that is very light. Nomad has used this color for its watch straps in the past, and now it is available on iPhone. This one changes from its first appearance, darkening with use to an aesthetically pleasing light brown.
Nomad's Rugged case is too thick for MagSafe, but it does offer six feet of drop protection.
The Rugged Case for the iPhone 12 is
backordered at Nomad
, but
third-party sellers
on Amazon have units in stock.
Lander
Vise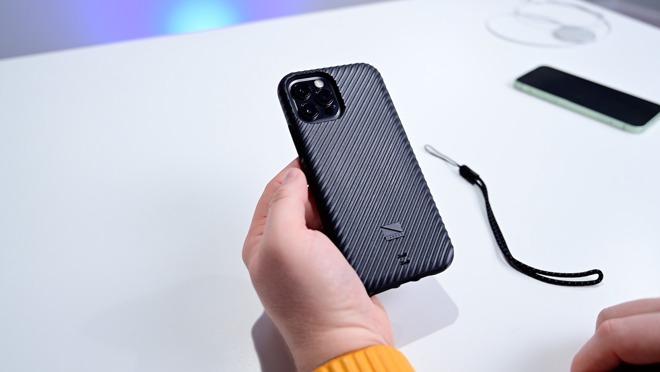 Lander Vise case for iPhone 12 and iPhone 12 Pro
The Lander Vise case is an excellent outdoors-y case that strikes a perfect balance between being a socially responsible case and a protective case. It has a two-material makeup with a softer internal portion for added drop protection and a harder outer shell for rigidity.
Together, these layers provide ten feet of drop protection, which is certainly above average. To help you never drop your phone in the first place, the case comes with a lanyard that can be connected on the back. The lanyard has reflective fibers in it as well, which doubles as low-light safety gear or can be used to find your phone in the dark.
As for the environment, the outer shell is recyclable, and the inner layer is compostable when the case is no longer needed. The lanyard portion is crafted from recycled ocean plastics.
We often see trade-offs with biodegradable cases regarding protection and features, but Lander has some of the best drop resistance, added lanyard, and still is environmentally friendly. It's a case you can feel good about using that will also put your mind at ease.
Selling
for $39.99
, the Lander Vise is available on Amazon.com.
Otterbox
Symmetry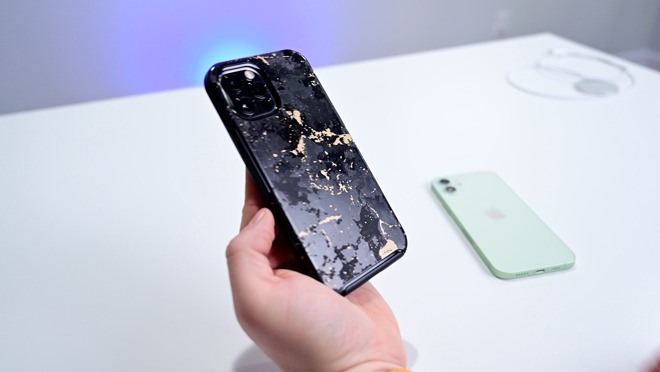 Otterbox Drop+ Symmetry case
Otterbox has several MagSafe-enabled cases out, but the Symmetry model we tested was not one of them. It is the typical Symmetry case that Otterbox has been peddling for years. It has a great marble-like design that incorporates many colors and textures for an amazing look.
Symmetry cases are likely OtterBox's most popular as they are slim while still being very protective and come in almost any design and pattern you could hope for. There are branded ones, as well as those with textures or patterns. They are enjoyable and very high on our list of cases.
The Symmetry Series case for Apple's iPhone 12 and iPhone 12 Pro sells for $49.95
on Amazon
. Shoppers can also save 10% on the case when ordering from
OtterBox directly
with coupon code
OTTER10
.
LifeProof
We've always loved the LifeProof brand. Its cases are absolutely some of the most durable around, but the brand has always had the other foot in lifestyle and environmental efforts. We see that, of course, with its two cases for iPhone 12 and iPhone 12 Pro.
Next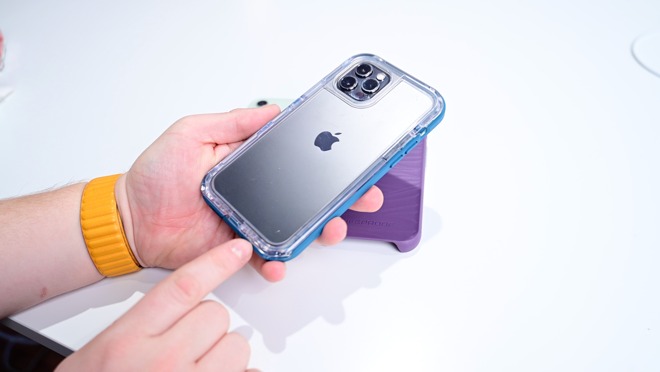 LifeProof Next case
LifeProof Next is the ultimate in protection and likely the most protective of the cases we've looked at here. Not from a pure drop-test standard as LifeProof is still promising just two meters of protection (still plenty) but is more about how else this can protect your phone.
It has a two-part design that snaps around your phone, protects the back and edges, and elevates your front display from touching any surface. It is sealed to prevent the ingress of dust as well as protecting from drops. No other case on our list is guaranteed to keep dust out as well.
Not only is it protective, but it is made from 55 percent recycled plastic.
The LifeProof Next case for the iPhone 12 is
discounted at Verizon Wireless
at press time.
Wake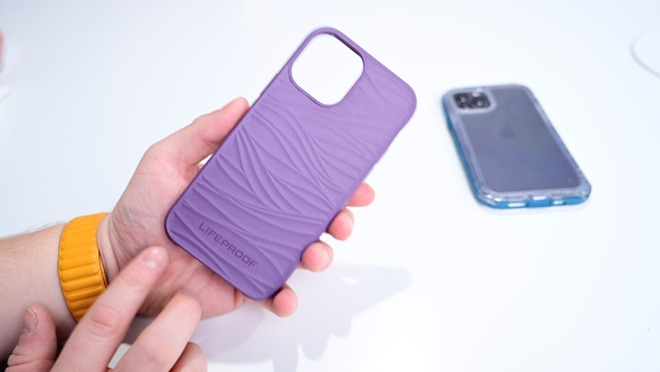 LifeProof Wake case
Wake is just as drop-proof as the Next case but doesn't protect against dust. It snaps onto the back of your phone like any other shell case.
Rather than 55 percent recycled plastic, it is made of 80 percent recycled plastic to be even more environmentally friendly. Wake has a really neat wave-like pattern on the back of the case, which creates a cool texture but limits its MagSafe abilities.
The LifeProof Wake can also be purchased at a discount
at Verizon Wireless
for a limited time.
Twelve South
BookBook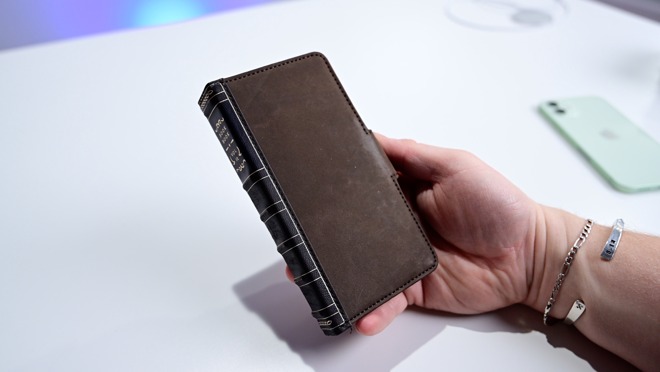 Twelve South BookBook
Twelve South's BookBook is a legend in the case world, and the Apple accessory maker is at it again with the new iPhone 12 iteration. The team at Twelve South pride themselves on coming up with a unique spine design for every volume of its BookBook case, which at this point, must be getting more difficult.
The BookBook, if you aren't aware, is a leather case designed to look very much like a leather-bound book. Inside, there are card slots and an ID window. Your phone is housed in a shell case with a leather back. Integrated into the BookBook shell are magnets to attach to the cover.
That allows you to take your phone out of the cover when you don't need it and add it when you do. It also can be folded back to act as a stand when you want to watch a video.
Twelve South's popular BookBook is
available for the iPhone 12 and iPhone 12 Pro
for $69.99.
ElementCase
Special Ops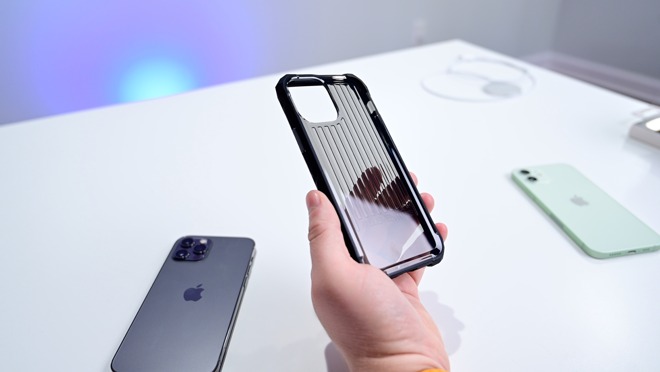 Element Case Special Ops
The Spec Ops case is one of the newest options from Element Case. This case has a clear, though slightly darkened, back panel with several grooves and the Element Case logo. The Clearshell Plating used on the back is self-repairing, which reduces any scratches that would appear on a clear case.
Element Case says it exceeds military top test standards and can withstand drops from ten feet. The Suregrip sides are ergonomically designed for a comfortable and secure grip and have a raised edge to keep your display from getting hurt.
The Special Ops from Element
sells for $38.99
at Amazon.com.
Mujjo
From Mujjo this year, we have an updated version of its full leather case. These cases are most similar to Apple's and have a similarly high level of precision and quality. The outer leather is very soft, with the Mujjo logo stamped on the bottom. Inside is a microfiber lining.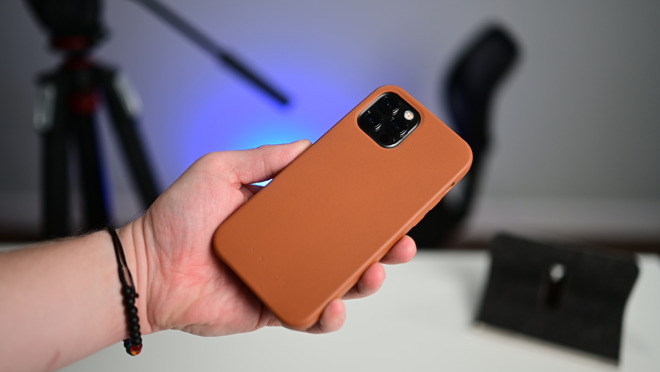 Mujjo brown full leather case
The bottom of the case is open, which is more akin to Apple's previous design than this year's full coverage. We like having the open bottom on the case though it is admittedly not as protective. We think it makes the phone easier to hold and to dock.
We've been big fans of the blue Mujjo cases, but we decided to check out the brown one this year.
Grab any of Mujjo's cases
on Amazon
for $44.95.
Moshi
Moshi makes several great cases as well as a
line of screen protectors
. Aside from having great modern looks, many of Moshi's cases also work with its Snapto mounting system. This allows magnets to be fit into the back of the case to work with various accessories, similar to Apple's MagSafe. The benefit of it being built in is if you already have some of Moshi's Snapto accessories or don't want to wait for MagSafe versions to arrive.
Even if you don't use the Snapto system, these are fantastic cases to choose from.
iGlaze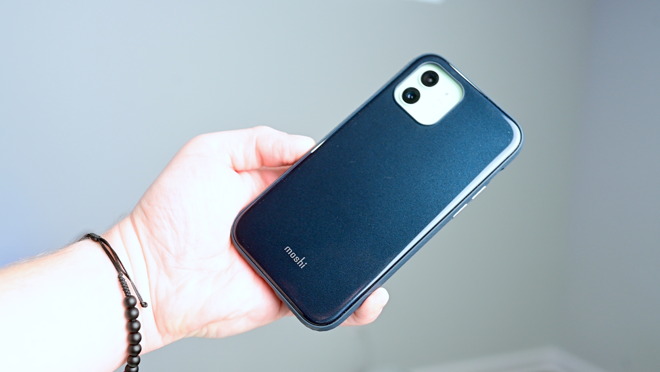 Moshi iGlaze case
The first case from Moshi is the iGlaze. This case is slim and has an excellent looking metallic material on the back. It reflects light just a bit to create a cool effect. The sides have a geometric pattern to them that doubles as added grip.
The buttons are chromed, which makes them easy to see. Moshi created them as separate pieces, rather than the same material as the edge, making them very easy to press. They feel very tactile. This case supports Moshi's Snapto accessories.
Pick up the Moshi iGlaze
on Amazon
for $34.95.
Altra
The Altra case has one of our favorite patterns on the back. It has a fabric back that is then covered in a grippy silicone material with a triangular geometric pattern. The edges and buttons are the same as on the iGlaze with a similar pattern and chromed buttons.
Moshi Altra case
Aside from the unique back, this case also has a detachable wrist strap. The strap is a nice woven lanyard that is comfortable to have around your wrist. It connects via a stainless steel notch that slides into place. The whole strap can come off, or you can remove just the strap and leave the anchor on the back of the case to use with a different strap. The custom circular carabiner is a nice touch, as well.
This case is also one of the ones that has a NanoShield antibacterial coating.
Pick up the Moshi Altra
on Amazon
for $44.95.
Vitros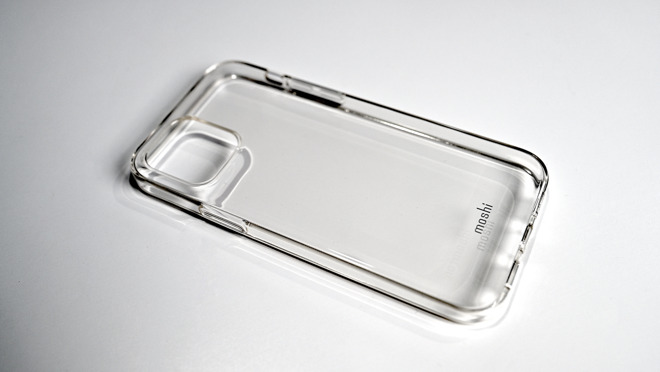 Moshi Vitros case
Vitros is Moshi's take on the clear case. It is a slightly flexible shell case that encompasses your phone. There is a slight Moshi logo at the bottom.
It is a bit hard to see, but there is a faint pattern inside the case, almost like a nano-etched array of dots. It is a bit different than other clear cases and a design choice we prefer.
Pick up the Moshi Vitros
on Amazon
for $24.95.
Casetify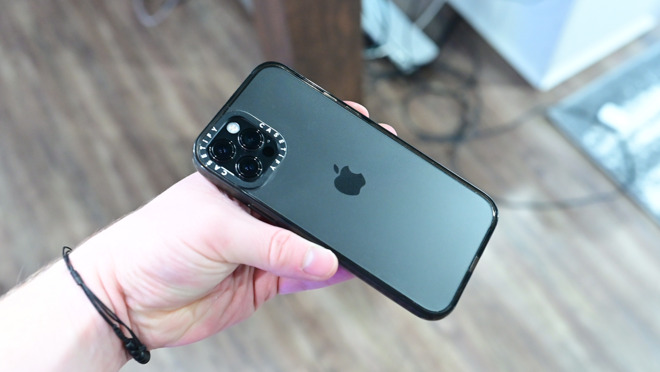 Casetify's flagship case
Back again is Casetify. Casetify has a ton of unique options and has in the past done countless collaborations between different brands such as Pokemon, Coca-Cola, USPS, and others. We checked out their flagship case-- a clear case with a black ring around the camera module. The sides are also black, and there is a lot of impact protection baked into the case.
Casetify says these can withstand drops from 6.6 feet and have DEFNSIFY antimicrobial properties. The brand touts MagSafe charging support as well.
One of the aspects that sets Casetify apart is that these cases can be customized. There are various back panel colors users can choose between and initials or a monogram that can be added to the case.
Grip2U
Boost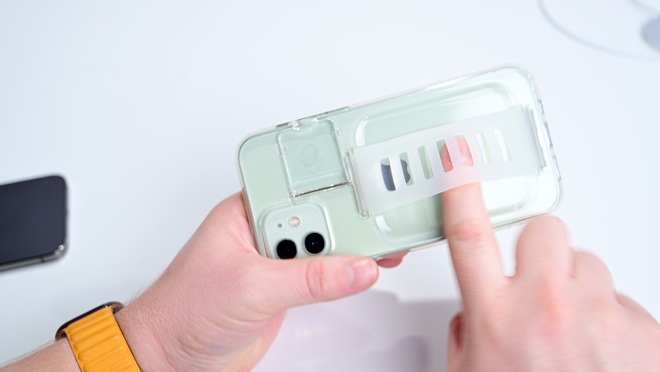 Grip2U Boost has a grip and a kickstand
Grip2U has one primary feature to set it apart from every other -- an integrated silicone grip on the back of the case. It is hard to find a unique element to tout in phone cases these days, but Grip2U has this one in the bag.
This ladder-looking piece of silicone on the back lets you slide your fingers underneath to have a better grip on your phone to prevent it from ever tumbling to the ground. That grip is removable and replaceable should anything happen to it, and you can also swap it out for any color or design of your choice.
The Boost model of the Grip2U series also has an integrated kickstand, perfect for kicking back and catching up on a movie or TV series. When not in use, it folds completely flat and stays out of the way.
Grip2u's Boost case for the iPhone 12 and 12 Pro sells for $29.99 at
PreventTheDrop.com
. New shoppers can save 10% with promo code
WELCOME10
.
Speck
Presidio 2 Armor Cloud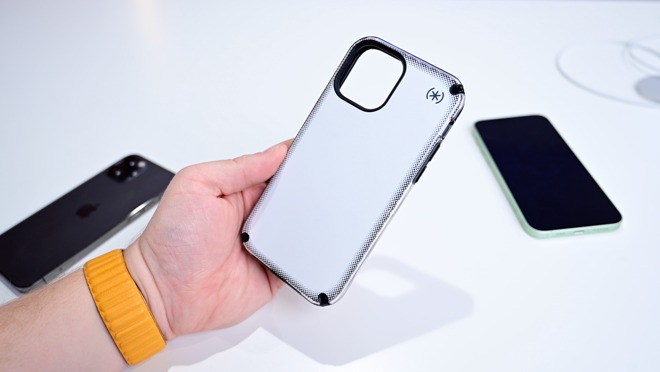 Speck Presidio Armor Cloud
Speck's cases are iconic, and we see them all the time in movies and TV shows. Typically the Presidio Grip. They have a specific look that is easy to identify, and their new Presidio 2 Armor Cloud may be our favorite design yet.
This very lightweight case has a cool effect around the edges where you can see the air cushions on the inside through transparent portions of the case, but the whole back of the case is a clean, bright white.
This case doesn't just look cool, it also sports an incredible 16-foot drop resistance rating. That is easily one of the highest we've seen, yet the case remains thin and light. This case is also coated in MicroBan, another antimicrobial coating to help keep your phone case germ-free.
Pick up a Presidio2 Armor Cloud case for $59.95
at Amazon
. Or save 15% with promo code
THANKYOU15
at
Speck directly
.
BodyGuardz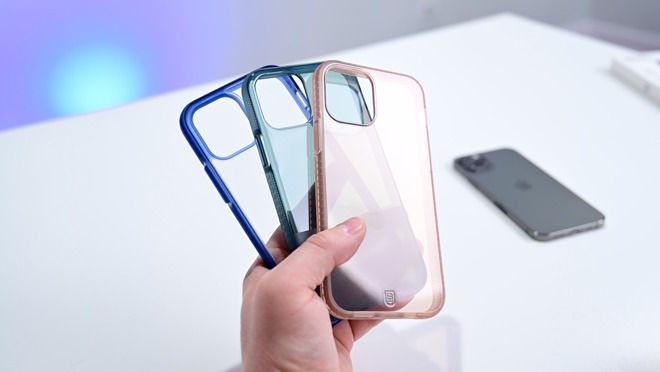 BodyGuardz Stack, Avenue, and Split Mauve cases (from left to right)
Split Mauve
This simple case has a flexible body and a two-tone design that looks great. It is a light mauve color but is still transparent, allowing you to see your phone on the inside.
The BodyGuardz Split case
runs $24.99
.
Avenue
The BodyGuardz Avenue case is a bit more protective with a three-layer design. It can withstand impacts up to ten feet, which is far above your average drop. It has a transparent back, too, which lets that Apple logo be seen, in case anyone doubted which phone you had.
BodyGuardz' Avenue case with TriCore protection sells for $44.95
direct from BodyGuardz
.
Stack
Finally, we have the BodyGuardz stack case, which touts its own UltraFresh bacteria-fighting abilities while also offering reliable drop protection.
The Stack case with Unequal protection for Apple's iPhone 12
costs $39.95 with free shipping
at BodyGuardz.com.
UAG
Outback Series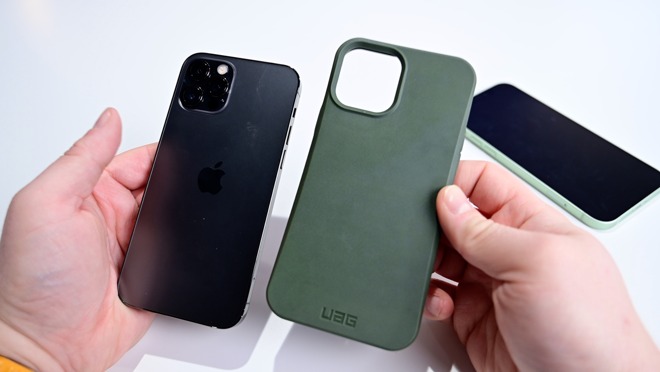 UAG Outback Series case
This is an exceptional feather-light case for iPhone 12 and 12 Pro. A large source of waste is unneeded phone cases that are either dirty or no longer fit the current models. Rather than just throwing away another case, this one is compostable and will fully break down, creating no additional waste.
It comes in a recycled paper sleeve, and steel feels great while on your phone.
UAG's Outback biodegradable case sells for $39.95 in the
company's Amazon store
.
Kate Spade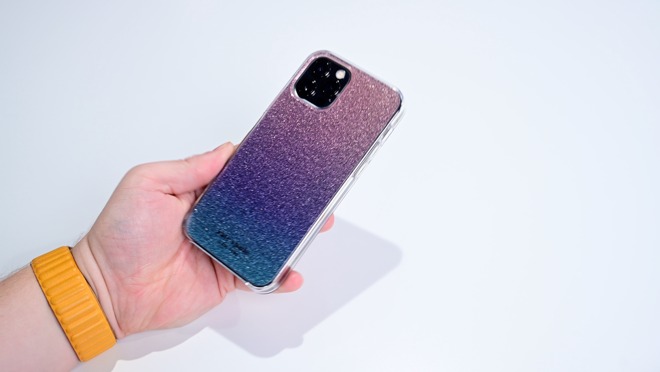 Kate Spade's fashionable iPhone 12 and iPhone 12 Pro case
If you want something a bit more colorful and eye-catching, Kate Spade is here for you.
The case we checked out has a glitter-infused back with a gradient color shift from blue to pink across the back of your phone. The sides are also still clear to let your phone color come through. It is clear Kate Spade design and has no others similar on our list in terms of fashion.
Kate Spade's line of iPhone 12 cases come in a variety of styles, with many available on Amazon.com
for $39.99
.
Coach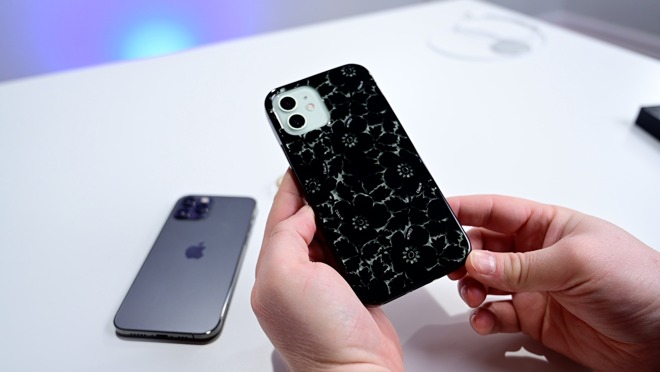 Coach flower case
Coach is another stylish choice-- we looked at two designs and liked both of them very much. The metallic stripes look great, especially when hit by a bit of light. And the flowers let just a bit of your phone color come through for some added personalization.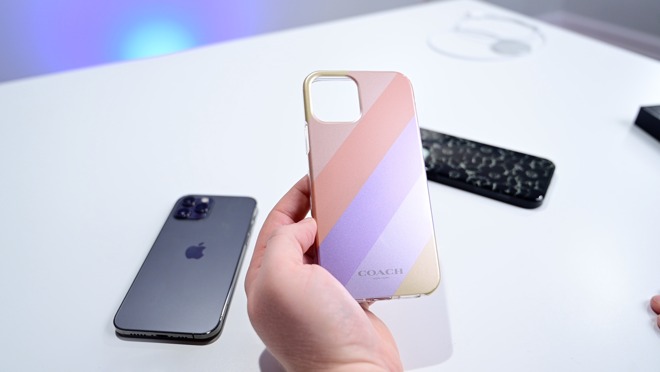 Striped Coach case
Both cases are ultra-light and have an excellent grip on the sides of the phone.
Coach cases for the iPhone 12 are currently
on sale at Verizon Wireless
. Best Buy also
stocks Coach styles
, which retail for $49.99.
Incipio
Slim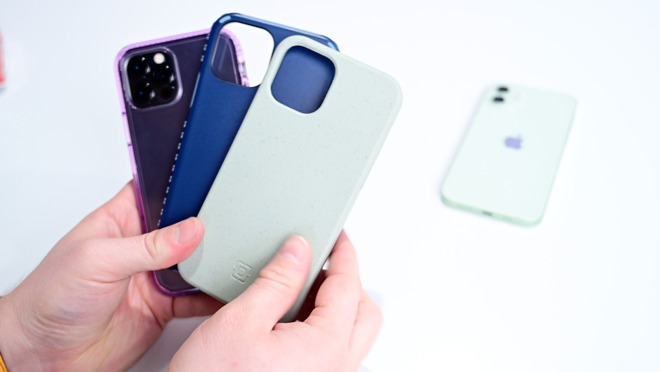 Incipio Slim, Grip, and Organicore cases for iPhone 12 (from left to right)
Incipio's slim case is on a whole different level than most slim cases. While the case itself fits tight, it can withstand drops from an impressive 14 feet.
It comes in a few shades and has an antimicrobial property that helps keep it clean. Incipio also backs it up with a lifetime warranty.
The Incipio Slim comes is
available in three shades
on Amazon for $39.99.
Organicore
***Cool feeling, compostable, 8 feet drop protection
We got an early look at Inicipio's Organicore cases at CES last year when they debuted, and they continue to be one of our favorite compostable offerings. The case has a unique feel that we love. It also has a pebbled texture that makes it look unique and "earthy" if we can go that far.
Despite its compostable nature, it can withstand drops from as much as eight feet.
Incipio's Organicore case for the iPhone 12 and iPhone 12 Pro can be
ordered from the manufacturer directly
for $39.99.
Grip
Grip, like the Incipio Slim, can withstand drops from 14 feet. It is also antimicrobial. What makes it different is the added grip down the sides. The idea is that with the added silicone grips, you will be less likely to drop the phone in the first place.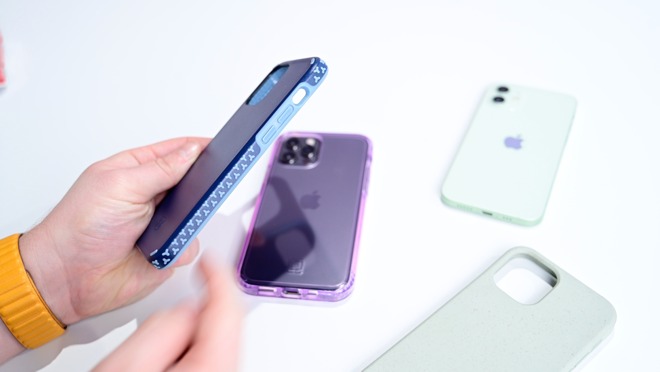 Incipio Grip case
The grippy pattern also gives it a great look that is mildly different from the all-clear Slim cases above.
The Incipio Grip Case comes in a variety of fun hues,
selling for $39.99 on Amazon
.
Survivor
Endurance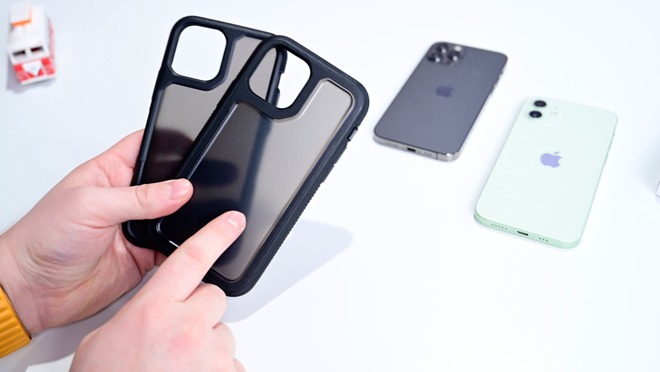 The Survivor Endurance (left) and Survivor Extreme (right) cases
Survivor's Endurance case is a fantastic everyday option. The back of the case is frosted, which does allow just a bit of your phone's color to come through, especially on the iPhone 12, which is more vivid than the iPhone 12 Pro line. A black border surrounds the rest of the phone.
This is a very durable case, able to withstand drops from 14 feet in the air. Like many others on our list, it comes with an antimicrobial coating to fend off germs and bacteria.
Pick up a Survivor Endurance case in
your choice of five shades
at Amazon for $39.99.
Extreme
If you like the Endurance case's look but need more drop protection, check out the Survivor Extreme. This case has a very similar design as the Endurance but can withstand drops from 16 feet. Because of the added durability, the case is just slightly bulkier, specifically around the edges.
The Survivor Extreme case for the iPhone 12 and 12 Pro
sells for $49.99
on Amazon.
Sonix
Clear Coat Series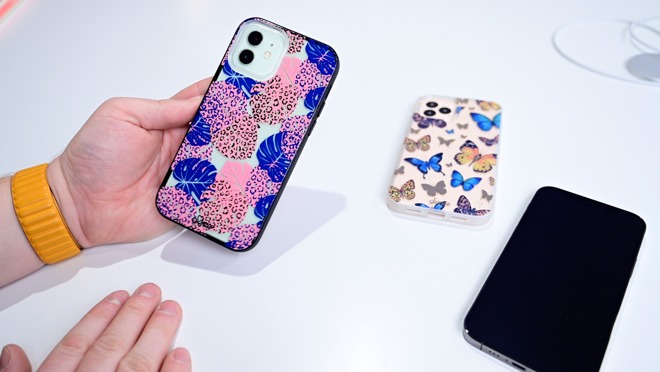 Sonix Clear Coat case
We've always been suckers for cases such as the Sonic Clear Coat series. It has a printed back pattern that is atop a transparent shell. It lets the phone color and design come through while overlaying the pattern for a very cool 3D effect, making it more unique to you since it is a combination of your phone color and the design together.
Additionally, these Sonix cases have an antimicrobial coating to prevent the buildup of germs. A reminder as well, COViD-19 is a virus and won't be killed off by antibacterial coatings, so don't count on a phone case keeping you safe from that specifically. But as a rule of thumb, it is a benefit to have.
The Sonix Clear Antimicrobial Case for Apple's iPhone 12 and iPhone 12 Pro
costs $35 at Amazon
.
Vena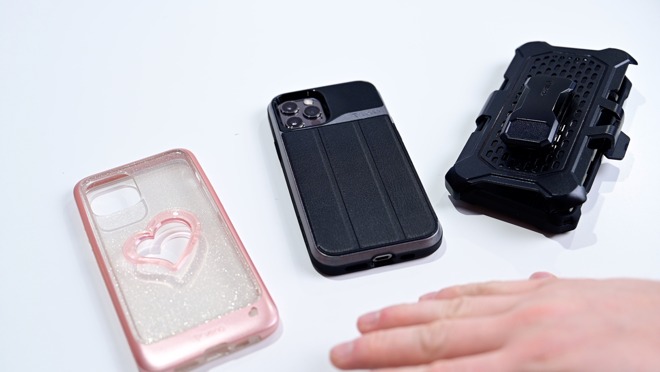 Vena VLove, VCommute, and VArmor cases (from left to right)
VCommute
The initial Vena case we tested was the VCommute. This slim case has an integrated wallet that also doubles as a kickstand. The back opens up and rolls into itself to become a kickstand, which is great for watching videos.
Pick up a vCommute iPhone 12 wallet case for $49.99
directly from Vena
.
VLove
The Vena VLove case has a more glittery appearance. It has a good sparkle and a clear back. In the center of the transparent back is an adorable pink heart that is hollow, allowing the Apple logo to come through. It is a great effect and an enjoyable case with ample protection.
Priced at $15.99, the Vena vLove glitter clear case is
available at Amazon
in your choice of purple or rose gold.
VArmor
The most durable of the Vena lineup we tested was the VArmor case. This case is extra-strong and fits into a clip for added convenience and protection. When placed in the holster and belt clip, it shields the face of the phone. When it is clipped, it won't go anywhere, but if it should somehow come free, the front of the phone is still fully covered.
The vArmor iPhone 12 holster case
sells for $34.99
at VenaProducts.com.
Rockform
Crystal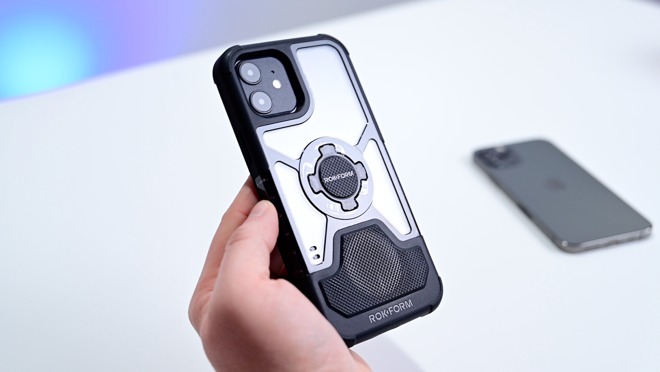 Rockform Crystal case
Rockform's cases are quite nice, with a mostly clear back and ultra-durable and grippy edges, and the entire case feels very rugged.
But the durable case is only part of Rockform's story. Rockform is known for its unique and robust mounting mechanism. If you ride a motorcycle, a street or mountain bike, or are interested in a dependable car mount, Rockform has your back.
You can see the mounting mechanism on the back of the case above. You press and twist, and it quickly locks into place. We've tested several of their mounts over the years, and they are unmatched when it comes to holding your phone.
This differs from MagSafe because while MagSafe is easy to connect, it is in no way secure or as strong as the Rockform mounts.
The Rockform Crystal case can be ordered
from Rockform directly
at press time, with units also expected to be sold through the
company's Amazon store
.
Cyrill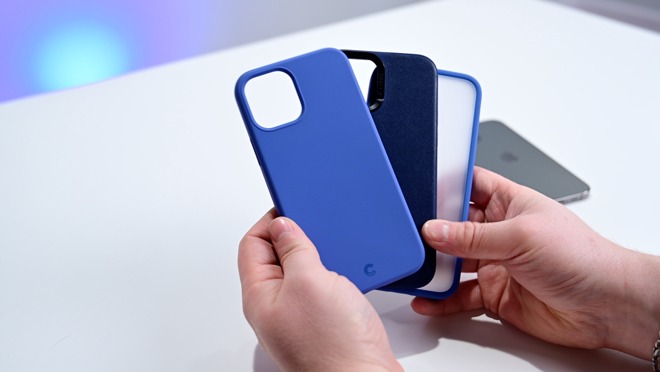 Cyrill Silicone Linen blue, Leather Brick Navy, and Brick Linen Blue cases.
Brick Linen Blue
This Brick Linen Blue case is from Cyrill, which is a new brand for us. Cyrill is the sister brand to Spigen and focuses on more feminine cases. This specific case has a frosted back with blue edges. The material feels nice and soft as well as grippy.
The case also comes in a nice frosted pouch that can be repurposed instead of trashed.
The Cyrill Color Brick for Apple's iPhone 12 can be ordered today, with the
Linen Blue option
selling for $16.99.
Leather Brick Navy
This case from Cyrill is leather and feels much more premium than the price point would infer. It feels very much like a higher-end case, and we love the blue, which is very
in
this year when it comes to cases.
The Leather Brick from Cyrill is also available at Amazon, with the navy color
retailing for $17.99
.
Silicone Linen Blue
Finally, our last Cyrill case is the Silicone Linen Blue case. It has a velvety smooth feeling to the outside that is even softer than Apple's silicone cases. Of course, it comes in this great blue color and has a microfiber lining.
The Cyrill Silicone case for the iPhone 12 can be ordered
from Cyrill via Amazon
for $16.99.
Smartish
Wallet Slayer Vol 1 and 2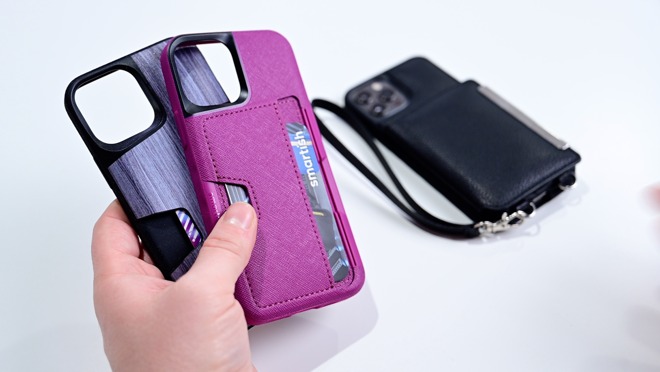 Smartish Wallet Slayer
Smartish has two versions of its Wallet Slayer case, both of which are quite similar in that they hold three cards right on the back of your phone. They also both have additional grip added to the sides. The most significant difference is that the Volume 2 model is a bit thicker and has an integrated kickstand.
The Smartish Wallet Slayer Vol. 1
retails for $19.99
, with availability on Amazon.com.
The Smartish Wallet Slayer Vol. 2 comes in multiple colors and
sells for $24.99 on Amazon
.
Dancing Queen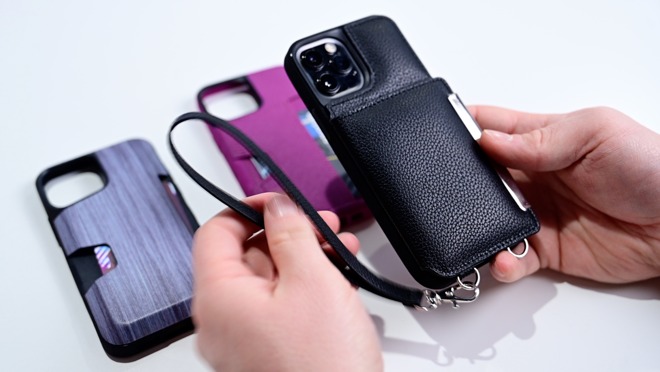 Smartish Dancing Queen case
We wouldn't be surprised, though, if the most popular Smartish case was the Dancing Queen case. This bandolier-style case is made of faux leather that wraps your phone. The back snaps open to hold up to five cards for a much more robust wallet.
Smartish even integrated a lip gloss holder, which makes it an excellent case for hitting the town for the night. No need to worry about an additional wallet or purse.
The Dancing Queen iPhone 12 case is
available for $29.99
at Amazon.
Caudabe
Synthesis Stealth Black



Caudabe Synethsis gray and black (left), Lucid Clear (top), Veil Frost (bottom middle), and Sheath Navy (top right)



Synthesis is the most protective case from Caudabe. All of Caudabe's cases are thin and minimalist, and while Synthesis is the most protective, it is still surprisingly slim.

It has a soft frame made of ShockLite with a hard micro-etched matte frosted back. It comes in both gray and black. The black version is all black, while the gray still has a black edge.

The Synthesis in Stealth Black is currently sold out at Caudabe, but normally retails for $30.

Lucid Clear Crystal

Unlike many clear cases, the Lucid Clear case from Caudable is a hardshell case that snaps on your phone. It truly is crystal clear though it makes any dust and debris that gets trapped underneath extra visible.

Retailing for $26, the Lucid Clear Crystal can be ordered directly from Caudabe.

Veil Frost

Caudable's Veil Frost case is ultra-thin, easily offering full support for MagSafe accessories. It has a frosted exterior, which allows some of the iPhone's color to come through, but not like the Lucid Clear above.

This borderlines on a cover rather than a case and will mostly help protect your iPhone against scratches and other light wear. If you want a minimal case, this is one of your best options.

The Caudabe Veil case in Frost sells for $25 at Caudabe.

Sheath Navy

Although Caudabe has sold out of initial supplies of the iPhone 12 Sheath in Navy, it normally sells for $28.