Apple revamps its Accessibility page to spotlight iOS and macOS features
A new redesign for its Accessibility page sees Apple highlighting specific device features such as the magnifier in iOS, and the back-tap on the
iPhone 12
.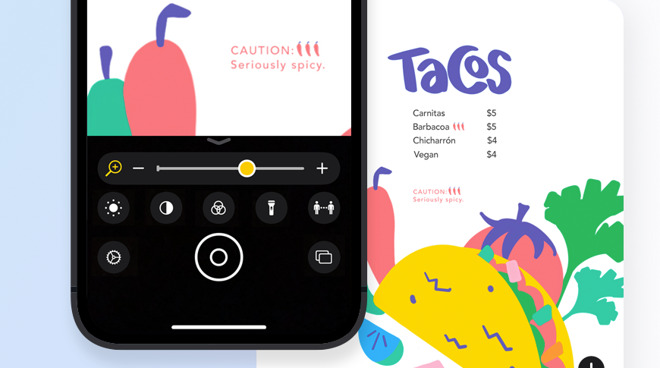 Example of how iPhones include a magnifying feature
Having recently stressed the
importance of accessibility
in its history, Apple has now redesigned its site to emphasize its devices' extensive features for users with any disabilities. Accompanying the site redesign, Apple has also added a new video about to its iPhone Magnifier feature to its now 23-strong collection of
accessibility guides
on YouTube.
The
new site
mixes
iOS
and
macOS
accessibility features, broadly grouped into the four categories of vision, mobility, hearing, and cognitive. The latter involves helping attention, and the main examples show Safari's Reader feature, and how text can be read aloud.
For users with vision needs, Apple's redesign includes a demonstration of how the iPhone camera can be used as a
magnifying glass
. It shows how the size of text can be changed for all applications, or how users can choose to zoom in on certain areas.
The iPhone 12 range's
new ability
to register a double- or triple-tap on the back is shown for users with mobility issues. So is Assistive Touch, which lets users change gestures such as pinching out to be more comfortable.
Apple's very many features for users with hearing difficulties are headlined by the new
Sound Recognition tool
in
iOS 14
. This is the feature where, in Apple's own example, the sound of a fire alarm may be recognized by your iPhone which then displays a visual notification.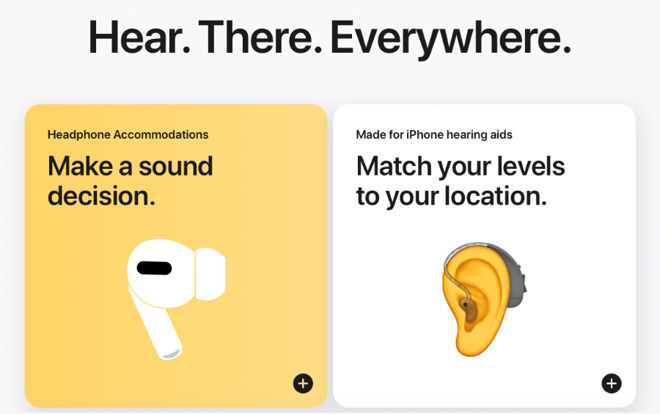 Example from the new Accessibility site's detailing of Apple device features
Each example is shown starting with a large, clear graphic which conveys the key points. There is then also a plus sign which opens a pop-up window with only a little more detail, but links to exactly how you set up any one of these features.
Apple's Accessibility site redesign concludes with a collection of its related videos, as
iMore
first spotted
, such as its partnership with
Gallaudet University
, and celebrating the
Americans with Disabilities Act
.
Although Apple does not make reference to this on its new site, the redesign
does coincide
with 2020's International Day of Persons with Disabilities.