Apps face App Store expulsion by not complying with new ad-tracking rules
Posted:
in iOS
edited December 2020
Apps that fail to "play by the rules" of Apple's anti-ad tracking policy will be removed from the App Store, executive
Craig Federighi
has warned to developers who attempt to circumvent iOS 14's inbound privacy feature.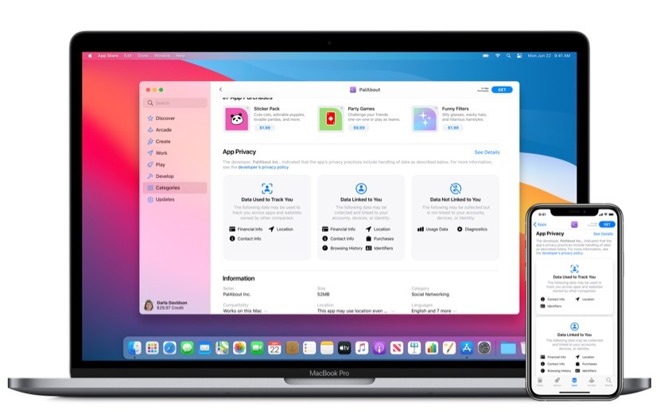 In September,
Apple advised
of its intention to implement a new ad-tracking mechanism in
iOS 14
,
iPadOS 14
, and
tvOS 14
that will launch in early 2021. The feature is designed to minimize the amount of tracking of a user in-app advertisers can perform, as part of a wider crackdown to improve the privacy protection of its customers.
Speaking
to
The Telegraph
, developers who choose to ignore the new rules will be kicked out of the
App Store
, according to Apple SVP of Software Engineering Craig Federighi. All apps will be expected to abide by the App Tracking Transparency rules.
"There will be policy enforcement," said Federighi. "Any form or mechanism of tracking a user for advertising or for providing information to data brokers will have to ask for permissions. Failure to do so is a violation of App Store policy... and are grounds for having an app removed."
Developers are already required to answer a series of privacy-related questions in App Store Connect, as well as to disclose any times the app may collect specific types of data about the user, and how it will be used. This includes any tracking performed by third-party partners, such as external advertisers.
Critics of the initiative,
such as Facebook
, believe its implementation would cut into advertising revenue, making it harder for developers to earn a living.
Federighi also spoke at the European Data Protection and Privacy Conference, suggesting "We expect that the industry will adapt as it did before - providing effective advertising, but this time without invasive tracking." He also believed opponents were doing "everything they can" to halt the feature from being implemented, in a "brazen attempt to maintain the privacy status quo."
The executive also expects advertisers and social media companies to abide by the changes. "The largest players understand they have to play by the rules here," he offered, continuing "I expect while there is spirited debate, they are going to work to find a solution."