Copy That app by OWC allows for easier iPhone, iPad data transfer to external media
Accessory maker OWC has launched a new app that makes copying photos and videos from an
iPhone
or iPad to external storage much easier.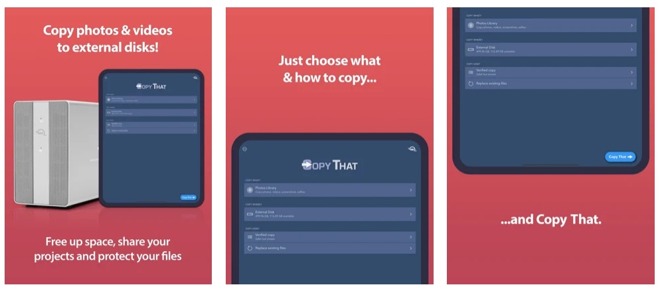 Credit: OWC
The aptly named
Copy That
app simplifies the process of copying content from
iOS
or
iPadOS
devices to generic media. OWC says it gives you the ability to decide "what you want to copy, where you want to copy, and how you want to copy your data."
Once users connect their iPhone or iPad to an external drive or storage device, they simply select the media they'd like to transfer and how they'd like to transfer it. After that, all it takes is a single tap on the "Copy That" button to wrap up the process.
There are some smart features to streamline data transferal, too. Users can decide to exclude selfies or screenshots, and what to do with existing files. It supports both attached external drives and network shares.
"Whether you are a hobbyist out in the field taking nature photos, an influencer shooting daily videos, or you're just an enthusiast taking family pictures, OWC Copy That lets you free up storage on your device, duplicate and protect your valuable data," the company said.
There are also two premium features that can be unlocked by an in-app purchase: Verified Copy and Delete From Device. The former verifies copies of files by comparing them to the originals, while the latter lets users delete content from an iPhone or iPad.
The
Copy That
app is free to download and use from the
App Store
. OWC is also offering an introductory pricing on in-app purchases, letting users unlock the aforementioned features for $0.99 instead of the original price of $2.99.