Fitness+ aims for portability and inclusivity, declares Apple's fitness chief
Apple's
Fitness+
subscription service was a long time in development, says senior director of fitness technologies Jay Blahnik, with its creation intended to entrench the Apple Watch in the world of working out.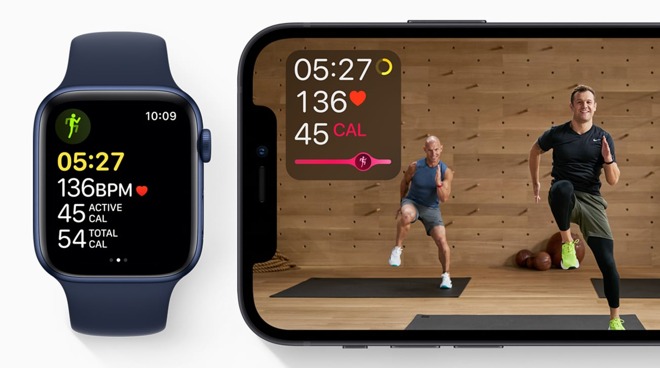 Apple has advised potential fitness enthusiasts they can try out Fitness+ workouts from
December 14
. The subscription, which will offer trainer-led video workouts that take advantage of the Apple Watch sensors to monitor the user's fitness, may help bring the
Apple Watch
to a new audience that may not have immediately considered using it, an interview with Blahnik suggests.
"It does feel like people might think we built Fitness+ because of COVID, but we've been working on it for a very, very long time," Blahnik
told
WSJ Magazine
. Specifically, it was in part created due to the Apple Watch, as "fitness has been a really big part of [its] story."
The device, capable of recording considerable amounts of biometric data about the wearer over the course of a day and a workout, already takes advantage of that data to push users into being healthier, but it could do more. "Metrics is motivation," Blahnik suggests.
In Fitness+ which was created "in an effort to inspire more people to get fit and stay fit, to make working out a more regular part of their life," this data is more valuable. "The metrics react to the things the trainer says and the things that you do," he proposes. "We believe that makes it much more immersive than simply following content that's available anywhere else."
The exercises are also meant to be relatively easy for a newcomer to pick up and do, while also able to fit in to anyone's daily life. Blahnik says the portability of the app in mobile devices like an iPhone or iPad means the workouts can be done practically anywhere.
As users progress with workouts, the app will attempt to suggest workouts from its library that the user may be interested in, to get them up and running as rapidly as possible. According to Blahnik, "We always say: It shouldn't take 20 minutes to find a 20-minute workout."
The suggestions are also providing a "way to gently encourage you to cross-train" with other workouts. "We have a carousel called 'Try Something New," Blahnik points out, "So if you tend to do more linear workouts, like running or cycling, you would be suggested things like HIIT or yoga, that would move your body in different directions."
This is in part encouraged by the group of trainers Apple recruited, as they will take part in workouts for other disciplines. As an example, yoga teacher Dustin Brown will join a treadmill workout and will "actually be one of the people walking the workout."
Blahnik suggests Brown is a person "who can come into the room doing a handstand, but he's a beginner at other activities."
While Apple obviously requires an iPhone, iPad, or
Apple TV
alongside an Apple Watch for the service to function, users aren't expected to have much in the way of other equipment, save for some small weights to use as barbells. Even for workouts that rely on a treadmill or a rowing machine, the premise is that it is done to be as "equipment agnostic" as possible.
During the interview, Blahnik gave the impression that Apple wasn't in the business of joining companies like Peloton in selling its own exercise equipment, besides the Apple Watch itself.
Comments from analyst Benedict Evans suggests the same thing, with Apple unlikely to cut into the same market as
Peloton
or rivals. "They don't want to have a fleet of trucks delivering bikes to people any more than Google wants to have a bunch of guys in pickup trucks armed with ladders attaching cameras to your house."
"I think that the person who wants to buy a $3,000 bike is still going to buy a $3,000 bike," Evans proposed.
In summarizing Fitness+, Blahnik brings up how it's "really inclusive" in nature. "We put music at the center to motivate a wide variety of people. We've made it really easy to find your next workout, whether you're a beginner or not, and allowed you to use it across all your screens."
As for the future of the service, Blahnik offered "We treat all areas that we get engaged with as marathons, not sprints."