Apple Watch ECG feature goes live in Taiwan on Dec. 15
Apple on Wednesday announced plans to activate the ECG feature on supporting
Apple Watch
models in Taiwan with the upcoming iOS 14.3 and watchOS 7.2 software updates.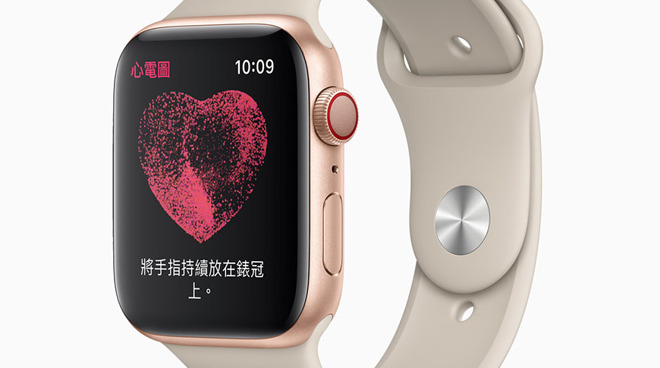 According to Apple, the heart monitoring feature will debut
on Tuesday, Dec. 15
as the country's first product to both measure ECG on the wrist and track arrhythmias.
In order to market the function, Apple obtained clearance from the Heart Food and Drug Administration of Taiwan's Ministry of Health and Welfare. The app, which processes and displays data from Apple Watch's ECG hardware, is classified as Class II software for medical devices (SaMD).
Apple COO Jeff Williams in a statement said the company is honored that Apple Watch and its health-centric features have become an important part of customers' lives. The ECG app furthers the device's capabilities, enabling users to glean more information about their health, he said.
A tentpole Apple Watch feature, ECG uses a custom electrical heart sensor with contacts integrated in the Digital Crown and back crystal to record a single lead electrocardiogram. The corresponding app is capable of determining sinus rhythm and atrial fibrillation, the latter of which can signal serious medical problems. Indeed, customers have consistently
claimed
that Apple Watch
alerted
them to previously unknown and potentially
life threatening
ailments.
Apple introduced ECG functionality in the U.S. with
Apple Watch Series 4
in 2018. Since then, the feature has rolled out gradually as more countries grant regulatory approval.
ECG launched
in Korea
last month and is expected to surface in Japan
sometime soon
.