Nomad's luxe leather sleeve for MacBook Pro review: as good as it gets
Nomad has just released its long-awaited sleeve for Apple's
MacBook Pro
that is gorgeous in its design and adds plenty of functionality and protection. We've been using it for the past week, and it has quickly become our go-to preference for protecting Apple's portable Macs.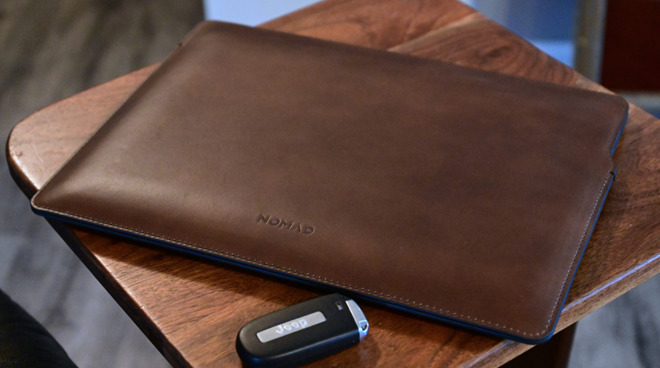 Nomad's Horween leather sleeve for MacBook Pro
This device has been a long time coming and, in many ways, seemed inevitable. Nomad's signature leather cases first covered our iPhones before branching out to the larger size of our iPads. The Mac is the most ambitious yet and requires far more raw material than anything Nomad's done before.
Nomad seems to have taken everything its learned from its other leather products to apply them to the exceptional MacBook Pro sleeve. Available for both the 13-inch and
16-inch MacBook Pros
, we picked up one to try on our new M1
13-inch MacBook Pro
.
Sleeves in general, or even the more specific leather sleeves, are nothing new for the Mac. There are
many
worthy options to consider. Apple crafts its own thinner minimalist sleeves for the Mac, and we also reviewed the Clayton and Crume sleeve
that we were very fond of
. Not to mention the popular
Picaso Labs sleeves
.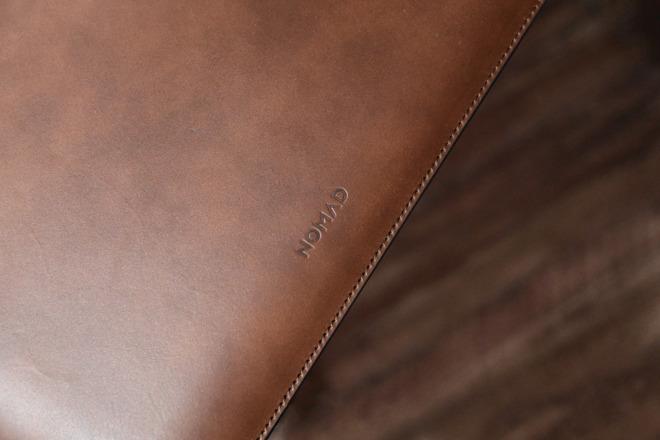 Nomad's Horween leather sleeve for MacBook Pro closeup
But what we see time and time again are the same design with just different leathers on the outside. Nomad didn't fall into this rut of non-innovation.
Design
Nomad's sleeve has a multi-layer design that starts with durable, gorgeous Horween leather on the outside. This Chicago-based leather is used on all of Nomad's leather goods, and we know how incredible it is as it ages. The case will develop a patina as you use it, which is unique to you and makes it look even better than when you picked it up.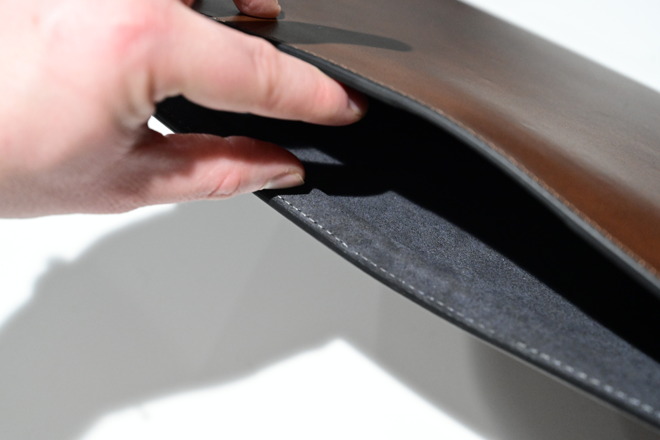 Interior of the Nomad's Horween leather sleeve for MacBook Pro
Giving the sleeve its rigidity is what Nomad calls a "high-density EVA shell," which stands for ethylene-vinyl acetate -- in other words, a rubber-like polymer. This shell provides a strong structure for the sleeve with a hollow pocket for the Mac-- rather than just a flat sleeve.
Not only that, but it adds additional drop protection compared to sleeves that only use thick leather for their form.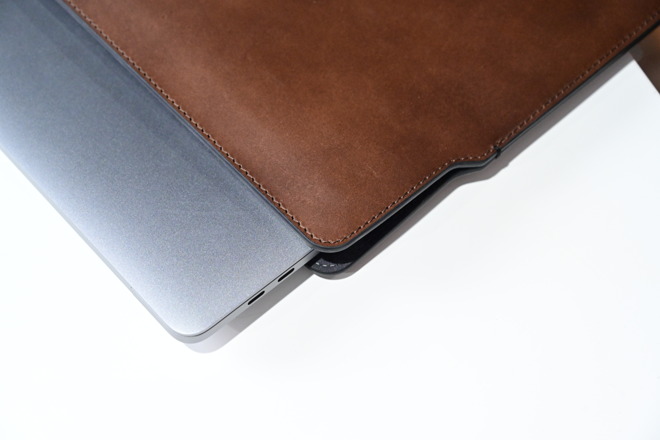 MacBook Pro in the Nomad sleeve
On the inside, Nomad is using a microfiber lining rather than the industry standard wool felt. The benefit here is that it is still exceptionally soft but also a bit thinner. Nomad needed to keep the layers light because the internal shell adds a bit of bulk that otherwise wouldn't be there.
A ring of reinforced stitching around the edge brings the case together. There are and additional reinforcements at the opening where the Mac is slid in and out. Feeling these edges, it is solid, and we'd hope that the EVA shell will add drop protection and not just shift any impact on to the Mac itself.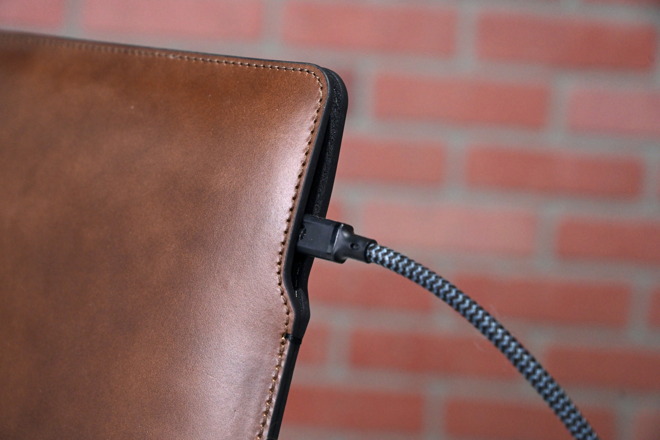 Nomad's Horween leather sleeve has port opening on the side for the MacBook Pro
A small groove square in the center at the sleeve opening makes opening the sleeve easier than a tight-fitting sleeve. The opening of the sleeve is held shut via magnets, which is a nice touch. Other sleeves will leave this whole side of your Mac exposed, but Nomad covers it, offering additional protection and security.
Daily use of the Nomad MacBook Pro sleeve
We've been toting our Mac around for a few days now in Nomad's leather sleeve. In our typical use, we'd forgo any shell or case and slide our Mac into our Peak Design Everyday Back or Everyday Messenger bag. These, like many bags, come with a pocket designed just for a laptop and are appropriately padded to offer protection when stowed.
When we don't rock a bag, we'll slide our Mac into a sleeve, such as those mentioned above. Most often, we opt for the Clayton and Crume model.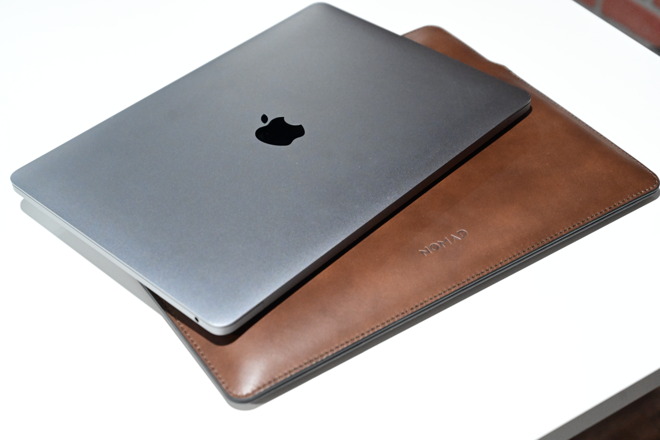 Nomad's Horween leather sleeve for MacBook Pro
Aside from design and protection, Nomad still differs in a few key ways. Our favorite touch is the constant access to the USB-C ports on the Mac itself.
When our MacBook Pro is in Nomad's leather sleeve, there is a cutout on one side where we can plug in the power cable to top off our battery. This side opening is not held together via magnets and instead uses the shell's stiffness to stay closed when not in use but will open enough for a cable when needed. It's a slick touch and one we wish others would adopt.
You could arguably use your MacBook Pro in clamshell mode while it is in the shell, too, as you have access to those ports, but we wouldn't recommend it. It would be entirely sealed off, and there would be no airflow. If you want to use your Mac in clamshell mode with an external display while in a case, we'd recommend the Picaso Lab's leather sleeve, which is designed for just that.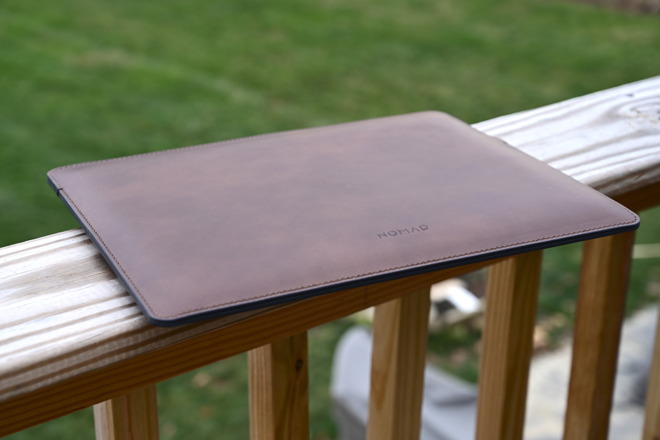 Nomad's Horween leather sleeve for MacBook Pro
If we're trying to put our finger on one, our only criticism is that because it has an internal shell, you aren't able to use your sleeve as a pad while you work. That may sound silly, but we usually slide the sleeve off and set it on the table, desk, or our lap and place our Mac right on top. The sleeve is hollow and not as solid, so it doesn't work great in this case, so we have to place the sleeve elsewhere while we work.
Should you buy the Nomad MacBook Pro leather sleeve?
There's no other way of putting it: we love Nomad's leather sleeve. It is unequivocally, without question, the hands-down best sleeve or case we've ever tested for MacBook Pro.
The leather is as nice as it gets, and the shell adds more protection and makes it easier to use. The magnets keep your Mac tucked safely inside, and it is easy to insert and remove your Mac-- not to mention the USB-C port access while sealed. The attention to detail is incredible, and we'd rather use this than Apple's any day.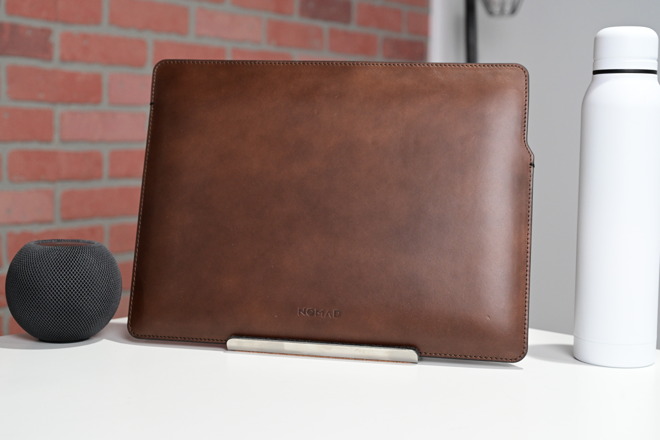 Nomad's Horween leather sleeve for MacBook Pro
Many users may balk at the high price tag, which is understandable. While expensive, we feel the product is worth it. Once you use the sleeve, you understand why the price point is so high.
Pros
Incredible brown Horween leather


Rugged look and feel


Magnetic closure


USB-C port access


Also fits 13-inch MacBook Air


Strong protective shell
Cons
Can't use as a workstation pad
Rating: 5 out of 5
Where to buy
Nomad has models of its leather sleeve for both the 13-inch MacBook Pro and the 16-inch MacBook Pro. It fits new models released from 2016 to 2020 including the new M1 Macs. The 13-inch
runs $229.95
while the 16-inch model runs a slightly higher $249.95.