Epic Games calls for Eddy Cue and Craig Federighi to testify over 'Fortnite'
Ahead of the scheduled trial over "Fortnite" and the App Store, lawyers for Epic Games are demanding that Apple's
Craig Federighi
and Eddy Cue be deposed.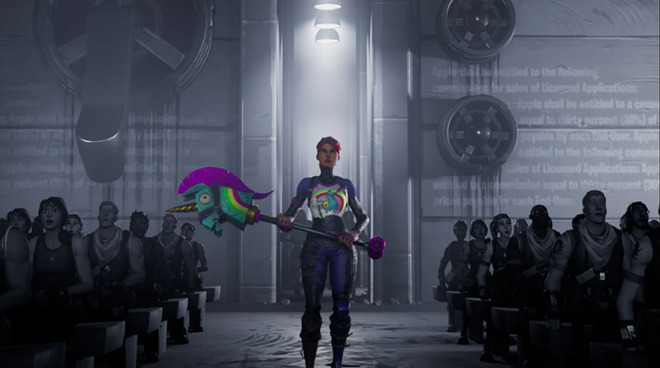 A still from Epic's parody of Apple's '1984' Super Bowl commercial
The
dispute between
Apple and "Fortnite" developer Epic Games over the App Store will
go to trial
in May 2021, but both companies are already preparing testimony and depositions. As part of this, lawyers representing Epic Games have told the court that it wants to depose both Craig Federighi and Eddy Cue.
"During a Zoom hearing,"
reports
Law360
, "Epic Games' counsel, Lauren Moskowitz of Cravath Swaine & Moore LLP, told US Magistrate Judge Thomas S. Hixson that Epic Games should be allowed to depose Apple's senior vice president of software engineering, Craig Federighi, who oversees the development of iOS and macOS, and Eddy Cue, Apple's senior vice president of internet software and services."
Judge Thomas S. Hixson postponed a decision over the request. However, he informed Apple that it would need to prove "extraordinary circumstances," if the two men were not to be deposed.
This decision followed Apple's objection to the depositions, which the company continues to claim are not warranted. Reportedly, Apple has already accepted some 14 calls for witness depositions, including a session with Tim Cook which is expected to last four hours.
Epic Games's lawyers argued that it is too early to decide which witnesses are or are not warranted in the case.
The forthcoming trial will center on how
Apple removed
"Fortnite" from the App Store. Epic Games maintains that this is an anticompetitive move, while Apple says that the game company repeatedly flouted App Store rules.