Steve Wozniak's handwritten Apple II schematics fetch over $630,000 at auction
Boston's RR Auction held an Apple-themed auction, in which they sold both a fully operational Apple-1 computer as well as a 23-page handwritten document by Steve Wozniak detailing notes and diagrams for the Apple II breadboard.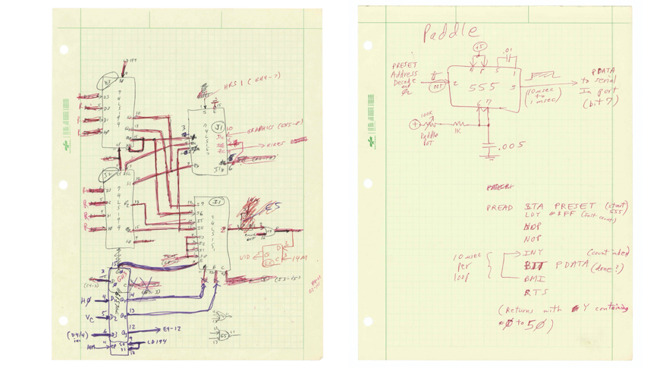 The work-in-progress documents were penned in 1975 and included five pages of circuit schematics, six photocopied pages headed "Bus Sources," "System Timing," "Display," "Sync Timing & Adr. Gen," and "Timing," and a 12-page handwritten programming instruction guide consisting of 28 steps.
Wozniak also provided a letter of provenance, which reads:
"These documents, circa 1975, are my original Apple II prototype schematics and programming instructions. They are precious. On these work-in-progress diagrams, you can even see my breadboarding technique, where I'd go over drawn connections in red as I soldered the wires in. At the time, I favored using a purple felt tip pen for writing, so it's interesting to see these notes decades on. The prototype was hand-wired while I was still an engineer at Hewlett-Packard's Advanced Product Division, where I was involved in the design of hand-held calculators."
Also sold in the auction was
a fully operational Apple-1 computer.
The lot also included an Apple Cassette Interface, original operation manuals, a vintage Apple-I power supply, a vintage Datanetics keyboard in a wooden case, a 1976 Sanyo monitor, and a Panasonic cassette player, and the Apple-1 box, which was signed by
Wozniak
. The Apple-1 sold for $736,862.
"The market for Steve Jobs and Apple-related memorabilia continues to perform exceedingly well," said Bobby Livingston, Executive VP at
RR Auction.
"Our consignor is excited that the Apple-1 is going to a good home where it will be well preserved and shared with hundreds of Apple enthusiasts who otherwise would never have the opportunity to own the computer that changed the world."
In March,
another functional Apple-1 computer had sold for $458,711, and appeared on an episode of History Channel's "Pawn Stars." Three years prior,
one sold in Germany for over $101,000
.
Even vintage Apple manuals can prove to be valuable. In July of 2019,
an original Apple-1 manual
in good condition sold for $12,296 to a "technology entrepreneur from the northeastern United States."