Apple takes TSMC's whole 3nm production capacity for Mac, iPhone, iPad
Industry sources claim that TSMC's initial production of chips built on the new 3-nanometer process have been ordered by Apple for use in both its iOS and
Apple Silicon
devices.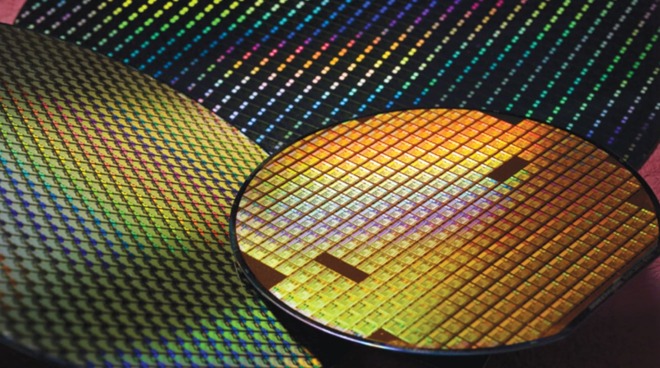 Chip wafers [via Taiwan Semiconductor Manufacturing Co., Ltd.]
Following previous reports that TSMC was
close to finalizing
its new 3-nanometer process, a new report says that Apple has placed an order for its M-series and A-series processors using it.
According to
Money.UDN
,
supply chain sources
say that trials are progressing smoothly. The sources estimate that TSMC's 3nm line is on course to produce 600,000 processors annually, or 50,000 per month, with mass production starting in 2022.
Those numbers are presumably expected to increase, as the publication also reports an estimate that TSMC must sell at least 300 million processors to return a profit.
It's not reported how many units Apple has ordered, or over what precise timescale. However, the sources say that the order is chiefly for producing the M-series processors for the Mac.
Money.UDN
also says that 3nm will be used for iPads and Macbook devices. Plus TSMC's new process will make future A-series processors for the iPhone.
Previous rumors
have said the 3nm process will be ready to make the "A16" chip in 2022.
Previously, TSMC
has claimed
that its 3nm process will provide a performance increase of between 10% and 15% over even its recent 5nm process. It's also said that 3nm chips will offer between 20% and 25% increased energy saving.
According to
Money.UDN
, TSMC has also been developing a 4nm process, which it will launch before the 3nm one. For both 3nm and 4nm, TSMC is directly competing with Samsung, however sources say TSMC will beat its rival to market by at least six months.
However, recently TSMC has reportedly been
losing key staff
to new rival firms. In what may be a move to build an independent processor industry in China, companies such as Quanxin Integrated Circuit Manufacturing (QXIC) and Wuhan Hongxin Semiconductor Manufacturing Co (HSMC) have hired over 50 former TSMC employees.