Apple's App Store again dominates Google Play in Christmas revenue
On Christmas Day 2020,
iPhone
and iPad owners spent record-setting amounts on apps, with the App Store seeing a 35.2% rise over 2019.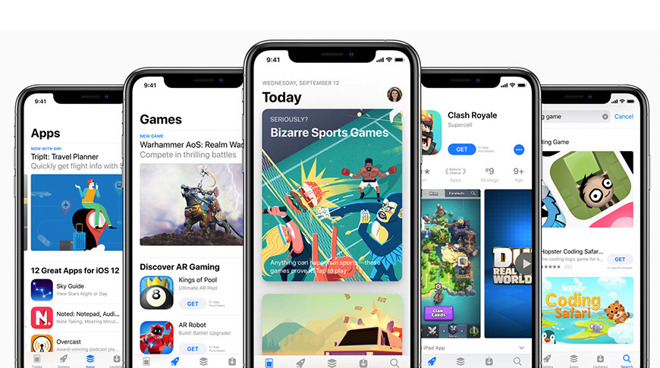 The App Store again dominated Christmas Day mobile-app sales
Market intelligence firm SensorTower
released its data
on app store spending, showing a record-breaking $407.6 million spent across both Apple's App Store and Google Play -- a 34.5% year-over-year improvement. Like in
previous years
, the App Store led the way, taking in $278.6 million and making up 68.4% of total earnings.
Gaming was the top category, both globally and in the U.S. The firm estimates that consumers spent $295.6 million on mobile games across both platforms this Christmas, a 27% boost over Christmas 2019. Tencent's
Honor of Kings
was the top-grossing game globally, while
Roblox
was America's top game.
Entertainment apps generated $19.3 million in the App Store, making up 21.8% of all non-gaming spending. Globally,
TikTok
was the highest-earning non-gaming app, taking in $4.7 million on Christmas.
Disney+
was the top earner in the U.S., with $2.6 million.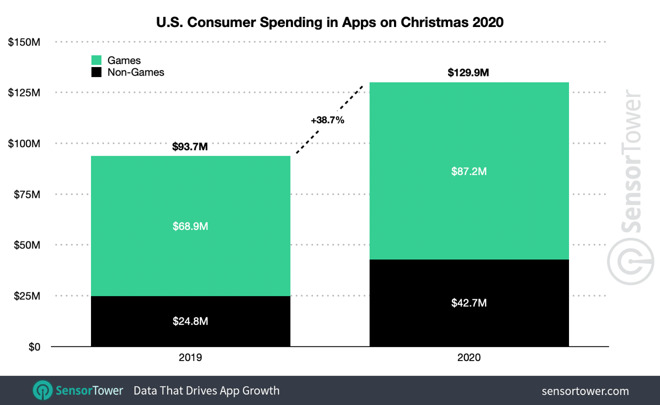 Christmas 2020 mobile-app spending
Google Play took in $129 million in revenue, up more than 33 percent from 2019 and tallying 32% of the total.
2020 has been a record-shattering year for mobile-app spending as families stay at home during COVID-19 lockdowns. SensorTower says annual global app spending passed $100 billion for the first time in November.