Qi and Magsafe - Everything an iPhone user needs to know about wireless charging
The introduction of MagSafe in the iPhone 12 range has cemented wireless charging as a core technology for smartphones, but not everyone knows how the technology works. Here's what you need to know about wireless charging systems and how Apple uses them.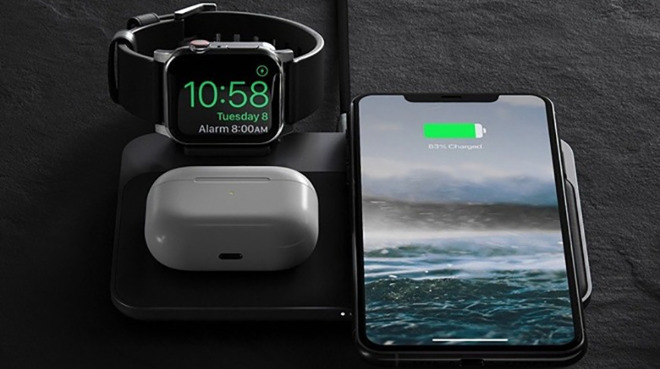 A charging station by Nomad used to recharge an iPhone, Apple Watch, and AirPods Wireless Charging Case simultaneously.
In a world that is so used to plugging charging cables into ports to recharge devices, the creation of wireless charging has been useful for many different reasons. From being able to charge without needing to struggle to plug the cable in, the ease of charging at all, and the seeming magical nature of power being transferred without a wire being used, wireless charging has its benefits.
With Apple's adoption of the technology in its
iPhone
lineup, more people have been exposed to the idea of wireless charging. Add in the wealth of wireless chargers made by various vendors you can pick up quite cheaply, and the barrier to entry is remarkably low.
In this article, we explain what it is, how it reached its current form, and how Apple embraced the technology in its products.
What is Inductive Charging?
At its core, modern wireless charging relies on the properties of magnetic fields and their ability to influence other magnet-sensitive things. The simplest example of this would be a magnet passing through a coil of wire, with the movement of the magnet creating a current in the wire, which could be used to power a small light bulb.
Inductive charging follows the same principle but goes quite a few steps further.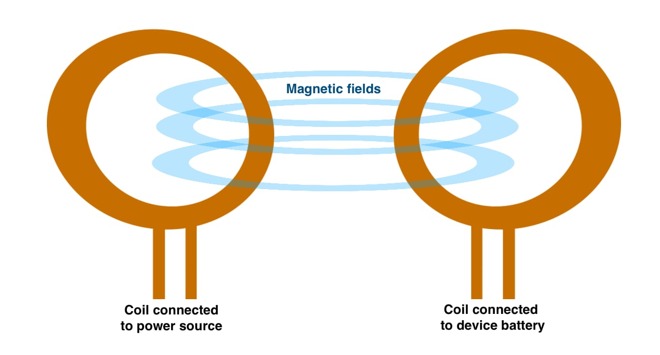 Inductive charging uses two wire coils, where electricity run through one creates a magnetic field, which can generate a current in a second nearby coil.
For a start, instead of using a magnet to influence a coil of wire without touching it, inductive charging instead uses its own coil of wire, with the passing of current able to generate a magnetic field. If close enough, the magnetic field generated by the current in one coil could create a current in a second nearby coil.
Over short distances, such systems are quite useful, but the current of the "receiving" coil will always be lower than the "transmitting" coil. These can be rectified by increasing the coils' size and increasing the power, but there's only so far you can take it realistically.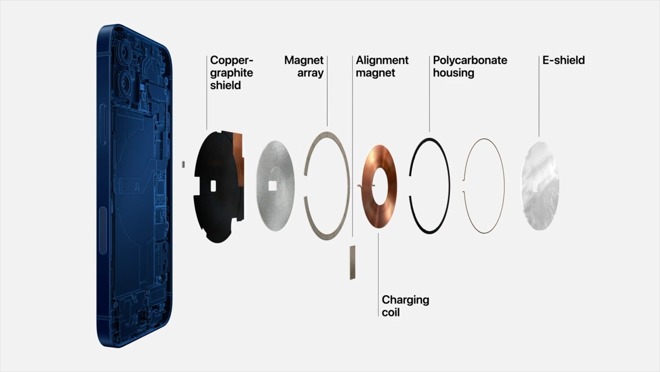 The charging coil in an iPhone is quite small, and is located in the middle of the rear casing.
To consumer devices, this has resulted in a system where a charging puck, stand, or other point includes a coil, which can interact with another coil contained within a host device, like a smartphone. The coils typically range from the size of a large coin to maybe two inches, depending on hardware. In contrast, the distance between the two coils tends to be less than a centimeter, separated by plastic or other materials not affected by magnetic fields.
Of course, the system can be scaled up, potentially to allow an electric car to recharge from a parking bay equipped with a larger coil, which could be useful in a future
Apple Car
. For the moment, devices with smaller coils are the type you will see with wireless charging.
Competing Standards
While the history of inductive charging goes back to the 1800s and Nikola Tesla, the modern history of device-based wireless charging is defined by the battle to be the dominant standard used by the electronics industry.
There are quite a few different standards out there for wireless charging technology, but for our purposes, we will cover the main two key standards groups working on competing wireless charging systems. The Wireless Power Consortium (
WPC
) offered its Qi charging system from 2008, and PMA technology championed by Power Matters Alliance (PMA) and Airfuel Alliance, licensed by Powermat.
Each of the groups had support, and their technology adopted by different companies, such as Google, Samsung, and various smartphone producers for Qi, while PMA included companies such as AT&T, Duracell, and Starbucks.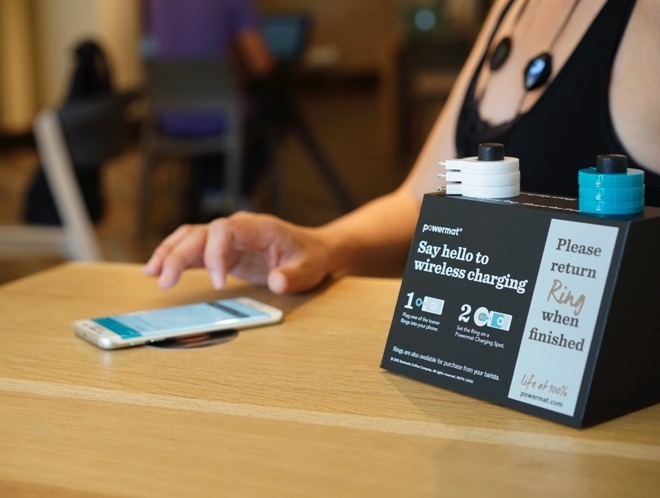 Starbucks had wireless charging points in its stores supporting PMA over Qi, ones that had to be updated to recharge iPhones
Since the two standards were warring with each other, there are some compatibility issues between the two, but they are similar in concept and implementation. The only real differences preventing them from working with each other were using different wavelength bands for the magnetic field and software.
The public battle for wireless charging played out with supporters of each side implementing the technology differently. The smartphone producer-heavy Qi enjoyed mobile devices' support, the most apparent device category to use wireless charging.
On the other side of the fence, PMA benefited from more corporate-focused support, with Duracell being a significant name in batteries, a critical component. Starbucks did its bit by rolling out PMA-supporting charging points across the United States.
While Qi had a narrow lead over PMA, things didn't change until 2017, when Apple decided to
join the WPC
as a member. At the time, rumors circulated that the iPhone 8 would have wireless charging, a rumor that would be confirmed later that year alongside the iPhone X having Qi support.
With Apple on board, things swung more heavily in Qi's favor, to the point that a
software update
was rolled out to the Starbucks Powermat charging plates to make them compatible with Qi in late 2017, followed by Powermat
formally joining
the WPC in 2018.
Since then, Qi has practically become the dominant technology in use for mobile wireless charging. The vast majority of wireless charging accessories support it, as do most portable devices offering the feature. To consumers, this makes things considerably easier to acquire and use wireless charging hardware without needing to do much research beforehand.
Apple's wireless charging history
While Apple's iPhones were the main product to capture the public's attention, it wasn't the first to do so. The
Apple Watch
has provided wireless charging capabilities since the release of the first generation in 2015, predating the iPhone's use by two years.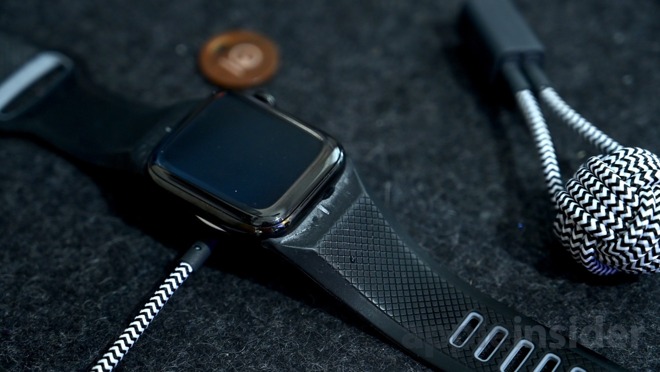 The Apple Watch uses wireless charging, but not the same as used to recharge an iPhone.
Using the supplied small charging puck, the wearable device line can be charged within a few hours or left overnight and ready to wear in the morning. Opting for an overnight charge also allows the use of Nightstand mode, which will turn the time on the display 90 degrees to be seen more clearly while recharging.
Though the core technology used to charge the Apple Watch wirelessly is fundamentally the same as Qi wireless charging in mechanics, you cannot use a Qi charger to recharge the Apple Watch. There are chargers on the market that have both a charging pad for an iPhone and a puck for an Apple Watch, but you can't switch those two charging points around.
AirPower
An exploration into Apple's history of wireless charging wouldn't be complete without mention of its seeming failure,
AirPower
.
Teased at the 2017 iPhone launch, AirPower promised a charging mat that did away with the usual rules of wireless charging. Instead of needing to place the iPhone in a specific position on the pad, the use of multiple coils would allow you to set the smartphone anywhere without worrying about alignment issues.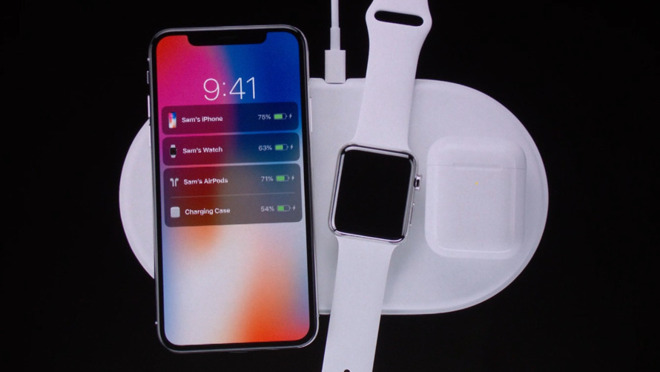 AirPower, the ill-fated multi-device wireless charging pad.
There was also the possibility of recharging three devices at the same time, including an iPhone, an Apple Watch, and an
AirPods
charging case, in any order and orientation.
However, development troubles, including thermal limitations, charging wattage limits, and fire hazards, caused enough problems before Apple's release to effectively kill it off. In September 2018, Apple removed all mentions of AirPower from its website, and then admitted 19 months after its initial tease that it had "canceled the project."
At the time of that announcement, Apple hinted it continued to "believe that the future is wireless and are committed to push the wireless experience forward."
Arguably it has met the brief of a multi-device wireless charging station in the form of the
MagSafe Duo
, a foldable pad that offers MagSafe-based charging and power to an Apple Watch.
MagSafe
Formerly a name used for a magnetic mechanism to attach a charging cable to a MacBook, Apple revived the
MagSafe
brand for its modified form of wireless charging. Introduced alongside the iPhone 12, MagSafe was an improved version of its existing Qi charging support, adding rings of magnets to the equation.
By surrounding the charging coil inside the iPhone with magnets, this meant it was easier to correctly align the coil in the iPhone with a supported charger, as the MagSafe Charger would snap into place.
Another advantage was Apple's decision to allow MagSafe to function at a higher level of watts, moving up from the 7.5-watt support for Qi chargers and allowing up to 15W charging on the
iPhone 12
and Pro models, or up to 12W at peak on the
iPhone 12 mini
. Doing so required both the use of a MagSafe-compatible charger and a 20W or greater power adapter.
Since MagSafe still supports Qi chargers, it will continue to function with any existing Qi charging mats and pucks that a user may already own.
As an added benefit, the inclusion of magnets on the back of the iPhone means magnetic accessories can easily be placed and removed. Apple's offerings include cases and covers, and a
wallet attachment
, with each also showing a color-matched graphic on the screen when applied.
What Apple products use wireless charging?
There are three product categories that you can use wireless charging with, consisting of iPhones, AirPods Wireless Charging Cases, and Apple Watch.
Out of the three, the Apple Watch has the most significant caveats, in that you can only use an Apple-approved Apple Watch charger, such as its own, to recharge your wearable device. This applies to all Apple Watch models so far and probably will do so for the future until Apple comes up with a better way to provide power to it.
If you own an iPhone with wireless charging support or an AirPods Wireless Charging Case, you can use any Qi-certified charging mat to apply power to it. For iPhones, this consists of laying it face up or facing outward on a stand-type charger, so the coil on the back gets as close as possible to the charger itself.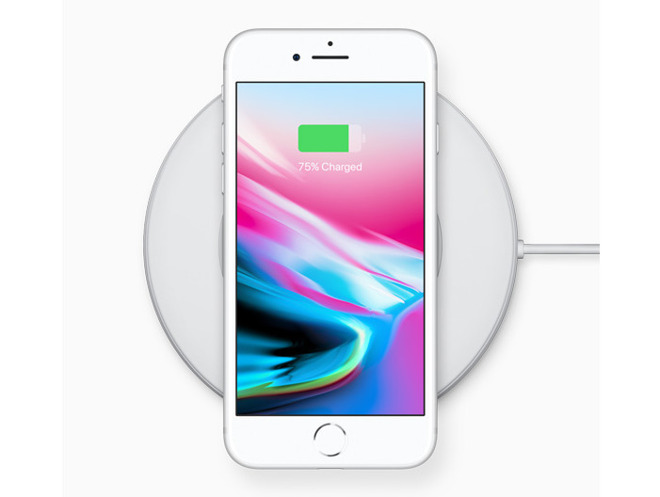 The iPhone 8 and iPhone X were the first models to offer wireless charging.
The AirPods Wireless Charging Case can be charged with the lid closed and the status light facing up. If you want to recharge both your AirPods and the charging case simultaneously, you can do so by leaving the AirPods inside the case, but you can also charge the case while you're using the AirPods or AirPods Pro.
Wireless charging is available on all iPhone models from the
iPhone X
and
iPhone 8
or later, including the second-generation
iPhone SE
. All will support charging rates of up to 7.5W with compatible chargers.
For the iPhone 12,
iPhone 12 Pro
,
iPhone 12 Pro Max
, and iPhone 12 mini, these models have MagSafe, which means they support both Qi chargers and MagSafe chargers. When attached to MagSafe, they can charge at up to 15W under ideal conditions, but will return to 7.5W when using non-MagSafe chargers.
Best Practices
When using wireless charging, there are a few things you should remember at all times.
For a start, alignment is critical. Optimal positioning of the device on the charging mat will result in better power reception and quicker charging times than misaligned devices. As charging only takes place when there is sufficient alignment, there is a chance that the iPhone won't recharge at all if it's placed incorrectly.
Typically placing an iPhone on a wireless charger will prompt a chime to be played and for the display to turn on, showing it is starting to recharge. Keep an eye or an ear out for these each time you place a device down on a pad to make sure it's receiving power.
This is less of a problem for MagSafe due to its ring of magnets, as it will automatically align itself correctly.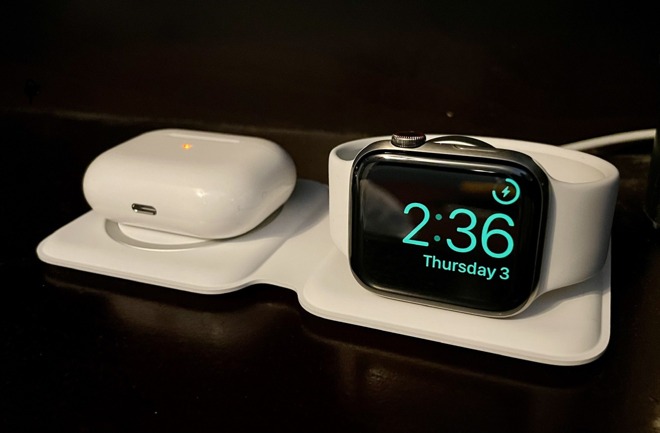 The MagSafe Duo charger used to recharge two devices at the same time.
Since distance is a factor, make sure there's as little material as possible between the two charging coils. While a case may be OK, items such as the MagSafe card holder attachment could cause problems for charging to occur and could end up causing damage to the item in the middle.
It may also be worth removing the case from your iPhone, especially if it is a battery case or made of metal, as these could interfere with wireless charging.
You may also find the iPhone could get a little warm after a long charging session. This is normal, and Apple includes a software limit that can halt charging beyond 80 percent if the battery gets too warm as a safety mechanism.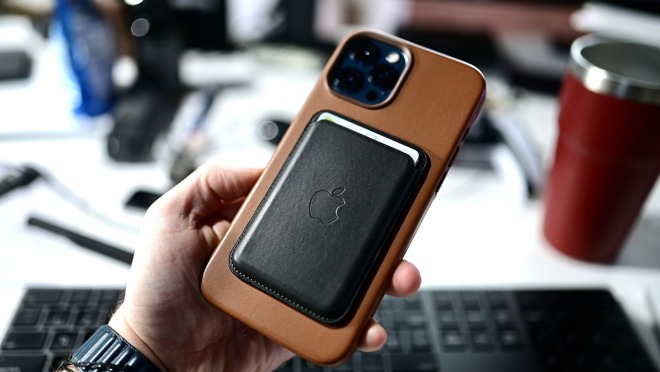 You will want to remove that wallet before you try to recharge your iPhone wirelessly.
As tempting as it may be to use both wired and wireless charging simultaneously for one device to speed up recharging, it's not possible to do so. Apple disables wireless charging when the Lightning port is in use, so you would have to disconnect any physical connections beforehand.
Lastly, remember that wireless charging is not the most efficient way to recharge your iPhone. If you want to get as much power into your iPhone in as short a space of time as possible, you are better off using the Lightning port.