App Store earns $72.3 billion in 2020, almost double Google Play revenues
New figures for mobile app revenue claim that Apple's
App Store
took in $72.3 billion during 2020, a rise of almost a third from the previous year.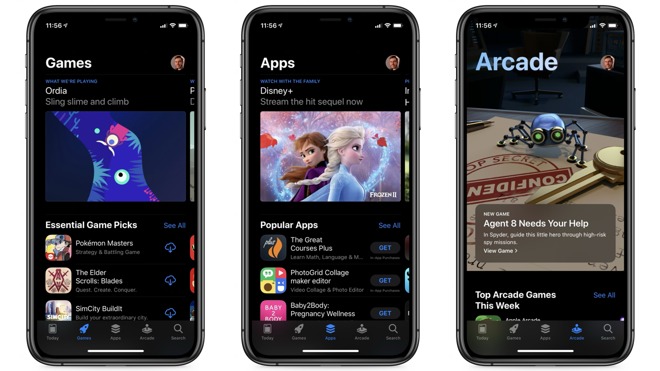 Apple's App Store continues to see increased consumer spending
Research firm Sensor Tower has backed up its
previous claims
about App Store spending during the pandemic, with a new report covering the whole of 2020. It says that globally, Apple saw $72.3 billion, and Google Play earned $38.6 billion.
"The App Store generated 87.3 percent more in consumer spending than the Play store,"
says the report
, "and both platforms experienced roughly the same [year on year] growth."
Sensor Tower, which notes that its data is still preliminary, reports that overall, consumers spent roughly $111 billion on mobile apps in 2020. That makes a 30.2% increase over 2019.
Games were the biggest sellers, netting Apple $47.6 billion across the year. Tencent's "Honor of Kings" game was the biggest-selling title, generating $2.5 billion.
The most downloaded game on the App Store was "Among Us!" by InnerSloth. Sensor Tower says this free game, with in-app purchases, was downloaded 92.8 million times in 2020.
The report also examines non-game titles, and tracks growth in users in part through how many apps were installed for the first time, as opposed to being redownloaded.
"First-time installs set a new record in 2020 as the App Store and Google Play collectively reached nearly 143 billion, up 23.7 percent from approximately 115.5 billion in 2019," continues the report. "This is around 14 percentage points higher than the Y/Y growth experienced by both stores in the previous year."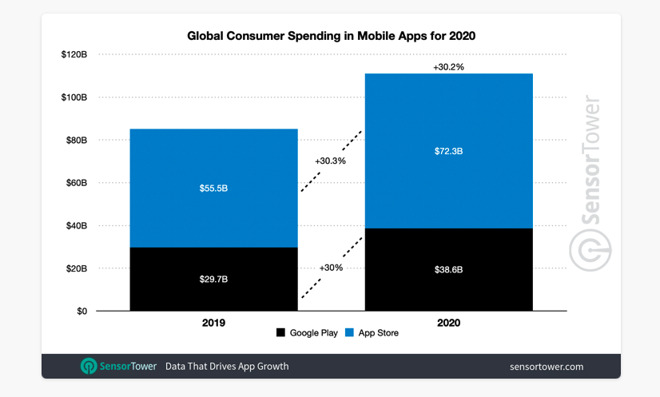 Extract from the Sensor Tower research data
"The mobile market experienced unprecedented growth in 2020 as the pandemic dramatically -- and perhaps permanently -- shifted consumer needs and behavior," it concludes.
Sensor Tower data is used by investment banks, such as Morgan Stanley, for its analysis of Apple. Lead analyst
Katy Huberty
most recently used the research firm's data to help conclude that the App Store would
continue to thrive
, even if Apple's Services faced potential challenges.