Google may be skirting Apple's privacy disclosures by not updating iOS apps [u]
Posted:
in iOS
edited January 2021
Google hasn't updated its iOS apps since early December while still keeping its Android apps up to date, in what could be an attempt to avoid supplying information for the
App Store's
privacy nutrition labels.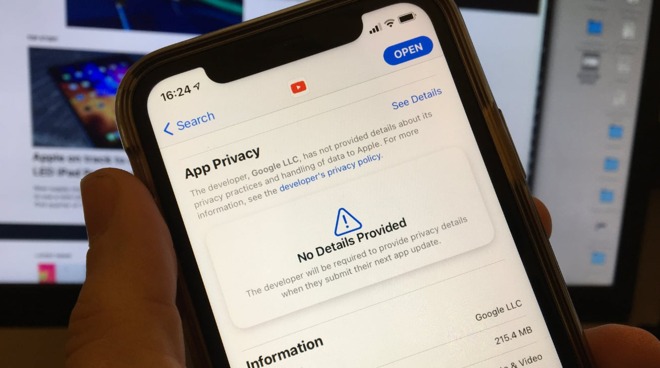 YouTube's App Store listing showing a blank App Privacy section
Google has not made any updates to its apps running on
iOS
from December 8 onwards. The version history listings for major apps such as
Gmail
,
YouTube
,
Google Drive
, and other services all list their last updates as December 7, 2020 or earlier.
First
spotted
by
Fast Company
on Tuesday and confirmed by
AppleInsider
, a representative group of 15 popular apps from Google all show the last update as occurring on or before December 7. In some cases, like YouTube, the pre-December 7 update was the last following a regular update schedule that was consistent throughout 2020, with the pattern now broken.
While it would be feasible to suggest the updates were paused due to the holidays, it seems unlikely, as many of the same apps received Android updates.
Gmail
for Android was last updated on December 16, while
YouTube's
Google Play listing shows an update from December 21.
Privacy Policy Changes?
The
Fast Company
report notes that the mass December 7 Google app update was the day before Apple implemented a new policy ordering developers to supply
privacy-related information
about their apps, which would be displayed within the App Store. These "nutrition labels" would tell users of the kinds of data being collected by an app or a connected third-party firm, if they are used for tracking purposes, and an idea of how the data may be used.
According to Apple's policies, it will allow an app to remain in the App Store
without displaying
this privacy-related information, but developers must provide the details if they wish to submit an update.
At the time of publication, zero of the 15 selected apps show any information under the App Privacy section of the App Store listing. Instead, the store listing states there are "No Details Provided," adding that "The developer will be required to provide privacy details when they submit their next app update."
As it stands, it appears that Google is gaming the system with its apps, by pushing some of its updates to the last possible moment before the new rules were put in place. Doing so can buy it some time before it is forced to do so by a needed app update.
Google has yet to provide reasons for the delay in updating the apps.
AppleInsider
has contacted Google for clarification on the matter.
The tactic of holding back on updates to avoid providing the privacy-related information may prevent Google from becoming the subject of criticism, due to the potentially huge amount of data it constantly collects about its users. The labels serve to inform users of how their data is being harvested and used, something that Google may not necessarily want to have published, even in a limited fashion.
This concern hasn't stopped
other companies
from complying with Apple's requirement. Social media giant Facebook has a substantial number of items appearing in its Data Privacy listing, and it offers the information despite having a similar public opinion as Google regarding data harvesting and usage.
Update:
A Google spokesperson informed
TechCrunch
that the search giant
plans to add
privacy labels to its various apps starting as soon as this week.