Loup Ventures imagines new Apple services like 'Mail+' or 'Stocks+'
Loup Ventures believes that the next batch of new Apple services may be "hiding in plain sight" in the form of enhanced existing apps like Mail, Podcasts, and Stocks.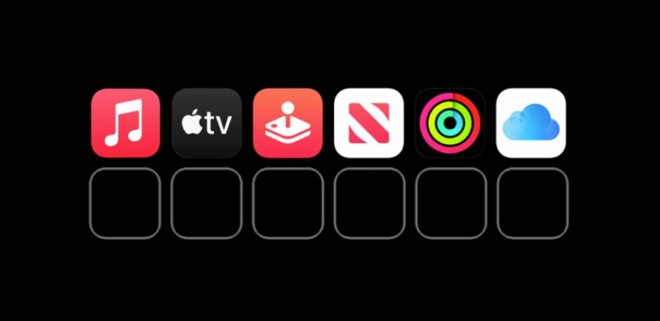 Credit: Loup Ventures
In a research note, Loup Ventures' Andrew Murphy imagines new Apple services, like "Stocks+" or "Mail+," that add new features to existing or default Apple platforms. Murphy notes that Apple services have seen massive success in the past few years. The sector grew 16% year-over-year to $53.7 billion in 2020, and Loup Ventures forecasts that it'll grow 15% in 2021.
The fact that
Apple Music
has grown to an estimated 85 million subscribers in just five years also "illustrates the power of services built on top of default apps."
In March 2019, Apple CEO
Tim Cook
said that the goal of the Services sector was to "help our customers get the most out of the products and to enrich lives" by making companion apps "more entertaining, more useful and more informative."
According to Loup Ventures, the playbook for a new Apple service is simple: add value to the existing hardware and software offering; improve the Apple ecosystem with more integration; and generate recurring revenue with high margins.
The Loup Ventures analysts use
Apple Fitness+
as a case study. According to Murphy, it adds unique value to the Apple Watch; integrates strongly with Apple's existing hardware and software; and costs $9.99 a month.
"Although Peloton digital and other workout offerings have long existed within Apple's ecosystem, Fitness+ goes beyond what these digital workout platforms can deliver through Apple's GymKit API, and offers more than the base Fitness app," Murphy writes.
Based on that, Murphy imagines how Apple could add paid subscriptions to several of its existing default apps. That includes:


Podcasts+:Murphy believes that original, tier-one content could drive interest to the Podcasts platform and "add unique value to the suite of Apple audio services."


Mail+: A premium Mail app could help Apple tap the personal productivity market. Murphy imagines a system that could aid in inbox management, scheduling, and automating other daily tasks.


Maps+: Rather than a simple navigation app, Murphy thinks Apple could monetize Maps by add a platform that can suggest "the best destination based on your desired outcome."


Stocks+: Using the Apple Card as an example of the company's lack of hesitation in the financial market, Murphy believes Apple could offer trading services or robo-advisory services like existing platforms Robinhood and Wealthfront.


Health+: Loup Ventures doesn't have a clear vision for "Health+," but notes that Cook's emphasis on health technology and the company's focus on privacy and security could be a boon to a telehealth or digital medicine platform.


Such Services could invite even further scrutiny from antitrust regulators, however. But Loup Ventures remains "optimistic about the segment's long-term growth potential despite recent and the potential for additional refinements to the Services model that address regulatory concerns."
That's despite Apple's recent
15% fee cut
for small developers on the
App Store
and the potential for antitrust regulations to change the company's
search deal
with Google.
However, Murphy believes that "following the first anniversary of any such changes, we expect Services growth rates should return to a mid-teens level."
"The recent acceleration in Services growth is indicative of an acceleration in a much broader digital transformation. Apple is powering this transformation around the world, changing how we live, work, and play. New services will make Apple's impact on our lives even deeper and broader, capturing value in new ways and driving the company toward a $3T market cap," the Loup Ventures analyst concludes.
On Jan. 4, Loup Ventures' Gene Munster
forecast
that Apple's share price could hit $200 "over the next couple years," based on a 35x multiple on the venture capital firm's 2022 earnings-per-share estimate of $5.70. That share price would put Apple over $3 trillion in market valuation.