Apple updates MagSafe support with medical device warning
Posted:
in iPhone
edited January 2021
Apple has updated a support document warning iPhone users that
MagSafe
could potentially interfere with pacemakers, defibrillators, and other medical implants that could be affected by magnets.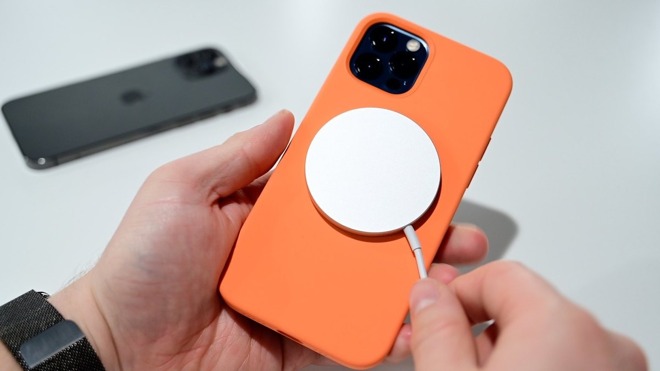 The magnets within the
iPhone 12
series and MagSafe accessories are meant to align the wireless charging coils, as well as to keep accessories affixed to the back of the iPhone itself. While the magnets may not be strong to cause noticeable issues for regular users, people with medical conditions requiring specialized equipment may encounter problems if their iPhone gets too close.
In an update to a
support
page about the magnets used for MagSafe, Apple added language that warns medical devices including implanted pacemakers and defibrillators "might contain sensors that respond to magnets and radios when in close contact." Apple doesn't explain what could happen in such cases, but the worst circumstance could be the deactivation of a medical device and a user's potential death.
"To avoid any potential interactions with these devices, keep your iPhone and MagSafe accessories a safe distance away from your device," Apple suggests. The suggested distances are more than 6 inches normally, increased to more than 12 inches when performing wireless charging.
The text,
spotted
by
MacRumors
, further advises consulting with a physician and the device manufacturer for "specific guidelines" in relation to MagSafe. If users suspect an iPhone or MagSafe accessory is interfering with their medical device, Apple tells users to stop using the iPhone or accessory immediately.
The update follows after an
article
in the
Heart Rhythm Journal
from three doctors in Michigan who tested MagSafe's effects on a patient's implantable cardioverter-defibrillator. When the iPhone was brought near to the patient's chest, the implant immediately ceased working normally, by changing to a different functioning mode.
The use of a sensor that works by detecting magnetic fields is used to make an implanted device work in specific ways, such as applying a manually-triggered electrical impulse instead of one performed using the device's previously-configured settings. It seems the magnets in MagSafe are powerful enough to trigger the sensors if placed close enough.
It is typical for a device to revert back to its normal function once the magnetic field is removed, making the effect temporary in most cases. Even so, Apple recommends a doctor's visit as a precautionary measure.
There is no indication that the doctors' findings influenced Apple into making the change to the support page.