Spigen's new accessories review: an inexpensive way to get into MagSafe
Posted:
in iPhone
edited June 2021
Spigen is going all-on on
MagSafe
with a massive new lineup of compatible accessories including chargers, cases, and power adapters. We took some time to try them all out.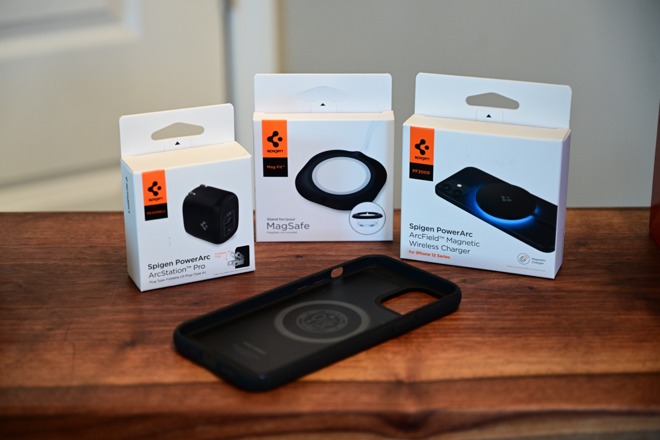 Spigen's new MagSafe compatible lineup
Spigen Mag Armor Case
No matter the MagSafe accessory you are using, if you plan to use a case, you must ensure that it too supports Apple's magnetic standard.
Early on, Apple and OtterBox were the sole purveyors of such cases, but now a smattering of fast-reacting manufacturers are offering their own solutions. One of which is Spigen's Mag Armor case.
This case is a soft material between plastic and rubber that holds its shape well. It comes in this black color with angled lines on the back for a subtle pattern. In the back of the case is the requisite magnets that enable MagSafe support -- both charging as well as mounting accessories.
With the Mag Armor case, you can use car mounts, a MagSafe charging stand, Apple's MagSafe wallet, and more. It is a simple case that offers the protection you need with the functionality other cases are currently missing. It works as advertised, and that's about all we can ask of a case such as this.
It is available for all sizes of
iPhone 12
for $21.99
.
Spigen MagSafe Fit puck holder
With or without a case, the MagSafe puck can be divisive. It works great, but some people prefer a more static position rather than the floating puck. It just moves around and doesn't stay put when you lift your phone. This can be very frustrating if the puck continues to move off your desk or nightstand.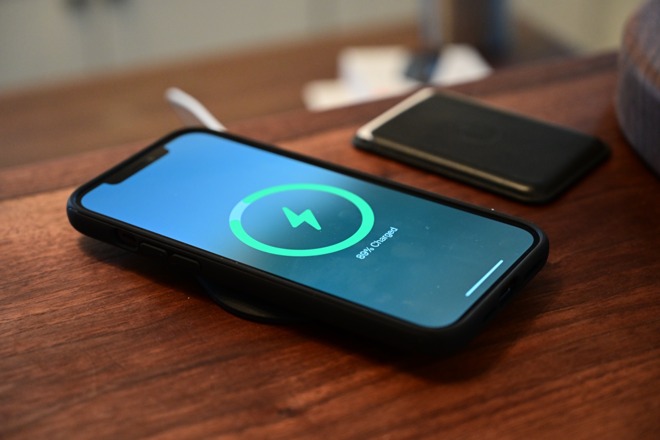 Spigen Mag Fit MagSafe holder
Spigen's new MagSafe holder is an affordable solution to that. Coming in both black and white, this simple device holds onto the MagSafe puck while also keeping its place on any surface.
The bottom has a micro-suction pad that holds onto your desk or nightstand without leaving marks and can be easily removed when needed.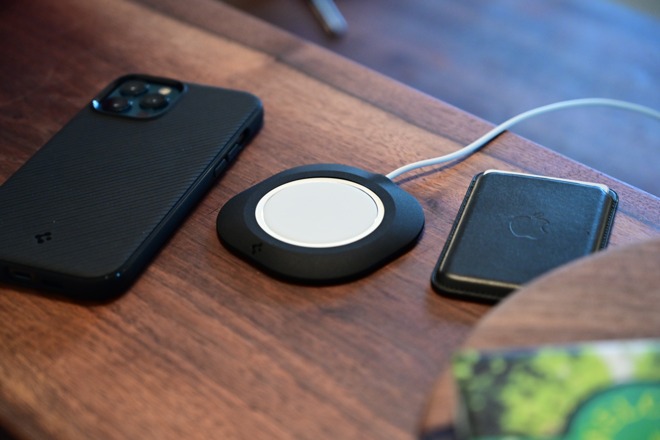 Spigen Mag Fit MagSafe holder
You can find it
on Amazon for $14.99
but it drops to $13 with the clipped $2 coupon.
Spigen PowerArc USB-C adapter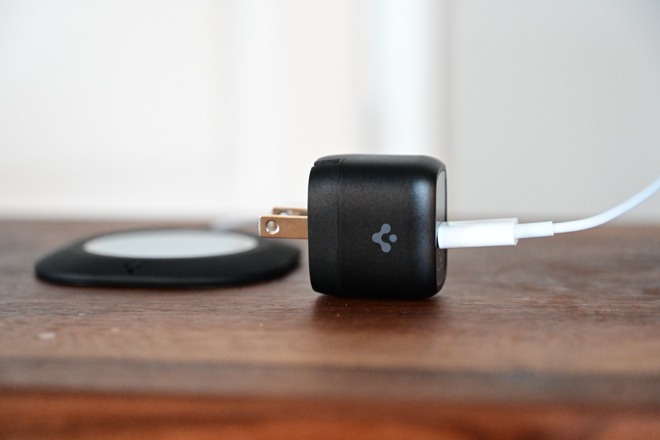 Spigen compact PowerArc USB-C power adapter
Alongside the MagSafe accessories, Spigen has also debuted a new, very compact 20W USB-C power brick. This diminutive adapter can Fast Charge your iPhone 12 with a USB-C to Lightning cable or adequately power your MagSafe charging puck.
The wall-side of the adapter collapses down to make it even smaller when not in use. Seeing as Apple doesn't include a power adapter in the box with neither its MagSafe puck nor its iPhones any longer, this is a perfect companion accessory.
Find it on
Amazon for $19.99
.
Spigen ArcField wireless charger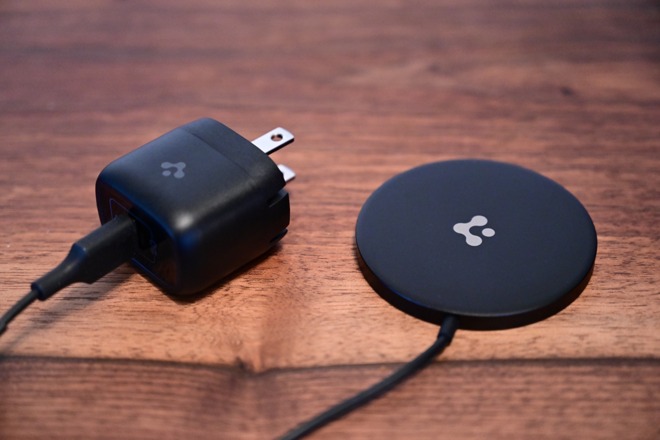 Spigen ArcField magnetic wireless charger
This last new magnetic accessory fits into a gray area. The device is technically MagSafe compatible, but it isn't the same as a real MagSafe charger. This is actually a Qi wireless charging pad that will magnetically connect to the MagSafe magnets on the rear of your iPhone 12.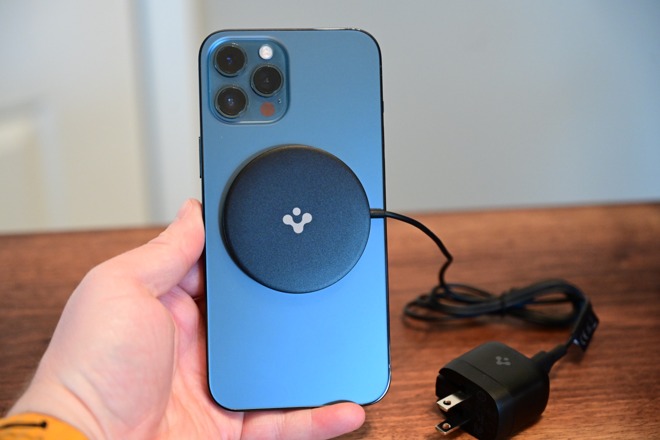 Spigen ArcField magnetic wireless charger
Unlike an official MagSafe charger, this is still a Qi charger and only charges at 7.5W maximum. It is still convenient but not as fast as a 15W MagSafe charger.
You can find it
on Amazon for $24.99
but it drops to $20 with the clipped $5 coupon.
Pros
MagSafe compatible


Affordable price points


Slim case


Amazingly tiny USB-C adapter
Cons
Cheaper materials


Magnetic charger isn't true MagSafe
Rating: 3.5 out of 5