Apple shipped 90.1M iPhones in Q4 to oust Samsung as world's top smartphone vendor, report...
Posted:
in iPhone
edited January 2021
Apple shipped an estimated 90.1 million iPhones during the last three months of 2020, according to research firm IDC, catapulting the tech giant far ahead of longtime rival Samsung.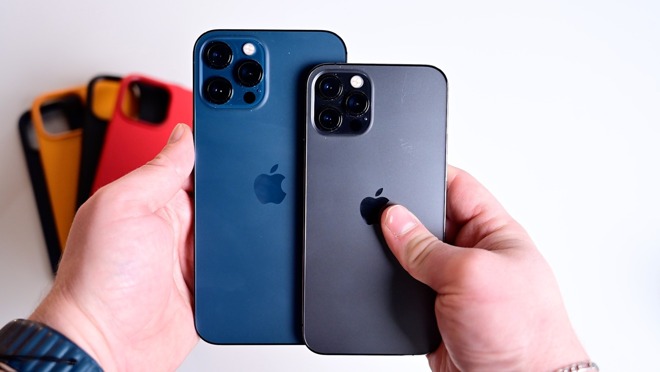 Data from IDC's Worldwide Quarterly Mobile Phone Tracker points to a
record quarter
for Apple, with 90.1 million iPhones shipped for a 23.4% share of the global market. That figure is up a massive 22.2% year-over-year and represents the highest quarterly shipment volume since IDC began tracking smartphone metrics.
"There are a lot of elements at play that are fueling the smartphone market recovery - pent-up demand, continued supply push on 5G, aggressive promotions, and the popularity of low to mid-priced phones," said Nabila Popal, research director with IDC's Worldwide Mobile Device Trackers.
Apple CEO
Tim Cook
offered a similar take on iPhone performance during a quarterly investor conference call on Wednesday, saying
iPhone 12
helped drive massive earnings of
$111.4 billion
for the company's first fiscal period of 2021. China, for example, exhibited pent-up demand for a 5G iPhone, while all regions reporting sales growth on the back of record
upgrades
led by "Pro" models.
According to Apple, iPhone's installed user base now sits at
more than one billion
people.
Apple's massive gains are impressive considering the company dropped to
fourth place
in global smartphone marketshare last quarter.
Previous No. 1, Samsung, dropped to second place on 73.9 million units shipped and a 19.1% marketshare, IDC says. The South Korean firm eked out growth of 6.2% year-over-year, but was unable to keep pace with Apple, Xiaomi and Oppo. According to a fourth quarter disclosure, Samsung's mobile business
contracted
11% due to "intensified competition in the year-end season" and higher marketing costs, reports
CNET
.
Xiaomi retained its position in third with 43.3 million smartphones shipped for an 11.2% share of the market, up 32% from the same time last year. Oppo also gained ground with 33.8 million shipments for an 8.8% slice of the pie. Huawei suffered a precipitous fall during quarter four to end the period in fifth place with 32.3 million units shipped, down 42.4% from 2019.
It should be noted that firms like IDC do not have insight into Apple's supply or retail chains and provide estimates based on independent research. The methodology, and more importantly results, of market research firms have been brought into question in the past, with Apple executives dismissing the data as largely incorrect.
Overall, the smartphone market is healing after fallout from the
coronavirus
pandemic stunted both manufacturing and sales. IDC sees 4.3% year-over-year growth for the sector, in line with typical market seasonality.