Apple users supportive of privacy measures, but open to ad tracking
Posted:
in iOS
edited January 2021
Apple users are generally supportive of Apple's stance on privacy, but a new survey claims most are apparently fine with the idea of allowing tracking if they didn't have to pay for content or features.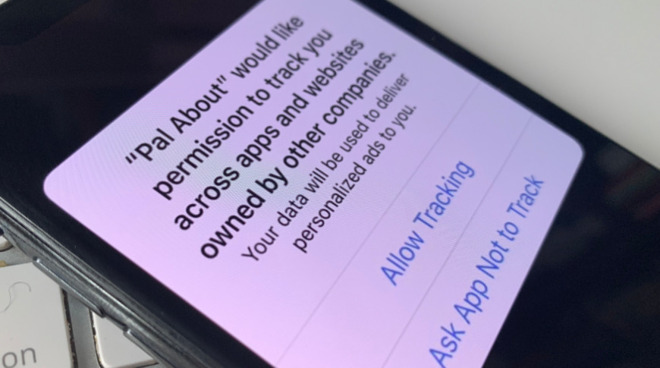 One of the most ardent supporters of user privacy, Apple's stance on the subject is well known to be one in favor of keeping user data as untrackable as possible. CEO
Tim Cook
framed it as "one of the top issues of the century" in an
interview
on Friday, with Apple working to maintain user privacy in as many different ways as possible.
The upcoming
App Tracking transparency
feature, which will give users more of an
opportunity
to opt out of ad tracking, builds on top of other initiatives already undertaken by the company. This has included the use of encryption, minimizing the amount of user data that needs to be used and anonymizing where possible, and the so-called
App Store
"nutrition labels."
In a
survey
of more than 2,000 iPhone and iPad owners in the United States by
SellCell
, 72% of users were aware of Apple's privacy changes in
iOS
and iPadOS updates. Approximately 13% claimed they knew the changes "extremely well," while 29% considered they knew the changes "very well," 21% said "moderately well," 9% said "slightly well," and 28% said "not well at all."
The group also expressed concern for the practices of website and app tracking, with 65% saying they were "extremely" or "very concerned." Only 14% said they weren't concerned at all by tracking.
In questions that relate to the upcoming anti-ad tracking features, 35% said they would be in favor of tracking to allow personalized advertisements based on their interests, while 65% would rather be served with generic ads.
Tracking would be allowed by 59% of users if that is how the app delivered content relevant to the user. Furthermore, 74% would opt in for tracking if it "means not having to pay for content or features that are currently free."
The percentage drops to 48% that would opt in if it meant "not losing access to content or features" they currently enjoy using.
The identity of the app seems to be less of a factor for opting in, as only 39% said they would if the app was "a familiar one like Facebook or Instagram." Furthermore, 43% would opt in if the app was "upfront about the data collected and their applications," while 57% disagreed.
The App Privacy addition to the App Store may have an impact in whether users download an app, as 57% indicated they would't download apps that collect "too much personal information like location or financial info."
As for Apple's approach with the new privacy policies, 65% agree with the changes, 12% were not sure what to make of them, and 23% thought Apple was "taking it too far."
The survey's results suggest that, while users are keen on retaining their privacy from online firms tracking their Internet and app activities, it may be enough of a trade-off to allow them to keep their favorite features of apps active.
The trade-off may be a small comfort to apps and online services that could be negatively affected by the new policies. For example,
Bumble's IPO
filing in January mentioned that its marketing expenditure could rise if users adopt the new measures.
Meanwhile Facebook has threatened to file an
antitrust lawsuit
over App Store policies and opt-in ad tracking changes, as a potential escalation against Apple's implementation of the features.