Facebook tests ad tracking notifications ahead of Apple's privacy rollout
Facebook will be preempting Apple's implementation of iOS 14's App Tracking Transparency features by asking users of the social network to give the app permission to track them.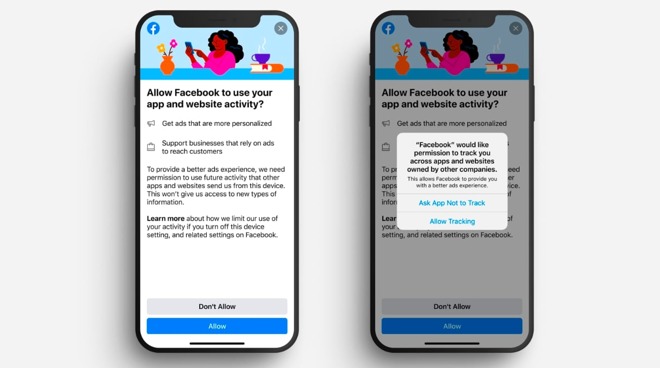 Apple is gearing up to implement new features in an
iOS 14
update that will limit the amount of tracking that apps and services can perform of their users. As part of this
App Tracking Transparency
initiative, Apple is requiring developers to gain permission from users before being able to track their device's advertising identifier.
The change adds a notification asking if users would allow tracking by the app, and to either allow the tracking or stop it from happening. It seems Facebook, the biggest opponent to the change, is starting to test out how it will impact its business before Apple puts it into practice.
In one test
reported
by
CNBC
will display an extra notification for users to read, asking "Allow Facebook to use your app and website activity?" The page explains users will receive more personalized advertising and to "support businesses that rely on ads to reach customers."
The page offers options to "Allow" or "Don't Allow" the practice, which can summon Apple's official ATT notification, which asks the question again.
The test version is one of a number of ways Facebook is prompting users to give it permission ahead of the changes, which are expected to arrive in the spring.
Facebook also updated its "Speaking up for Small Businesses"
post
about how it disagrees with Apple's approach on Monday, but admits it will be "showing their prompt to ensure stability for businesses and people who use our services."
The page claims Apple's prompt "suggests there's a tradeoff between personalized advertising and privacy; when in fact, we can and do both." Facebook goes on to allege Apple's notification "provides no context about the benefits of personalized ads."
The page is said to answer this problem by providing "more information about how we use personalized ads, which support small businesses and keep apps free." The social network also suggests users "deserve the additional context, and Apple has said that providing education is allowed," while
linking
to Apple's developer pages on the topic.
Facebook has repeatedly attempted to convince Apple not to proceed with its plans, including a
newspaper ad campaign
claiming Facebook was defending
small businesses
against the change. Facebook CEO Mark Zuckerberg has also suggested the changes
are driven
by "competitive interests" and not privacy.
The social network is also supposedly considering an
antitrust lawsuit
against Apple over
App Store
policies and the privacy features.
Despite the protestations, Facebook has also
admitted
it has "no choice" but to adopt the prompt, or risk removal from the App Store.