Apple launches new build of iOS 14.5 developer beta 1 [u]
Posted:
in iPhone
edited February 2021
Apple has released a new iOS 14.5 developer beta with a new build number and unknown bug fixes.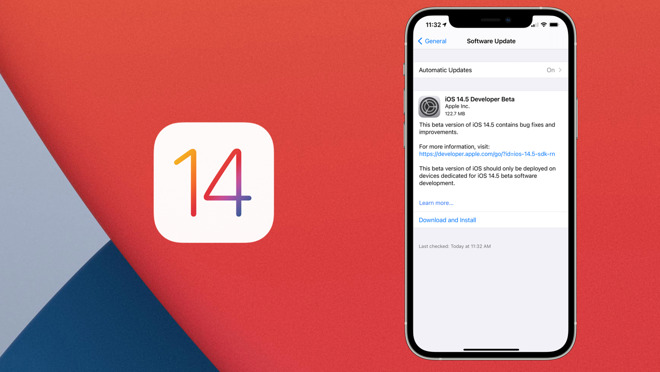 Apple released a new build of iOS 14.5 Beta 1
The beta doesn't list any specific changes, instead referring to general bug fixes and improvements. Its build number is 18E5140k.
Registered developers can install the latest builds of each operating system can be acquired from the
Apple Developer Center
for devices enrolled within the testing program. Hardware already using beta software can install the new software as an over-the-air update.
A public beta build usually arrives some time after the developer counterparts, as part of the
Apple Beta Software Program
.
Apple had
launched the initial beta
on February 1. The update adds the ability to
unlock a Face ID iPhone while wearing a mask
. The feature is only available to Apple Watch owners, using the unlocked watch's proximity to automatically unlock the phone.


AppleInsider, and Apple itself, strongly suggest users avoid installing betas on to "mission-critical" or primary devices, due to the potential for data loss or other issues. It is instead recommended to install betas onto secondary or non-essential devices, and to ensure there are sufficient backups of important data beforehand.

Update, Feb. 4: Apple has released a public beta version of iOS 14.5. Members can download the release through the Apple Beta Software Program website.