OWC unveils truly universal Thunderbolt 4/USB-C cable
The OWC Thunderbolt 4/USB-C cable is fully compatible with any modern USB standard and will connect any two
USB-C
devices without issues.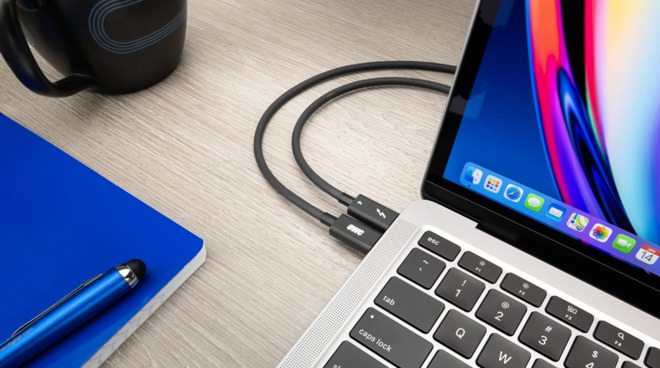 The OWC Thunderbolt 4 cable will solve any USB-C to USB-C need
When USB-C was first introduced, it was meant to be the universal connector that made buying cables easier than ever. The end result, given the poor labeling, ended up being more confusing than the connectors before it.
Now, OWC has a cable that unifies all of the standards into one universal cable that is backwards compatible from Thunderbolt 4. With a single cable you can connect any two USB-C devices and achieve full power and a maximum speed data connection without needing to concern yourself with which standard is which.
"With the OWC Thunderbolt 4 / USB-C Cable, you never have to worry or wonder if you have the right cable because it's a perfect cable for all of your C-to-C connectivity needs," said Larry O'Connor, Founder, and CEO of OWC. "If it fits your ports, it 100% does support. No other USB-C cable, other than one that is Thunderbolt 4 certified, can make this claim. As I introduce these new cables to individuals and groups, I can't tell you how many people have said they will be cutting all their other USB-C cables. Incorrect cable use is a real issue and headache we are excited to have solved."
Features of the OWC Thunderbolt 4/USB-C cable:
Connects to any USB-C device
Compatible with Thunderbolt 4, Thunderbolt 3, USB 4, or USB 3
Power delivery up to 100W
Data transfer up to 40Gb/s
Up to 8K video out capability to Thunderbolt or USB-C display
3 Year OWC Limited Warranty
AppleInsider
has been in the process of testing the USB4 and Thunderbolt 4 cables available from assorted vendors. So far, the verdict has been mixed with even multiple cables from the same vendor, with the same posted specs, not being "universal" or not living up to what the companies promise. We will be adding OWC's cable to the test list.
You can purchase the OWC Thunderbolt 4/USB-C cable for $27.99 in 0.8 meter length on
MacSales
.