Satechi releases pair of Bluetooth remotes for Mac & iPad
Satechi has released a pair of new Bluetooth remotes to control presentations as well as media playback on both
Mac
and iPad.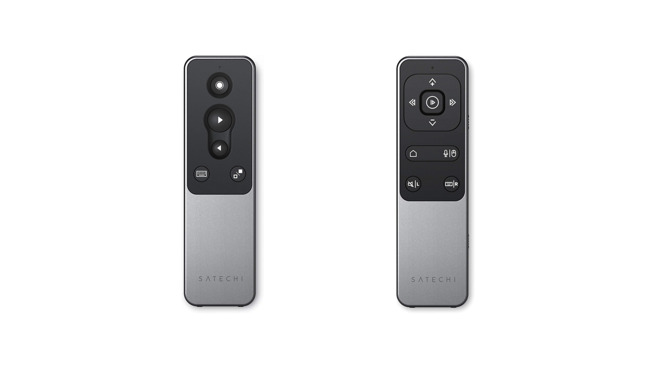 Satechi's R1 (let) and R2 (right) remotes
The remotes, both made of aluminum with matte black buttons, have rechargeable batteries that power up over USB-C. They connect wirelessly over Bluetooth 5.0 with 32 feet of range.
The R1 offers forward and back control buttons, a quick-access keyboard button, and a black-out screen feature. It also has an integrated laser pointing for highlighting on-screen components.
The Satechi R2 remote has additional controls such as multimedia mode to control volume, skip/previous, play/pause, home/Siri, mute, and keyboard. In presentation mode, you have four-way arrows, left/right mouse buttons, and an on-screen laser pointer for use with Keynote and PowerPoint.
Both remotes work with common presentation software such as Keynote, PowerPoint, Prezi, and Google Slides, and also PDFs. The multimedia remote works with the Music app, Spotify, Pandora, and YouTube as well.
Satechi's R1 Bluetooth Presentation Remote is available
through Satechi
for $44.99 and
Amazon as well
. The R2 Bluetooth Multimedia Remote Control can also be picked up for $44.99 on
Satechi's website
and
Amazon
.