Sonnet announces Echo 11 Thunderbolt 4 Dock with four Thunderbolt ports
The newly announced Sonnet Echo 11 Thunderbolt 4 Dock has 11 ports, four of which are backwards-compatible
Thunderbolt
ports.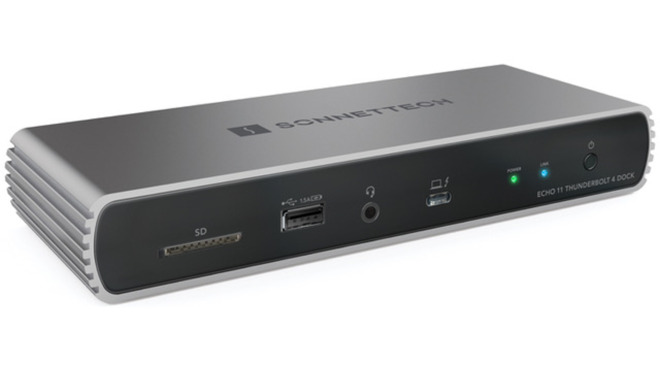 The Sonnet Echo 11 Thunderbolt 4 Dock
Thunderbolt 4 is a backwards-compatible spec that allows for a single device to work across multiple port specs. Connect the new Sonnet dock to any Thunderbolt 3 Mac, including the
M1
Macs.
The Sonnet Echo 11 Thunderbolt 4 Dock has four Thunderbolt ports, one for connecting the dock to your Mac and three additional Thunderbolt ports for accessories. The Thunderbolt 4 spec will allow you to connect any device to those ports that uses a USB-C port.
The dock connects via a single Thunderbolt cable so the maximum data that can be carried from the dock to your computer will be limited to 40Gb/s. This means that even if you connect fast NVM-e Thunderbolt drives to each of the three ports, they all cannot transfer data simultaneously at 40Gb/s, with speeds managed by the controller in the dock.
When using the dock with an M1 Mac
only one
external display can be connected at up to 6K resolution through a Thunderbolt port. The dock is rated for a maximum output of two 5K displays with Intel Macs.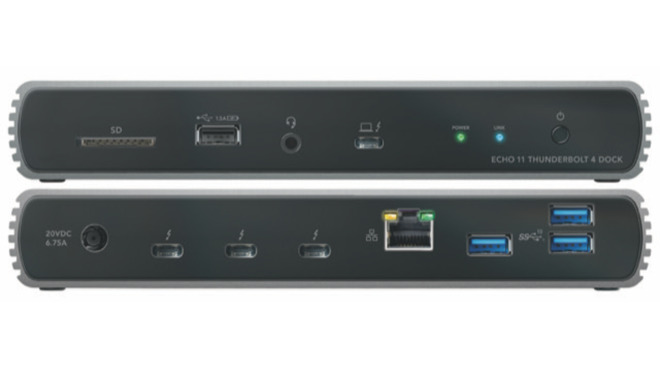 Turn one Thunderbolt port into 11
The ports included on the Echo 11 Dock are:
3 Thunderbolt 4 peripheral ports
One Thunderbolt 4 90W charging port
Three USB 3.2 Gen 2 Type-A ports
One USB 2.0 Type-A port
One SD 4.0 Card Slot
One Gigabit Ethernet Port
The Sonnet Echo 11 Thunderbolt 4 Dock is available for preorder now,
for $199.99.
The price reflects a $50 savings off the final retail price. Preorders are expected to ship in April.