Supposed 'AirPods 3' photo hints at flat-sided stem changes
New images supposedly showing Apple's next
AirPods
release have surfaced, with a report claiming that the new design will force a change to the way users can interact with the device.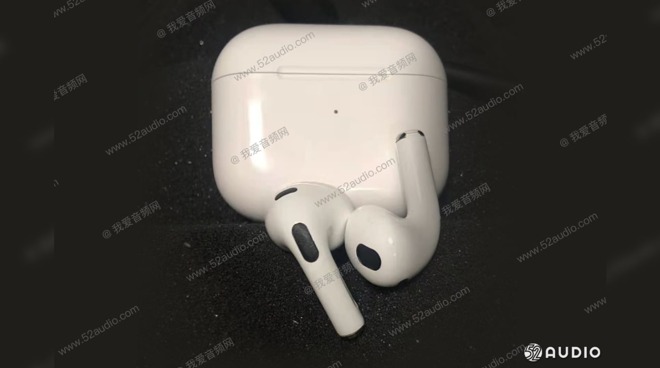 An alleged photo of the 'AirPods 3' and charging case [via 52Audio]
Rumors surrounding the next potential release in Apple's AirPods line have so far suggested there will be small refinements to the wireless earphones experience. A set of images released on Sunday may be the first photograph showing what to expect from the new model.
The images
published
by
52Audio
seem to correlate with existing rumors for the next version, which could be called the "
AirPods 3
" or the "
AirPods Pro Lite
." This includes making the AirPods themselves smaller with a shorter stem, as well as adding silicone ear tips to the design.
While the ear tips would make the AirPods more comfortable to wear and provide a snug fit like the
AirPods Pro
, it may not be a sign of the inclusion of improved noise cancelation. Previous rumors have pointed to ANC being left out of the "AirPods Pro Lite," with the product offering some of the Pro features, but not all of them.
A bigger change is related to the stem's design change. A flat edge and a tweaked sensor array could allow Apple to introduce a more refined touch-based control system than the current tap-based control scheme.
Mentions of a force sensor suggest it won't be a full touch-based control scheme involving swipes and similar gestures, but it could involve holding the stems or increasing the tension in different ways, such as pinching.
The report also points to the inclusion of a pressure-relief mechanism in the design, again borrowing from the AirPods Pro. This would in theory allow the pressure inside the ear to be released and equalized with the outside world, increasing user comfort.
Despite the smaller size, the rumored AirPods will apparently have a battery life of around 5 hours, extended to 24 hours when used with the charging case. Pricing is thought to be in the region of $150, and with a release date of "early March 2021."
The March release date seems to go along with other rumors since the start of 2021. Some have claimed a release of a second-generation AirPods Pro by the end of
the spring
, with one suggesting new AirPod models could launch
in April
.
While plausible, there's no guarantee that the images supplied in the
52Audio
report are for the real product. Previous reporting also casts considerable doubt on whether the details in the report are genuine, aside from any correlation with earlier rumors.
One leak from the site in
November 2020
made similar pressure relief claims and showed "X-ray views" of the AirPods Pro alongside the "AirPods 3." However, the image was suspected to be faked with editing, distorting an image of the AirPods Pro to a smaller size and claiming them to be the new model.