Apple Pioneer Place renovations continue ahead of Monday's reopening
Apple may have to race to finish renovations of its Portland Apple Store if it is to reopen on Monday, as photographs indicate there's still some work to complete.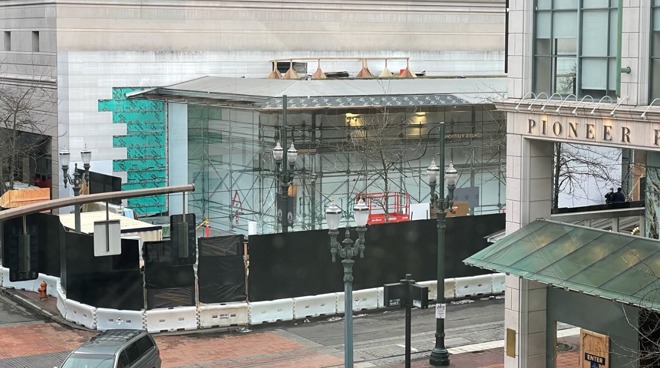 Apple Pioneer Place renovation work [via "Nate"]
On Saturday, a report claimed Apple was
preparing to reopen
its Apple Pioneer Place outlet in Portland, Oregon on Monday. While Apple apparently made the declaration that it will be ready for its 11 a.m. pacific time (2 p.m. eastern), the site itself is still being prepared.
Photographs of the storefront taken on Saturday by "Nate" and provided to
AppleInsider
showed the store as having more than a few finishing touches left to do.
The roof of the building is missing some sections in one image, which also showed a number of granite blocks being absent from a connected wall. Inside, scaffolding was still present throughout the building, with work still being carried out to replace glass panels.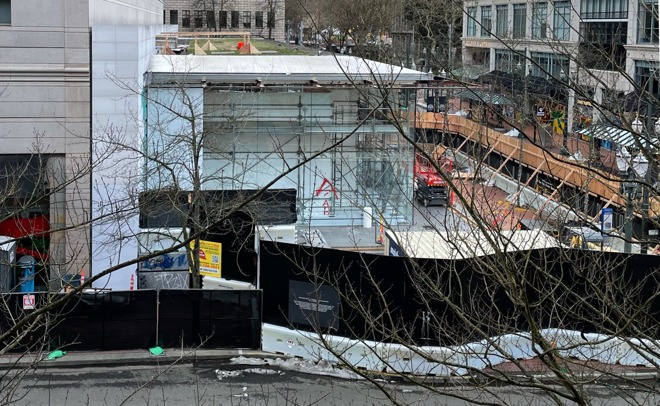 A clear view of the scaffolding inside Apple Pioneer Place [via "Nate"]
Outside the store are barriers and fencing that have to be removed before opening, as well as a temporary building used by the construction company.
Even with these aspects being worked on, it is still possible for Apple to open up the store on time. The store's
website
advises it will be opening from 11 a.m. until 6 p.m. under "special store hours," and will be open for online order pickup and Genius Support by appointment.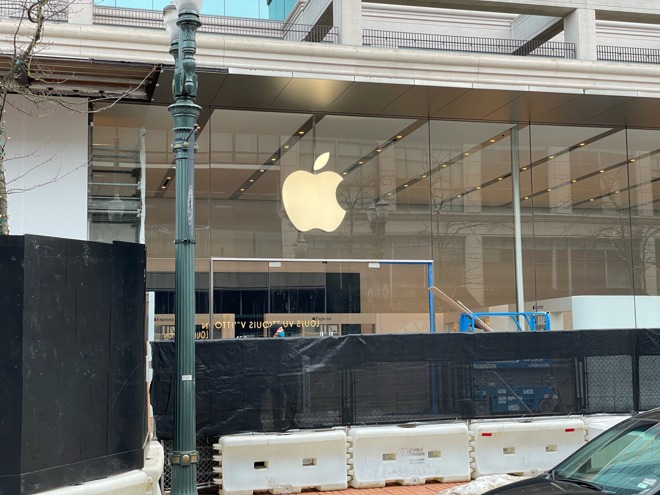 Apple Pioneer Place's Express kiosks are installed [via "Nate"]
As part of
COVID-19
precautionary measures by Apple, the store will be operating with social distancing procedures in place.
Apple Express
counters are visible in the images, minimizing the spread of the virus through the use of walls and plexiglass.
The opening on Monday will be the store's first in almost nine months. The outlet closed on May 29, 2020 following the
George Floyd
riots, and required extensive refurbishment caused by overnight vandalism.
A
Black Lives Matter mural
was painted onto barricades around the store while work was being carried out. Apple donated the mural to the non-profit Don't Shoot PDX for preservation.