Apple having trouble finding ex-iOS head Scott Forstall for Epic testimony
Scott Forstall, the former SVP of
iOS
at Apple, is one of the executives that may face scrutiny in Epic Games'
App Store
lawsuit, but Apple says that it is having trouble contacting him.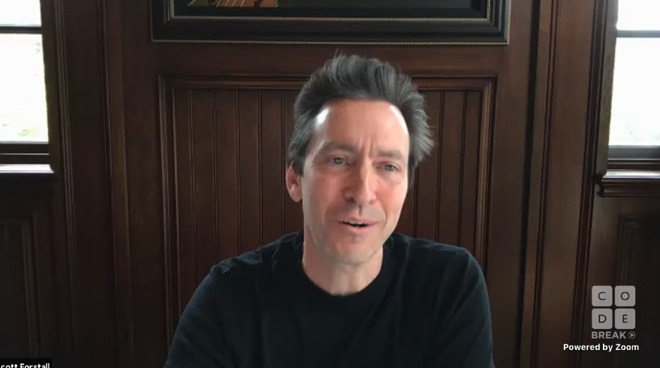 Former Apple SVP of iOS Scott Forstall during a streamed remote interview in May 2020.
As part of its US-based
legal action
against Apple, Epic Games has demanded numerous Apple executives provide testimony. While figures such as CEO
Tim Cook
are
readily available
, a US District Court filing for the Northern District of California on Monday suggests that's not the case for everyone.
In the filing updating the court on document production and securing testimony from parties of interest
spotted
by
iMore
, Epic advised Apple said it was having trouble getting hold of Scott Forstall.
According to Epic, Apple "offered" Forstall for a deposition on December 15, later confirming on December 29 that Apple represented the executive and would provide dates for a deposition. Epic didn't attempt to contact Forstall for a deposition, and the company claims that Apple changed its tune to claim it "never indicated that compulsion would be necessary."
By February 5, ten days before the end of discovery for the lawsuit, Apple supposed told Epic Forstall had not responded to its inquiries for a deposition set for February 11.
When Epic asked for Forstall's contact information, Apple was said to have provided a PO box and a Twitter handle. Apple also apparently said it was not authorized to share Forstall's phone number, but later said it "did not believe that it was in possession" of that detail, according to Epic.
Epic then requested for Forstall's deposition to take place after February 15, which Apple seemingly agreed to with an arbitrary deadline of March 10.
In response to the accusations from Epic, Apple did not object to a deposition of Forstall in advance of March 10. Furthermore, Apple claims it indicated it expected its counsel to represent Forstall at his deposition, and that it "never suggested" to compel Forstall to attend.
"The parties are working collaboratively to resolve this issue and hope to avoid judicial intervention," writes Apple, but adds "Epic cannot hold discovery open indefinitely while it seeks to locate, serve, and depose another witness."
Currently, the trial is expected to take place in May 2021.
The last time Forstall appeared in public in a major way was in
May 2020
, when he was interview remotely via a live video stream. Forstall's
Twitter account
was last updated on October 29, though that account's updates are best described as minimal and sporadic.