Apple now displays iPhone and Mac repairability scores in France
Apple this week posted repairability scores for flagship iPhone and Mac products in France, a measure mandated by the country's government in January.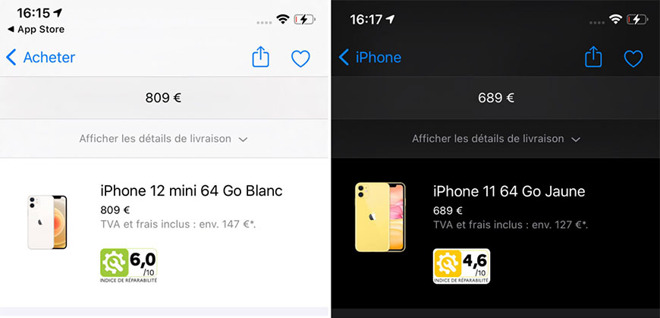 The listings, known as repair indexes, are
now displayed
on official Apple Store app purchase pages and on Apple's website, reports
MacGeneration
. Current-generation flagship devices including the
iPhone 12
,
iPhone 11
and
iPhone SE
series, as well as
MacBook Pro
and
MacBook Air
models, carry the informational mark designed to offer insight into a product's life cycle.
Separately, Apple has posted a dedicated
webpage
on its French website with links to detailed repair index reports covering documentation; disassembly, access and tools; parts availability; parts pricing; and software and services support. Indexes are self-reported and assigned based on cumulative scores in a range of sub-categories.
All models in the current iPhone 12 series were assigned a score of 6 out of 10. The iPhone 11 and 11 Pro received a 4.6, while their larger stablemate, the iPhone 11 Pro Max, came in with a score of 4.5. Apple rated its iPhone SE 2 at 6.2. On the Mac side, the 2020 MacBook Air ranked the highest with a score of 6.5 out of 10, followed by the 2020 16-inch
MacBook Pro
at 6.3, and the 2020 13-inch
MacBook Pro M1
at 5.6.
Apple has generated
repair indexes
for
iPhone 12 Pro Max
,
iPhone 12 Pro
, iPhone 12,
iPhone 12 mini
, iPhone 11,
iPhone 11 Pro
,
iPhone 11 Pro Max
, iPhone SE (second-generation), iPhone XR, iPhone XS Max, iPhone XS,
iPhone X
, iPhone 8 Plus,
iPhone 8
, iPhone 7 Plus and
iPhone 7
. MacBook Pro and MacBook Air models manufactured in 2018, 2019 and 2020 are also included.
France's repairability index mandate went live on Jan. 1, and applies to manufacturers of smartphones, laptops, TVs, washing machines, and lawnmowers. The legislation was enacted to reduce waste and promote a circular economy. While producers assign their own scores, those claims can be refuted by competitors and officially scrutinized by the General Directorate for Competition Policy, Consumer Affairs and Fraud Control.
The development arrives as the European Union
pushes
to install consumer right to repair laws that could require companies like Apple to introduce product labels detailing device durability.