Returning to the Apple Store - the new normal
For the first time since March 2020 all 270 Apple Stores in the US are now open in some capacity. AppleInsider has visited a few stores in the last few weeks, and the experience is radically different than what it was a year ago, or even when the stores reopened for the first time.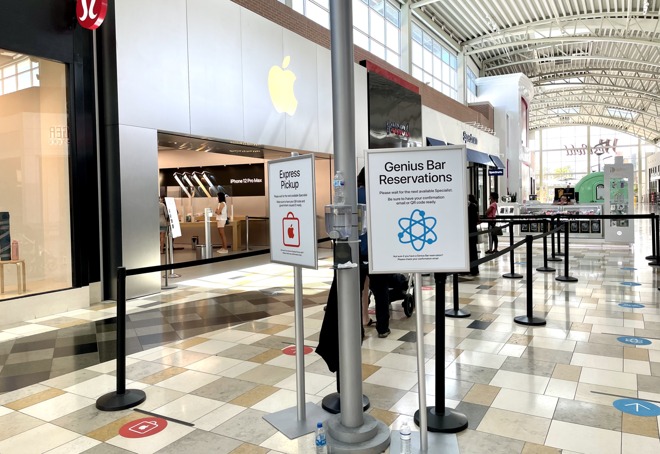 Entrance to the Brandon, Florida Apple Store
Over the past year, my local Apple Store found in the Westfield Brandon Town Center mall has remained open save for only a few sporadic weeks. While I haven't had much need to visit in-person over the past year, two faulty
MacBooks
finally required me to make a Genius Bar appointment and bring them in for repair.
Users looking to make any kind of Genius Bar appointment should plan far ahead as the earliest appointments for this location were at least one week out. If you attempt to show up in-person without an appointment, don't expect support. You may be able to wait several hours for a personal shopping experience, but Genius support won't be available.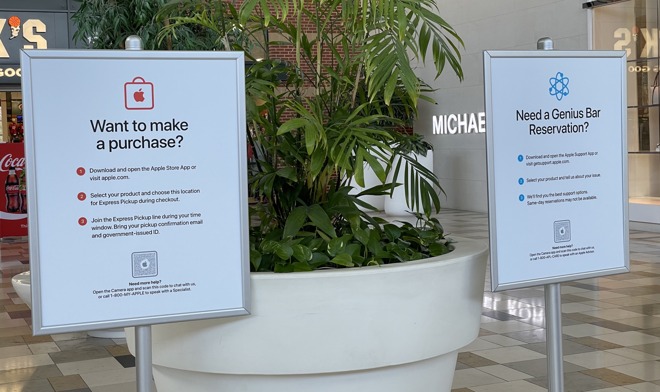 Visitors are required to make an appointment
On the day of my Genius Bar appointment, I approached the Apple Store to discover three separate lines. Those who have ordered a product for Express Pickup enjoy the fastest service, while the two longer lines are for those with a Personal Shopping appointment or Genius Bar support. An Apple security member waits at the opening of each line to confirm you have an appointment.
My appointment was scheduled for 12:05 P.M. and while I arrived close to the scheduled time, I had to wait in line over 40 minutes to finally be called into the store. It appears that a maximum of five customers were being seen at a time, all relegated to tables setup at the front of the store.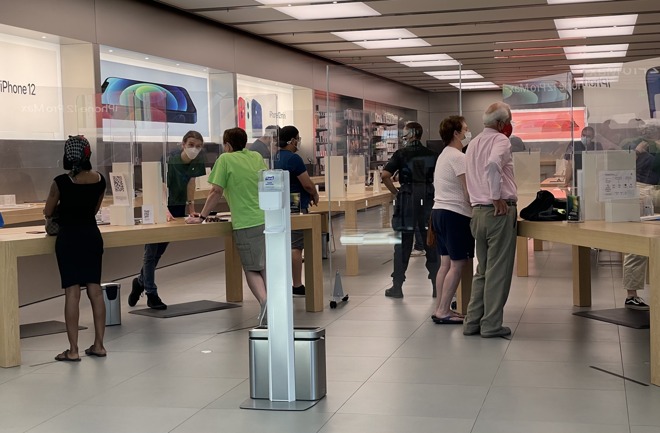 Customer are seen at a few tables located in the front of the store.
Each "station" enclosed an Apple store representative in plexiglass from three sides leaving only a small opening at the bottom to slide your Apple devices through. A large plexiglass divider on wheels blocked the middle of the store and made it clear that no customers would be traveling farther inside.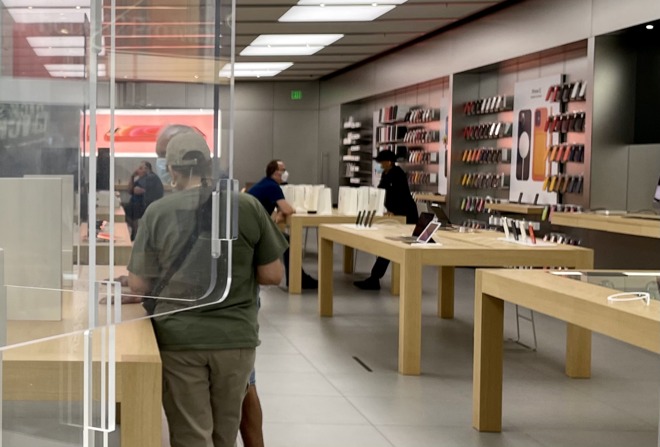 Express Pickup orders ready to be distributed
A table located toward the back of the store appeared to have Express Pickup orders ready to be brought out to customers. Those in line for Express Pickup never enter the store but instead have their products brought out by an Apple Store employee.
Once I was called up to a table, I explained the issues with my two MacBooks, a 2019 13-inch
MacBook Air
with a faulty spacebar and a 2020 13-inch
MacBook Pro
that refused to start up.
At first the representative explained I would need to make two appointments, one for each Mac. Ultimately, both were inspected for repair.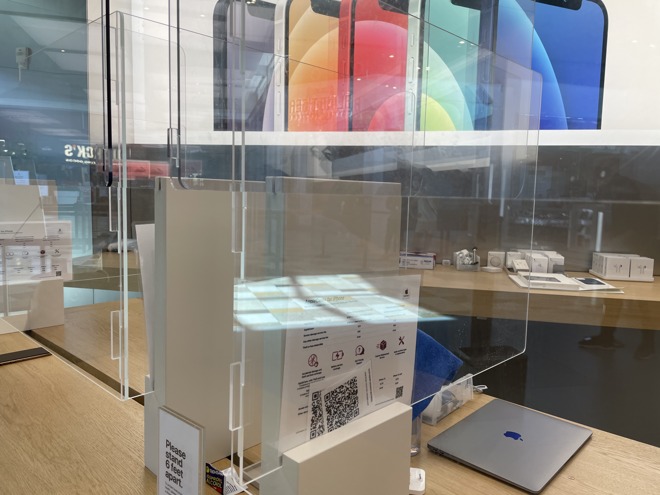 Genius Support station
Each Apple employee behind glass was masked and many wore gloves as well. As they took my MacBooks, each was thoroughly wiped clean before brought back for repair. The Genius also explained that repair times may be delayed as the Texas location where keyboard issues are fixed remains closed due to impacts from inclement weather.
After signing the repair agreement for both Macs, I was told I should receive a call in the next 24 hours to communicate what repairs are needed.
The days of shoulder-to-shoulder Apple Stores are probably over
My experience was echoed by the rest of the
AppleInsider
staff, as it pertains to their visits to Apple Stores. Each has plexiglas walls up to isolate areas of the store, with available customer area -- and store capacities -- limited depending on floor space.
In our conversations with Apple personnel inside and outside of retail, none are expecting any loosening of restrictions or plexiglas walls any time soon. Without providing documentation to us, we've been told that precautions will remain in place until mid-2022 at the earliest -- and may never be fully pulled back.
This all said, while the experience of going to an Apple Store is significantly different compared to the pre-pandemic era, they've done an admirable job of servicing customers while taking all the precautions necessary. Those needing to schedule a Genius Bar appointment should keep in mind that the appointment may be a week or more away.
If you're in a hurry, checking often or looking at alternate locations may reveal open appointments. But in every location we checked, don't expect to get seen same-day like you could in some locations, pre-pandemic.
Express Pickup remains the fastest service one can experience at an Apple Store, usually taking just a few minutes. But if you've scheduled a Genius or Personal Shopping appointment, be sure to leave plenty of time to wait even if you arrive early.