DJI FPV drone review: an incredible new experience for drone enthusiasts
The DJI FPV drone is the company's first all-in-one, ready-to-fly, first-person POV product, and we've been testing it out for the last week or so.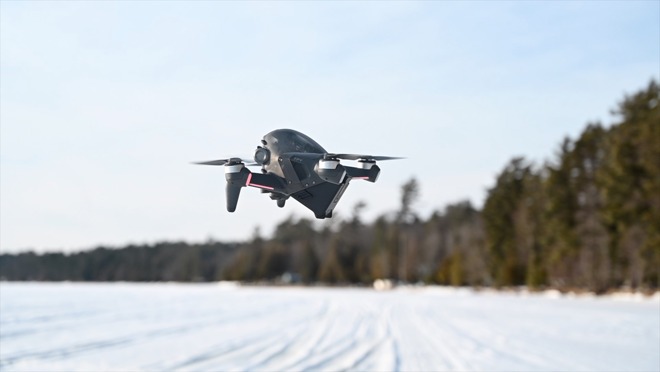 The new DJI FPV drone
This drone is unlike most consumer drones to date. Rather than flying the drone via line-of-sight or using your
iPhone
as a display to see where the drone is going, you operate it while wearing a set of goggles.
The goggles give you a first-person view of exactly what the drone sees. It is similar to a virtual reality setup that makes you feel like you are flying through the sky, though not quite as immersive. Still, it is thrilling and fun to do.
DJI FPV drone - Design
Included in the box is everything you need to fly. There is no attaching a GoPro to the front of your existing drone, and no prior knowledge necessary. Just open everything up and get going.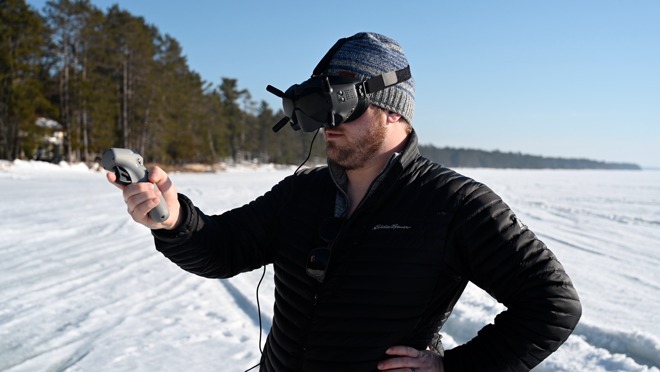 Flying the new DJI FPV Drone
You have the drone, the goggles, and the controller all included in the box.
Engineering and design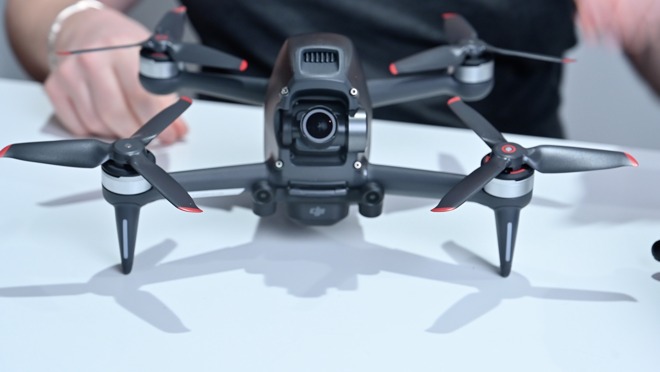 The front of the DJI FPV drone
The DJI FPV drone has a design inspired by DJI's past drones and takes cues from other FPV drones. It is small and compact with a very modular design. Nearly all pieces can be easily ordered and swapped out should the very real probability of an accident occur.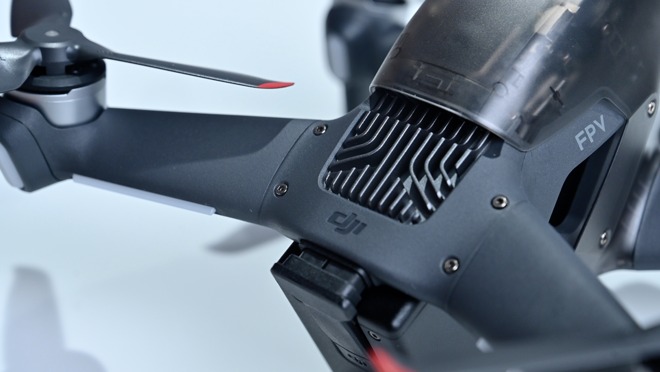 DJI FPV drone has a modular design
To help avoid crashes and a mangled drone, the DJI FPV drone has several sensors that monitor both its elevation and the ground's location as well as what lies ahead. Both the front-facing sensors and the downward-facing sensors aid obstacle avoidance, which is not often seen on FPV drones to date.
A single-axis camera sits on the front and can stabilize at least one axis but leaves out the other two axes found on other drones that are more appropriately designed for shooting photo and video. Can rotate up and down vertically.
The drone sits flat on the ground before takeoff but has a forward lean as it flies through the sky. All over the drone are various light bars to make it easier to see and lets you know what the drone is doing and when it is active.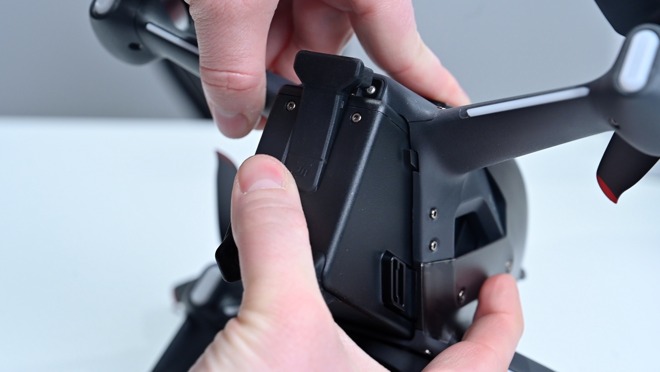 DJI FPV drone battery
Inside the drone is the removable battery, which contributes a considerable amount to the drone's size and weight. It connects via a plug at the top of the back of the drone. Remove the battery to quickly swap it for another to keep the flight time going. The battery has a small button and a quartet of LEDs to let you know battery life.
To charge the battery, DJI includes an AC adapter in the box. It connects directly to the battery, and there are two USB-A ports on the transformer that you can use to charge your controllers and goggles.
DJI FPV drone Controller
If you've seen or held a previous DJI drone, then the FPV drone controller will feel familiar. It feels solid, reliable, and tactile, which is critical should your eyes are obscured by the goggles.
Since you're using the controller with the FPV Goggles V2, there's no need for a phone mount. Rather than integrating a mount on the front, a large antenna bar calls it home. The antenna bar can rotate up while in use or folds down when it isn't.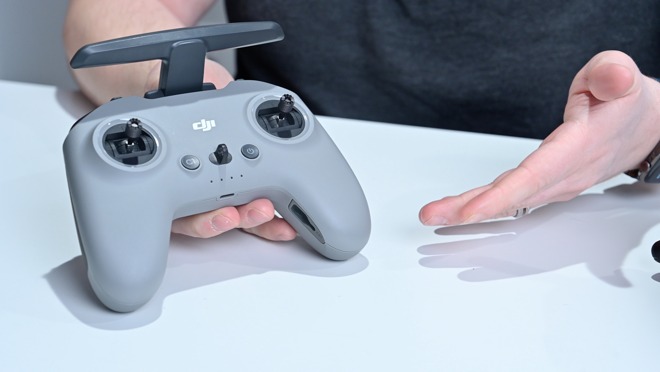 DJI FPV drone controller
The dual metal thumbsticks are still outstanding, as they are with other DJI drones. They unscrew and can be stored in the back. You can also adjust the tension to tune the controller to your preference.
Otherwise, it is a standard controller. It has the necessary buttons and joysticks required to flying the drone, as you'd expect. It charges via USB-C, which is easy with the included AC adapter used for the drone battery outlined above.
DJI FPV drone Goggles
The DJI FPV Goggles V2 were clearly inspired from low-budget '50s sci-fi flicks. They aren't particularly ugly, and no one is going to convince me any VR headset looks attractive, but that didn't stop the running mad scientist jokes while we were testing the unit.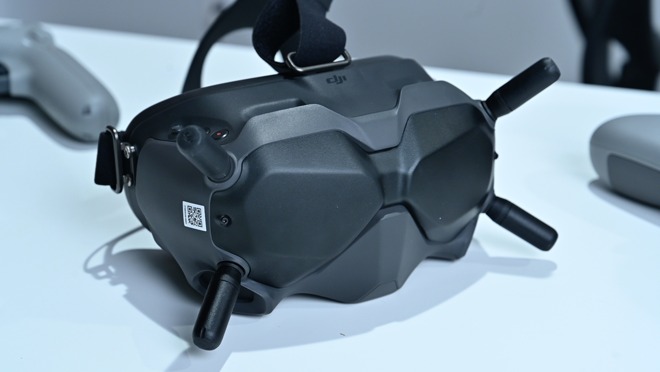 DJI FPV Goggles V2
Most of the headset is comprised of a matte dark gray plastic, with vents to keep the goggles and the user cool. Those vents are paired with internal fans that kick in once in a while to prevent fogging, which might be jarring to some users.
There is no battery in the goggles themselves, and instead are powered off a small USB-C battery pack. The special USB-C cable included in the box has a barrel connector on one end that connects to the goggles and an extra-large overmold on the other with grooves to fit into the battery. Because of this, you can't use other cables with the battery pack.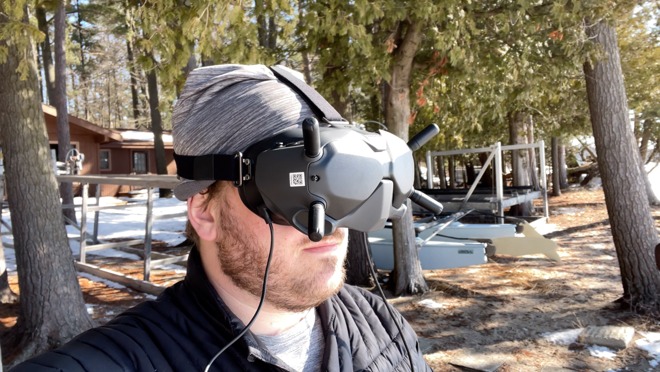 DJI FPV Goggles V2
Four antennas mount directly to the front of the goggles and are screwed into place. It looks a bit wild, and you may get a few sideways glances, not that you'll notice while wearing them.
We'll talk more about using the goggles in a minute, but we found them to be quite comfortable with the built-in pads and head strap. It was a bit awkward while wearing a hat but doable, and they never felt too heavy.
Shooting video
DJI opted to include a reasonably capable camera on its FPV drone, a 4K shooter that can capture up to 60 frames per second. There are other frame rates available, and you can easily change them via the goggles.
The DJI FPV drone doesn't have all the bells and whistles you find other DJI drones, however. It can't shoot HDR, and the 4K video doesn't have quite the detail when compared to the Mavic with its Hasselblad system.
When recording, you have a 150-degree field of view which is expansive and often perfect for scenic shots. The in-system lens correction handles most of the distortion.
Tight, intimate shots are a bit too wide, though, and an editor would likely have to crop the field of view. This is necessary anyway for nearly every use, due to the props encroaching onto either side of the frame.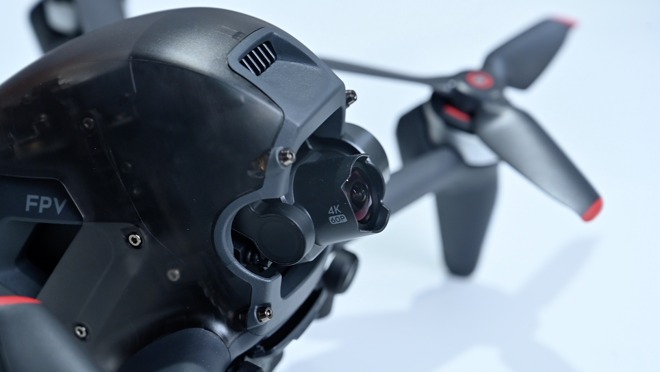 DJI FPV drone 4K camera
Even though it is a single-axis camera, DJI brought its RockSteady stabilization system to the drone, which did an excellent job keeping the camera smooth. When filming and turning, you'll still notice the horizon line roll since the camera itself cannot compensate for this. The RockSteady Electronic Roll Image Stabilization (EIS) does a more than capable job for your typical shots. They all came out smooth, as you can see in our embedded video review.
You're able to record at 4K and up to 60 frames per second at its highest resolution, but there are other options to choose from. You can drop down to your standard 2K and 1080P options, and there is even a 4X slow-motion at 1080P with 120 frames per second. With its top speed of 87 miles per hour, though, we would find ourselves wishing that we could jump up to 240 frames per second.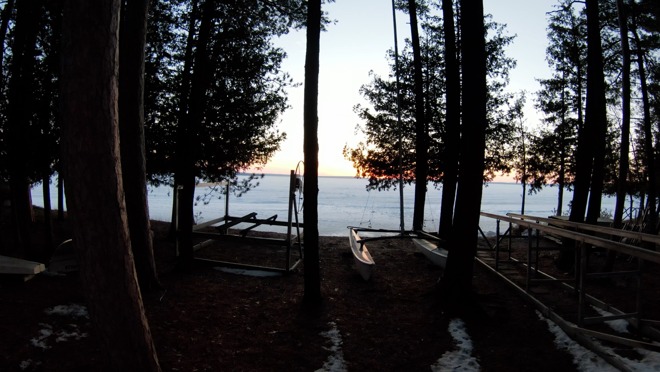 DJI FPV drone traversing a crowded airspace
Footage uses H.264 as a video codec by default, but DJI also supports H.265 video. All footage can be edited in Final Cut Pro X or iMovie for seamless post-production or to make a short video to share with friends and family. We also used an Anker MicroSD card reader to bring the footage onto our iPad Pro to edit with LumaFusion without issue.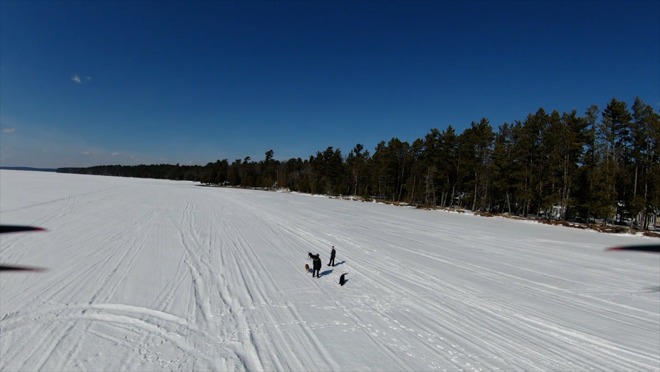 DJI FPV drone in the air
To store the footage, you can use a MicroSD card on the drone itself or keep it on a MicroSD card situated on the goggles. You can record to either card by themselves or record to both. That gives you some redundancy for critical shots should something happen to the drone.
Flying in first person
We spent a long weekend flying the drone over frozen Higgins Lake where we could unleash the drone's full potential free from obstacles and see what it was capable of.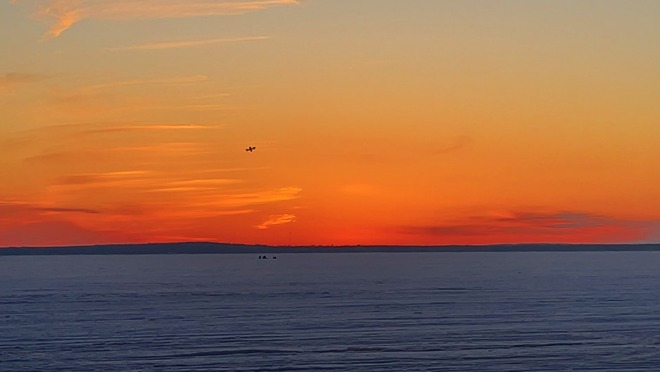 DJI FPV drone silhouette at sunset
To start, we kept the drone in "N" mode, or "normal." When flying in N, the front-facing sensors and bottom sensors are activated for obstacle avoidance. When moving to "S" -- for "sport mode" -- and M -- for "manual mode" -- the front-facing sensors are disabled though they still alert you in the goggles while flying.
Before the DJI FPV drone, we'd never dipped our toes into the first-person drone space. Most FPV drones that are available are after-market kits to outfit your existing drone with the necessary hardware and camera required. They required added knowledge, expertise, and cash to make it a worthwhile endeavor.
Strapping the DJI FPV Googles V2 to our face and taking off was an excellent experience from the beginning. It was incredible to fly the drone while seeing exactly what the drone sees.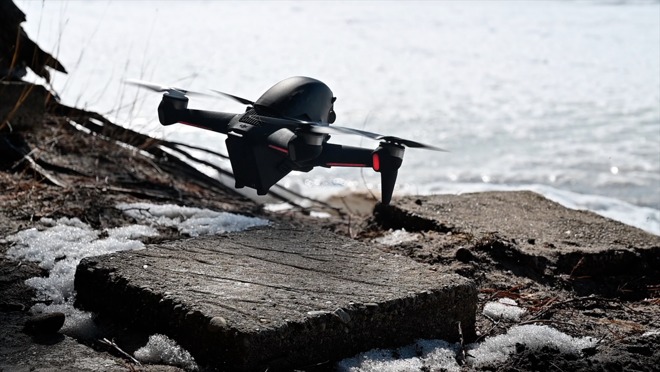 DJI FPV drone taking off
It does have a slight learning curve, though. As we found out, it's easy to get turned around if you venture too far away. Typically recreational drone flyers are flying with their drone in view, but when you're in FPV mode and looking forward, you don't always realize how far you've gone.
You've got to be careful not to get yourself in trouble or risk something happening to your drone if it gets too far away. According to the manufacturer, the drone has a 10 kilometer radio range, but we didn't want to risk it.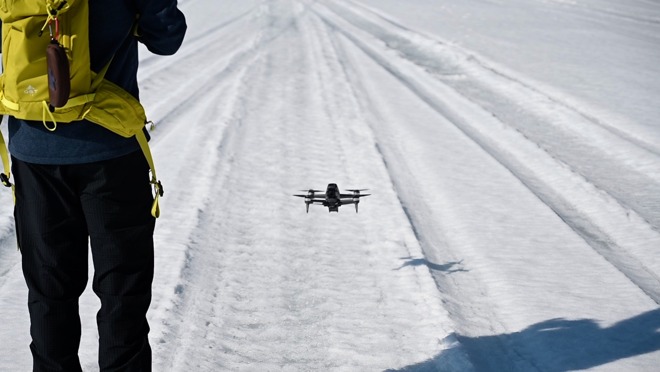 DJI FPV drone hovering
When in first-person view, we can see how it would be more likely to crash than a standard drone. You aren't always as aware of your surroundings as you'd like to be. DJI has put a lot of thought into those, though, and has built-in a "go home" command that automatically returns the drone to you. DJI also has verbose instructions and simulator training for users to explore before flying.
If the drone gets away from you or crashes down somewhere where you can't see it, DJI uses GPS to mark where your drone is located. Find My Drone guides you to exactly where your drone sits so you can recover it.
After we got over the initial "wow" sentiment, our next thought was that the battery life was too short -- but this is hard to avoid, given the realities of flight and the physics of batteries. The DJI FPV drone is rated for 20 minutes of flight time -- higher than the industry average -- though we got notably less than that. We were flying in very cold weather, though, which does shorten the practical use-time of lithium polymer batteries.
Had the weather been warmer, we likely would have seen much-improved flight time. As FPV drones are usually for racing rather than recreational flying, flight time is often close to three to ten minutes for the ones we've seen.
To make the FPV experience as solid as it is, DJI employs its new O3 transmission system. This has the 10-kilometer range mentioned above, dual-frequency transmission, and a 50Mbps bit rate. Watching the drone in the goggles felt near-enough real-time and never felt like it was lagging, even as the drone pushed farther and farther away.
Speaking of the goggles, DJI bundles the new FPV Goggles V2 in the box alongside the standard controller. It has an 810P display that streams video at 120 frames per second. Our biggest gripe in the goggles is that we saw some lens distortion on the far sides of the display. Still, we see this in other VR-type goggles, and it never hindered our experience in any way.
The drone can transmit video in one of three ways. DJI has a low-latency HD mode that is near real-time and best-suited for drone racing. Then there is Smooth Mode which has a higher frame rate in the goggles but slightly increases the latency. Then there is audience mode which allows the video feed to be shared with several others with their own DJI FPV Goggles.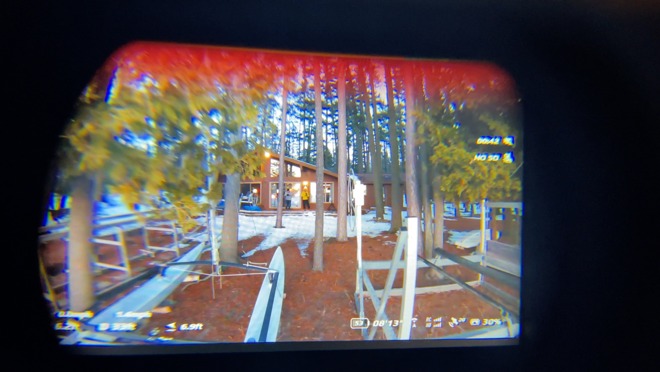 A partially obfuscated view of what you see in the goggles with an alert bar at the top
On the goggles' screen, you'll see all the information you need for a successful flight. This includes drone height, distance, signal strength, recording options, and battery life for the goggles, controller, drone. On-goggles controls let you access a menu that can be navigated with a five-directional joystick.
Racing with this drone is entirely possible, but we don't anticipate this will be the hardware of choice for hardcore drone racers. Many specs are impressive, such as its ability to go from 0 to 62 miles per hour in only two seconds and a max speed of 87 miles an hour. But ones that are dedicated racers will have more impressive specs.
Your choice of controller
In the box, DJI bundles a standard controller designed for the FPV drone, but users have another option: DJI's new motion controller. This choice is an add-on and costs extra, but we entirely worth it.
If you do opt to pick up the motion controller, you'll get a whole new way to control the drone and a new way to see while flying. It's an entirely new experience that was more fun to fly than any other drone we've tested to date.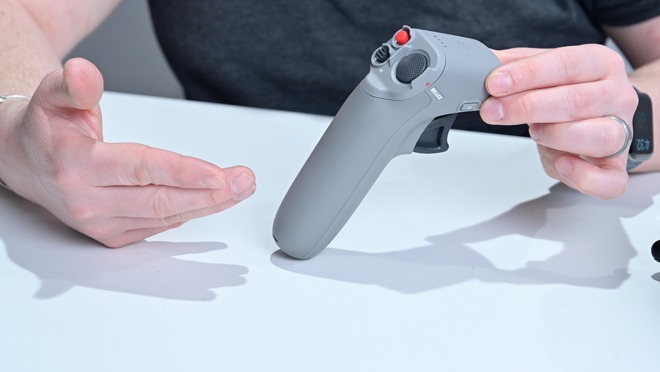 DJI FPV drone motion controller
The controller is similar to a gaming joystick you'd have desktop for a flight simulator but it is wireless and relies on motion tracking rather than a physical stick under it. If you tilt the handle left, the drone turns left. If you lean to the right, it turns right. Point up to go up point down to go down. Squeeze the trigger twice to take off and hold it down to move it forward.
Occasionally, we found ourselves trying to turn left and right by aiming the controller in one direction or another. Still, once we got the hang of it, it felt entirely natural. We even placed it in the hand of a first-time drone flyer, and within minutes they were flying like a professional.
There are several hardware buttons on the controller besides the trigger. A red button on the top-left can be used to bring the drone home, and it is then capable of landing on its own. A record button with a small dimple starts recording on the drone's MicroSD card.
And, a large emergency stop button on the controller is welcomed. When pressed, the drone will immediately stop, hover in place, and await your command. This feature gives you time to gain your bearings should the drone get away from you, and give you the ability to quickly recall the drone in case of an emergency.
Should you take flight with the new DJI FPV drone?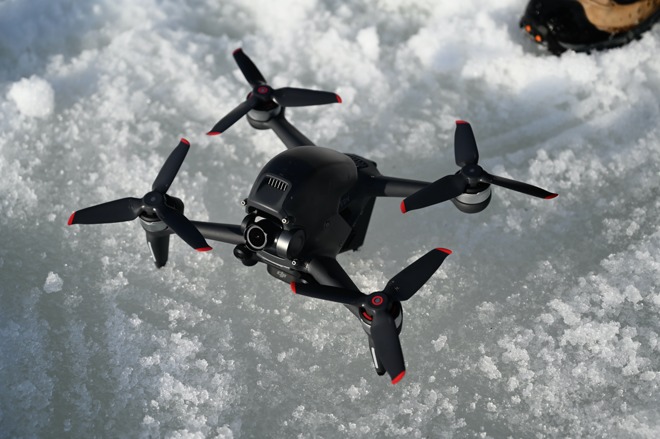 DJI FPV drone in the snow
Compared to DJI's other drones, the DJI FPV drone is the company's fastest yet, first with the integrated FPV system, and first to support the new motion controller. It comes ready to go out of the box, has a good combination of sensors plus recovery features, and the package can be considerably less than buying it all piecemeal.
There are very few ready-to-go FPV drones. By combining everything into this slick package, anyone can fly in first person.
In the DJI FPV drone, Apple users get a fun and creative tool that works seamlessly with Final Cut Pro and iMovie. The native FJI Fly app is required for firmware updates, streaming video from the goggles, and getting media.
Drones aren't for everyone but this is something people should absolutely try given the opportunity. With the FPV drone, DJI has opened a whole new experience to a whole new group of people.
After flying a lot of drones over the years, the DJI FPV drone is something new. It gets me excited about flying drones once again.
Pros
Hybrid design and performance to open up to novice and pro users alike


Impressive speeds with three modes


Industry-leading price, ease-of-use, speed, range, and camera


FPV Goggles V2, controller, and drone all included -- ready to fly out of the box


Solid camera with 4K 60FPS and 1080P 120FPS modes


Unique Find My Drone, emergency stop and hover, auto-return features


Motion controller is a must-have addition


O3 transmission is reliable with three different modes


Modular build makes repairs easy
Cons
Distortion on edges of goggle display


Motion control, while amazing, costs extra


Camera quality is behind Mavic drones and props show on recordings


FPV drones are easier to crash
Rating: 4.5 out of 5
Where to buy
The DJI FPV drone is
available at Amazon for $1,299
as a combo kit with FPV Goggles V2, the DJI controller 2, and the drone itself. The additional motion controller can be had for $199. A Fly More kit is also an option with two additional batteries and a charging hub for $299.
The FPV can also be found at these DJI dealers: