Spotify may overtake Apple Podcasts by end of 2021, report claims
A market forecast claims that Spotify will overtake Apple in podcast listenership by the end of 2021, but it appears to have missed where recent growth stems from or why it may or may not continue.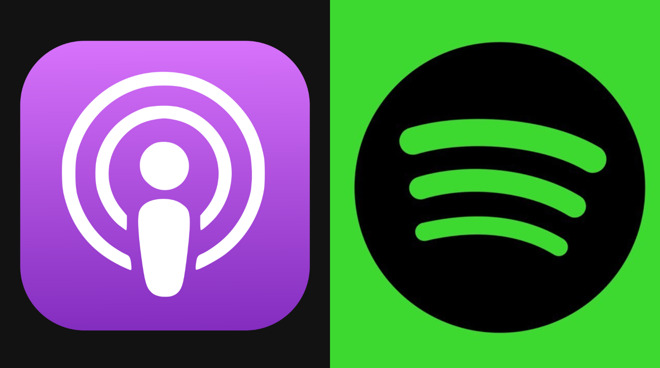 Spotify to overtake Apple Podcasts by end of 2021
Spotify has invested heavily in premium and exclusive podcasts in order to quickly capture the market. Between the ongoing
coronavirus
pandemic and the
acquisition of
Joe Rogan's podcast, Spotify had nowhere to go but up.
A report from
eMarketer
claims that
by the end of 2021 Spotify will have 28.2 million people listening to podcasts versus Apple with 28 million. The forecast states that Spotify has seen an intense amount of growth over the past year, with it eating into Apple's previously dominant platform.
"By putting podcasts and music in one place, Spotify quickly became the convenient one-stop-shop for everything digital audio," said Insider Intelligence's eMarketing forecasting analyst Peter Vahle. "Apple was the de facto destination for podcasts for a long time, but in recent years, it has not kept up with Spotify's pace of investment and innovation in podcast content and technology. Spotify's investments have empowered podcast creators and advertisers through its proprietary hosting, creation, and monetization tools."
The report, however, doesn't seem to account for the reasons behind Spotify's fast podcast listener growth. The platform has the draw of keeping music and podcasts within the same app, but that isn't the whole story.
Since the beginning of 2020, when Spotify saw its podcast listenership
grow in earnest
, a pandemic has pushed more people indoors and to more forms of entertainment.
Not only are more people than ever listening to podcasts, which the report acknowledges via a 10% YoY growth in audience, Spotify bought out the top show. The
Joe Rogan Experience
is the number one podcast in the world with millions of active monthly listeners. The exclusivity of that show and the aided growth of pandemic listeners caused the majority of growth for Spotify over the past year.
The report appears to assume that Spotify can continue to grow its podcast listenership on the service by the same rate, lacking clear evidentiary support. The company is investing in new podcast initiatives, but no one knows the impact they may bring going forward. That and the end of the pandemic is in sight, so Spotify must cling to its growth as people return to some level of normalcy.
Apple Podcasts benefited from being one of the only serious players in the market for over a decade. Despite being only tangentially related to podcasts, Apple became the dominant hosting and listening platform across the world. Any market entity taking a more involved approach was going to disrupt Apple's market share.
The report wasn't able to reflect how much Spotify can grow with an ending pandemic and unknowable content future. Apple is taking a
more firm stance
in podcasting by releasing its own shows about
Apple TV+
properties like "
For All Mankind
."
It is too soon to declare a winner of the podcast market, and Spotify still needs to
turn a profit
before its accelerated growth can be seen as a boon for the company.