Eve Energy weather made official, new Eve Energy comes to US, Eve Aqua gets Thread support...
Eve is following through with its promise to expand Thread support through its
HomeKit
-only product line with the introduction of the all-new Eve Weather as well as updates for the Eve Energy and Eve Aqua.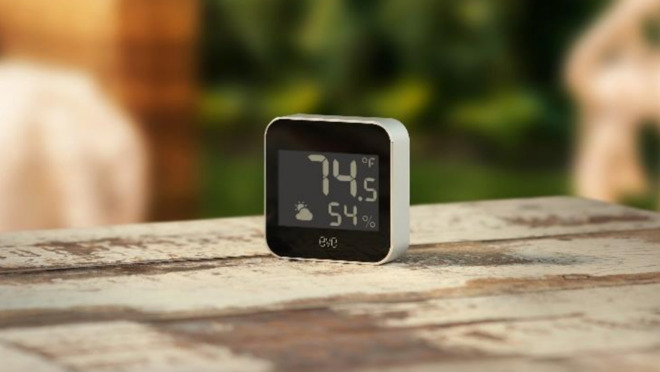 The new Eve Weather
Eve Weather
Joining the Eve lineup is the Eve Weather. This new device will replace and build on the outgoing Eve Degree. It has a familiar design as Eve's other sensors but a new larger screen. Users no longer have to toggle through different display panels to view relevant information, instead, it is all presented at once.
Eve Weather will collect the barometric pressure, temperature, and humidity levels. The free Eve app will collect that data and even graph it appropriately to see how it changes over time.
Aside from temperature and humidity, Eve Weather will update the display each morning with the 12-hour weather trend for the day. It has IPX3 resistance to handle the weather and communicates over Bluetooth as well as Thread.
It will start shipping on March 25 for $69.95.
Eve Energy
After first being released in the UK, Eve is bringing its updated Eve Energy to the U.S. Unsurprisingly, this updated model includes support for Thread. Otherwise, it is still the same device that
was released in 2020
.
Unlike battery-operated devices, Eve Energy is able to act as a Thread router and not just an endpoint. This can help extend your Thread network to other areas of the home.
The new generation Eve Energy will be available on April 6 at a price of $39.95.
Eve Aqua
As previously announced, Thread is coming to the current-generation Eve Aqua. This will arrive via a free firmware update just as with the Eve Door and Window contact sensor.
Eve has revealed that this firmware update for the existing second-generation Eve Aqua will land in April. Eve Aqua is
currently available for $99.95
.