Marshall releases Mode II true wireless earbuds as AirPods refresh looms
Legendary audio company Marshall has released its latest accessory, the new Mode II true wireless earbuds -- the first for the rock-n-roll brand.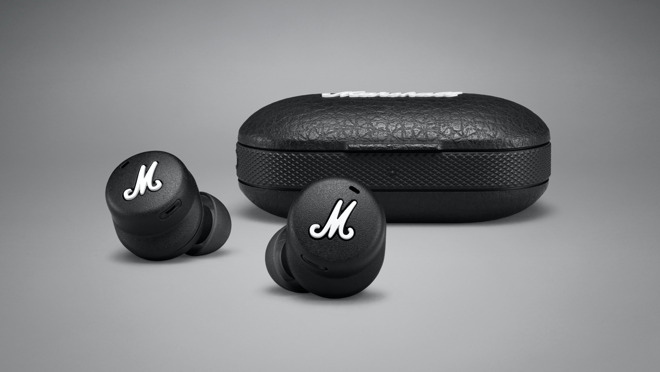 Marshall Mode II earbuds
The new Mode II true wireless earbuds feature an instantly-recognizable design paying homage to the brand's rich history. Each earbud has a recessed script "M" on its matte black rubberized exterior. Marshall's full wordmark is emblazoned across the top of the charging case.
Mode II earbuds are protected with IPX4 water and sweat resistance. Each earbud has swappable tips to fit a variety of ear sizes and the outside of the earbuds are touch-sensitive to control playback and phone calls.
On a single charge, users can expect five hours of listening time on the earbuds with an additional four charges in the case. That is a total of 25 hours total listening time. The case powers up via USB-C but it can also be charged on any Qi charger.
Audio is produced by powerful custom 6mm drivers for what Marshall describes as "thunderous audio" with "growling bass and crisp highs." Users also have the ability to manually tune the EQ to their liking, as is true with other Marshall Bluetooth audio devices.
They are available to
preorder now from Marshall for $179
and begin shipping on March 18.