Apple examining ways to detect light through a display for Face ID, Touch ID
Apple is continuing to refine its work on light sensors that could work through a display, likely for use in a future version of Face ID or Touch ID on an
iPhone
.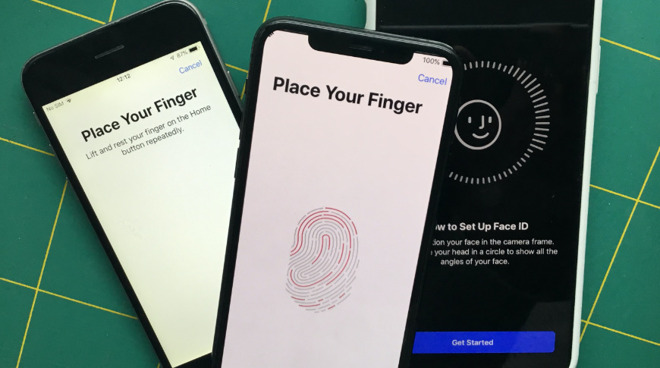 Credit: AppleInsider
Current iPhone models, like the
iPhone 12
and
iPhone 12 Pro
series, house their
Face ID
system and sensor suite in a notch at the top of the display. Apple, however, is working on a system that could ultimately allow it to minimize or nix the notch entirely.
In a patent application published March 4 and titled "Sensing System for Detection of Light Incident to a Light Emitting Layer of an Electronic Device Display," Apple lays out a system to embed a light detection layer in the display stack. "In particular, light sensors associated with the light sensing system can be distributed around or within an active display area of the display," the patent reads.
The patent gives two immediate examples, claiming that the light sensors could "assemble an image of an object touching the display." That could work for in-display
Touch ID
based on an optical imaging system. The patent also contends that the iPhone's ambient light sensor could also be included.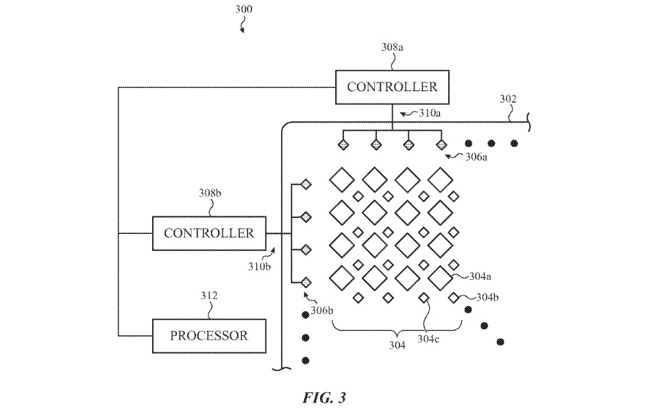 An array of light sensors embedded between pixel areas of a display. Credit: Apple
More specifically, the system itself could include an array of photodiodes or solar cells integrated between pixels regions or the perimeter of a light-emitting display. The system could use electrical signals from the photodiodes or solar cells to "sense a color" or the "intensity of light incident to the display stack."
The patent notes that it mostly covers use of the system for an ambient light sensor, but adds that its value doesn't stop there.
"[An ambient light sensor] is merely one example and in other implementations the light sensing system can be suitably configured to be used as, or with: an optical imaging system (e.g. camera, light field sensor, depth sensor, fingerprint imaging sensor, iris or retina imaging system, and so on); a touch input sensor; a force input sensor; a biometric measurement system (e.g., photoplethysmogram sensor, blood oxygenation sensor, respiration sensor, and so on); and so on," the patent claims.
Most of the patent's descriptions focus on the ambient light sensor. Even if it's only used for an ambient light sensor, the system could be used to reduce the size of the notch in future iPhone models since the light sensor is currently embedded in the notch.
However, given rumors that Apple is looking to
minimize the notch
or
bring back
Touch ID on a future handset, it's likely that the patent application is part of a
growing body
of technology that could make that happen.
The patent application lists Mohammad Yeke Yazdandoost; Lun Tsai; Meng-Huan Ho; Niva A. Ran; Akshay Bhat; Volodymyr Borshch; Anand K. Chamakura; and Giovanni Gozzini as its inventors. Many of them have been previously credited on patent applications related to display-embedded components, including
cellular or Wi-Fi antennas
or
under-display
Touch ID
.
Apple files numerous patents on a weekly basis, so an individual patent application isn't a good indicator of the timing or likelihood of a product release.