Apple Watch far outsold all other smartwatches in Q4 2020
New research shows that 40% of smartwatches sold in the fourth quarter of 2020 were Apple Watches, with the
Apple Watch SE
and Apple Watch Series 6 selling an estimated 12.9 million between them.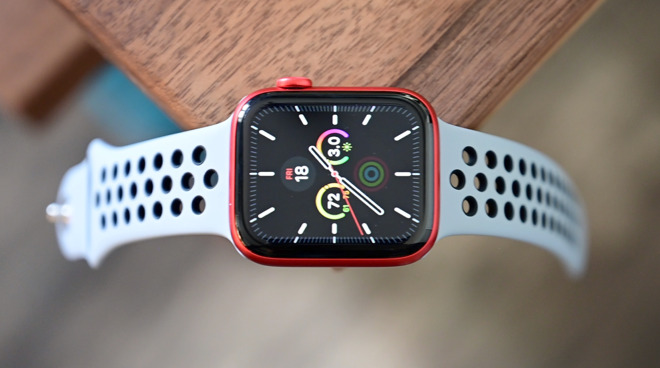 Apple Watch Series 6
Counterpoint Research, which
previously revealed
that the
iPhone 12
quickly became the world's best selling 5G phone, now says much the same for the
Apple Watch
. Overall, sales for smartwatches in Q4 2020 were slightly lower than for the same period in 2019, but Apple increased its share.
According to Counterpoint Research data, Apple Watch accounted for 40% of all smartwatch sales in the quarter. Its closest rival was Samsung at just 10%.
This compares to the same period in 2019 when Apple had 34% market share, while Samsung had 9%. Counterpoint says that the
coronavirus
pandemic meant sales in the quarter were slightly down on the previous year, which made for "
"an almost flat 2020" compared to 2019.
"The Apple Watch Series 6 and SE did well," says Counterpoint, "shipping 12.9 million units and accounting for 40% market share in Q4 2020. Samsung increased its share by 1%pt YoY, rebounding in the latter half of the year with the launch of its Galaxy 3 Watch."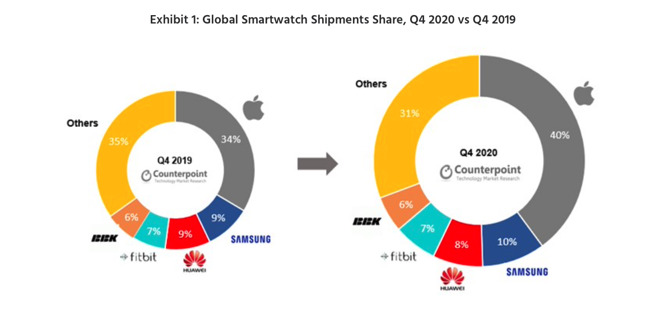 Source: Counterpoint Research
Counterpoint analyst Sujeong Lim concludes that Apple's increasing share means smartwatches with higher average selling prices (ASPs) are on the rise.
"The smartwatch market is being driven by three premium brands - Apple, Samsung and Huawei," said Lim. "We believe the ASPs will continue to rise over the next two to three years as these companies' flagship models continue to lead."
"On the other hand," she continued, "Apple's success with its Watch SE model will likely spur others like Samsung to release similar variants, moving closer to the mass market."
The fourth quarter sales figures are significant because both the Apple Watch SE and the
Apple Watch Series 6
, began shipping on September 18. That means the majority of their sales, and holiday ones, were in the fourth quarter.