Will an M1 MacBook Air fill the gap when a Mac Pro breaks?
When our video Mac Pro stopped working right, we had to fall back on reserve hardware. For a month, we've been using the
M1 MacBook Air
and here's how it went.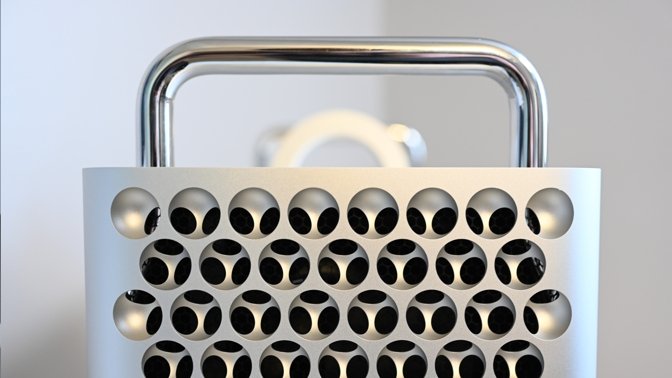 Mac Pro
Because of a breakdown, I to give up my upgraded base configuration 2019
Mac Pro
. Until it went down, I was pretty happy with the 3.5GHz eight-core Intel Xeon W processor's performance and the AMD Radeon Pro 580X graphics card.
Without another choice in the house, I had to fall back on reserve hardware -- which if you're "mission critical," you should have. To fill the gap, I started using the
MacBook Air
with
M1
processor and eight-core GPU as a daily driver.
Why did I give up my Mac Pro?
I had to give up my Mac Pro -- temporarily -- due to some lingering hardware issues that needed resolution. The problem began more than a year ago, nearly from the day I received my new Mac Pro. Bluetooth would lag, and as time went on, I started to experience unexplained shutdowns and other production-killing frustrations.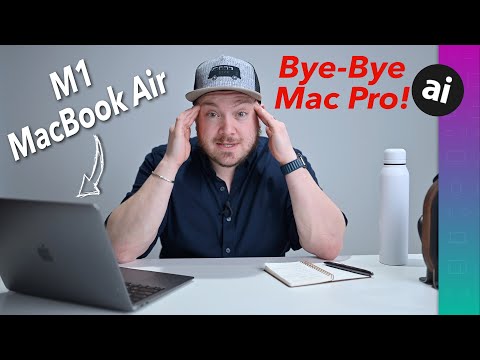 I took the machine into my local Apple Store at which point
I wrote about
how ill-equipped many Apple Stores were to deal with Apple's pro machine that sees limited use outside of cities like L.A. and San Francisco that have tech-heavy workforces.
The initial repair was unsuccessful and led me to rely on wired peripherals and other workarounds. While my unit was in the shop, I decided to spend the time using my M1 MacBook Air.
The experience was both enlightening and frustrating.
A freeing experience
The Mac Pro always had me tethered to my desk. I'd write on my
iPad Pro
and occasionally edit video in LumaFusion on a portable, but neither was common. Using the MacBook Air, I found myself sitting at my studio desk, lying in a beanbag chair, working outside, sitting on the couch, and just overall being anywhere but in my office.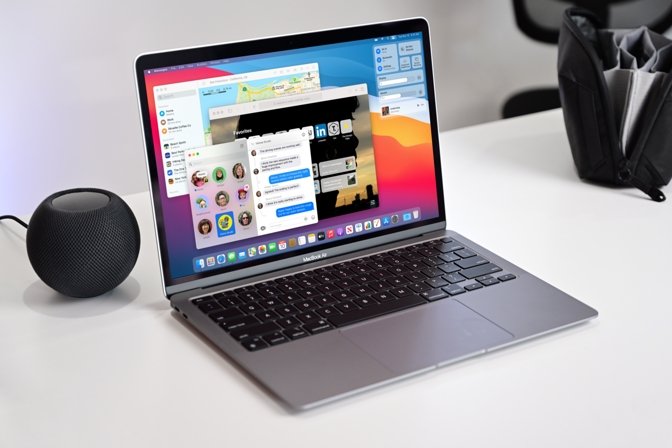 The M1 MacBook Air
Clearly, my office was the best place to work, but it was a nice change of pace to be out and about. To my surprise, the M1 MacBook Air could edit and export video just as capably as my Mac Pro.
This speaks mountains about how much Apple has optimized its software -- in this case
Final Cut Pro
and Compressor -- to take advantage of its silicon and GPU. The AMD Radeon Pro 580X is good and would likely outperform the M1 on a standard graphics test, but Apple's software optimization makes the difference for outstanding performance.
In short, for most users, a $1,249 machine will outperform a $5,999 machine on a video export.
The MacBook Air also had incredible wireless speeds. I didn't miss my ethernet connection on the Mac Pro and instead relied on the Wi-Fi 6 network in my home. This was the first time I had a Wi-Fi 6 device that I did work on, and it makes a big difference when you don't have the luxury of a wired connection.
That all said, I still miss my Mac Pro.
Don't sell the Mac Pro short
At purchase, I only picked up the base Mac Pro and added my own RAM. I had the option to go all the way up to dual Vega Pro II GPUs but instead settled with the entry-level Radeon Pro 580X, with a mind towards adding video power later. Had I gone for any of the more powerful cards, the Mac Pro would still be outpacing the MacBook Air in some tasks.
Additionally, the Mac Pro has the Afterburner card as an option, which provides blistering speed to Apple's apps, like Final Cut. With the Afterburner installed, the Mac Pro would be blowing the MacBook Air away in every regard.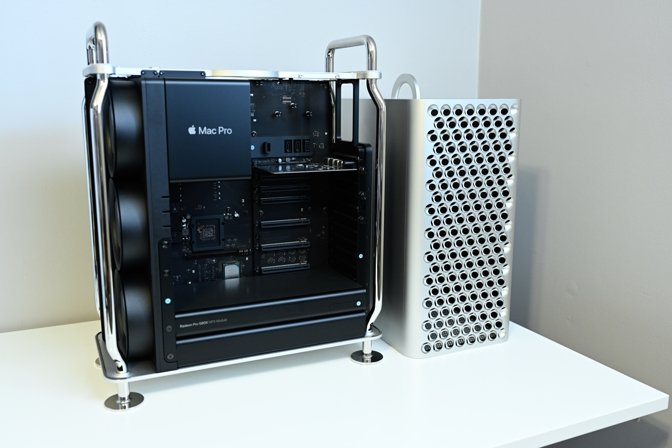 Mac Pro is very ugpradable
This compare also comes during a once-in-a-decade processor migration. It isn't often that Apple switches the silicon that its Macs run on. If I were comparing the Xeon W Mac Pro to the Intel-based MacBook Air, it would be a very different story.
Equally true, if I was comparing an as-of-yet-nonexistent
Apple Silicon
Mac Pro to an entry-level M1 MacBook Air, the Mac Pro would surely win hands-down.
During this rare transition, Apple's entry-level and mid-tier
Macs
migrated to the impressive silicon first, leaving the high-end pro machines untouched -- for now. But, the migration to Apple Silicon is only part of the story here.
As a video pro, I was dealing with some major storage issues. That MacBook Air has a paltry 512GB inside, which lasted maybe a week or so. I found myself connecting external SSD after external SSD. I continued to fill them up and offload the storage to my mass storage on my desk. If I worked at my desk, it was near the same but not as fast and speedy as the internal RAID SSDs I outfitted my Mac Pro with.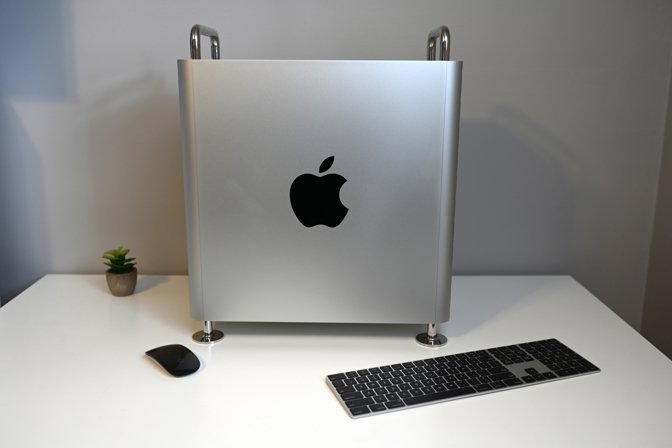 Mac Pro
After a year and a half, I've made a few modifications to the Mac Pro, notably adding hundreds of gigabytes of RAM. This pays off in a big way as I breeze through piles of open tabs, a dozen documents in Affinity Photo, all while working on an extensive edit in Final Cut. With less RAM, the MacBook Air struggled a bit at duplicating that workflow.
The MacBook Air will never be getting more powerful, other than through software. The Mac Pro can get new graphics, new I/O, more RAM, or more storage at nearly any time.
Ports were also a struggle. It was easy enough to connect the MacBook Air to my desktop
Thunderbolt 3
dock but even that ran out of ports easily. Between microphones, storage, audio monitors, displays, card readers, it all just became too much, and I missed the massive port array of the Mac Pro. The two Thunderbolt ports are just a struggle, especially if I left my desk.
Returning to the norm
My Mac Pro is nearly back from its latest detour through Apple service. It will inevitably pull me back into my prior workflow, and I will again rely on the Mac Pro rather than the portable MacBook Air.
Even though I was impressed with the MacBook Air's daily performance, it doesn't make me regret having and using the desk-bound Mac Pro either. I still love the massive machine.
What this has ingrained into me, however, is how impressive Apple's silicon is. I knew and saw how much it could do, but it was hard for me to fully appreciate until I dropped my big iron, and used the new gear for more than a month on a daily basis.
When Apple does update the Mac Pro with Apple Silicon, I'm ready to make the jump.