Behind-the-scenes tales of 'Ted Lasso' shared by creators at SXSW
At the 2021 virtual SXSW panel, "Ted Lasso's" co-creator and editors talked about how the popular
Apple TV+
show came together -- and hint that it may go beyond three seasons.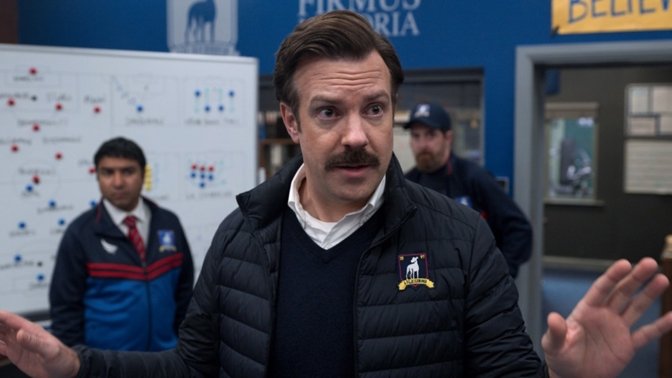 Jason Sudeikis in "Ted Lasso," now streaming on Apple TV+.
The editing on
Ted Lasso
was a focus of a virtual panel held Wednesday at the South by Southwest festival, titled "Ted Lasso: Emotion in the Edit." The panel featured Bill Lawrence, the co-creator of the show, along with those two ACE Eddie-nominated editors, A.J. Catoline and Melissa McCoy, and Kip Kroeger, the show's supervising producer.
The moderator was Nancy Jundi, a staff writer for the ACE organization and also the chief operating officer with Digital Film Tree, a postproduction house that worked on
Ted Lasso
. Digital Film Tree, per the credits, also produced the panel.
The group discussed the making of the breakout first season of the show, their reactions to its success, and the crucial if often-underrated role of editing and postproduction work in a hit TV series.
The panel, which included clips from the series spliced in throughout, was not recorded live. There was also no mention of the Golden Globe win, indicating that the recording took place at least a couple of weeks prior to South by Southwest.
Creating Lasso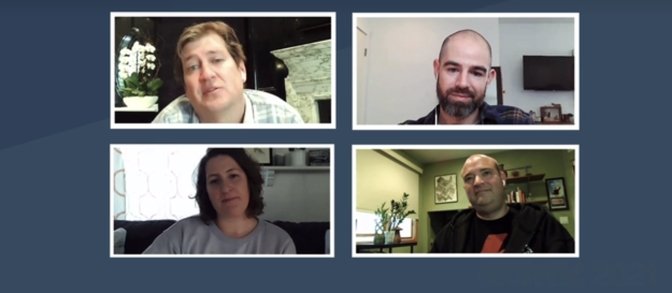 The 'Ted Lasso' team on their South by Southwest panel- Bill Lawrence, Kip Kroeger, A.J. Catoline and Melissa McCoy
Lawrence, who co-created the series along with Sudeikis, Joe Kelly and Brendan Hunt, has a long TV resume, having created
Scrubs
and co-created
Cougar Town
,
Spin City
and
Clone High
.
"The way Jason sold me when we first decided to get the gig together was one, we wanted to make our own version of a sports movie, but as a TV series, where you can bring up expectations for people, that they think they know what is gonna happen, and then change them," Lawrence said.
He noted that the setup of the show is similar to that of the movie
Major League
, but the freedom of a ten-episode TV series allowed them to give levels to the female owner character, who was first introduced as an antagonist.
"We wanted it to be our version of a sports movie, but also about what mentorship means," he added.
Lawrence also addressed some comments he made in December, which seemed to indicate that the series will only last for three seasons.
"[We] had a clear three-season story, of we know the story we're currently telling, and we know the beginning, the middle, and the end of it," Lawrence said. "And that's kind of really satisfying, because when you go into a television show with that definitively in your head, then you get the biggest worry, 'I hope we get to tell this.' And now, we're at a place where we know we get to tell that story.
"Is there more story for Ted Lasso beyond that? If you ask me because I'm still part-producer and businessman at the end, I'm like 'yea, Ted Lasso is gonna be a different coach of a different sport every year for the next 50 years- is that okay? I think in a great way, especially to line up with the vibe of this show, I think that it will probably keep going as long as Jason is having a fun time doing it."
To improv, or not to improv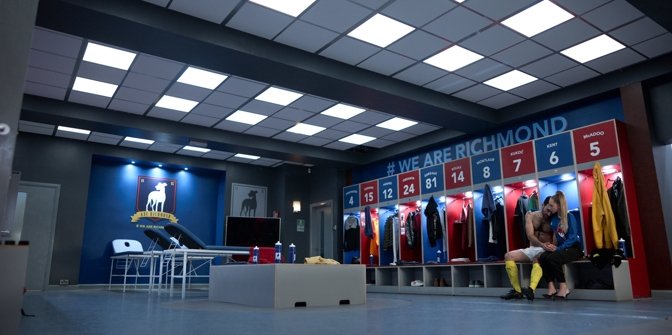 Brett Goldstein and Juno Temple in "Ted Lasso," now streaming on Apple TV+.
Ted Lasso
is a scripted show that is not improvised. However, the panelists said that actors on the show are given quite a bit of latitude when it comes to requesting changes from what's in the script.
"I love working on shows driven by comedians, where you never know what they're going to say, and you're sometimes trying to make one take when the person's off on an insane tangent, with another take where they're sticking to the script," Lawrence said on the panel.
"One of the cool things about this show, which makes it exciting but also a challenge for the editorial staff that we didn't ask for, is that Jason really embraced it is a meticulously scripted show, and that once you get what's meticulously scripted when you have an idea for a different line, or something has come to you, or quite honestly, the writing staff has so much fun on this show that there isn't a joke or moment that we haven't scripted two or three [alternative takes] to, Jason is super-supportive of trying them. He's also an insufferable tinkerer, to the point where until something calls to action, he's going to keep tinkering with the scene, and it's one of the things that makes it better and better."
"I love watching dailies and seeing lines that were not in the script, and it's just hysterical because you're not expecting it," editor A.J. Catoline said. He went on to share that the famous scene in the show's sixth episode, in which Ted Lasso recites NBA Hall of Famer Allen Iverson's "we're talking about practice" speech, was not in the original script, but Sudeikis added it a few days before filming.
In the editing room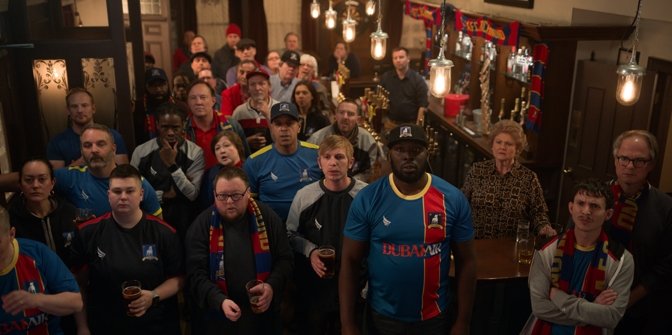 Bronson Webb, Kevin KG' Garry, Annette Badland and Adam Colborne in "Ted Lasso," now streaming on Apple TV+.
"My process is that I read the script because there's where I like to start and say, what was the intention on the page?," editor Melissa McCoy said on the panel. "Then I watch all the dailies, I like to sit down and watch, from wide to tight, and then [ask] 'what did they get?, and can I make this happen?' I started watching the performances and I was like, 'Oh god.' It's one of those where I've got to bring it for these people, because they're bringing it, and I've got to get those beats right."
The panelists also talked a lot about the soccer scenes. The stadium used for most scenes was Selhurst Park, the home ground of the English club Crystal Palace. However, the production soon learned that they weren't allowed to have actors walk on the field there, or set up cameras. So, producer Kip Kroeger said, they "made a CGI stadium."
For the sequence at the end of the first season finale, the production used a painstaking process to bring the images together from different places.
"We started with the [pre-visualization] cartoons, and then that turned into green screen footage, and then I got to watch that turn into visual effects shots," and then adding the incredible music by Marcus Mumford," Catoline said.
Lawrence called the finale "the first time I've had an experience, in which because of what we had to do production-wise, there weren't any elements of that [ending] montage that were shot in the same place."
The panelists also said that Sudeikis was a presence in the editing room, despite never having done that type of work before. Lawrence described the star as "the show's Wiki," having a mastery of its story arcs and continuity.
What to expect from Season 2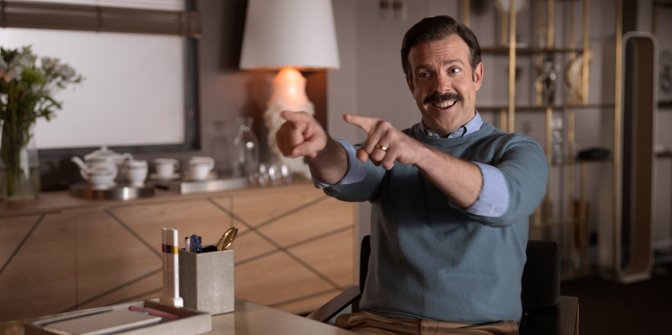 Jason Sudeikis in "Ted Lasso," now streaming on Apple TV+.
The second season of
Ted Lasso
began production in January. It's unclear how close to completed it is, although Apple
has listed the summer
as when to expect more episodes of the show.
"The performance this year- they really picked up where they left off," Catoline said of what he's seen so far of the second season. "They're so gelled as a cast, and a crew, and the cameras, so- working and moving. You can just feel it, they haven't skipped a beat. So when we're running through takes, we have a lot of options."
The people on the production team didn't quite see the success of
Ted Lasso
coming.
"If anybody from the show claims that we know what we were doing, or if we immediately knew that this was going to immediately grab hold and work, we didn't," Lawrence said. "We want everyone to know that we are as tickled, surprised, as anybody, and we'd add grateful to it."
"From the very beginning, we realized the show was more than a comedy," Catoline said. "It had a lot of heart and a lot of pathos to these characters. It's a show more about these characters going through arcs of their own shame and vulnerability and opening up and authentically related to each other."
Since its debut in August of 2020, the Apple TV+ series
Ted Lasso
has broken through like nothing else on the streaming service. The series, starring Jason Sudeikis as an American football coach who takes over as the manager of an English soccer club, has drawn audiences with its mixture of comedy and drama, as well as its relentless positivity and optimism.
The series has been praised by politicians, as
Massachusetts governor Charlie Baker
called it "positive, charming, heartfelt, and subtle" in a January speech. It's also been honored by awards voters, who on March 1
presented Sudeikis
with Apple's first-ever Golden Globe award, for Best Performance by an Actor in a TV Series, Musical or Comedy.
Ted Lasso
also received two different nominations from the American Cinema Editors' ACE Eddie Awards, for Best Edited Comedy Series for Non-Commercial Television. Two editors, A.J. Catoline and Melissa McCoy, were nominated for their work on different episodes of the show.