OWC partners with Acronis to protect your backups from ransomware attacks
OWC has announced a new partnership with Acronis, bringing Acronis True Image software to OWC storage solutions.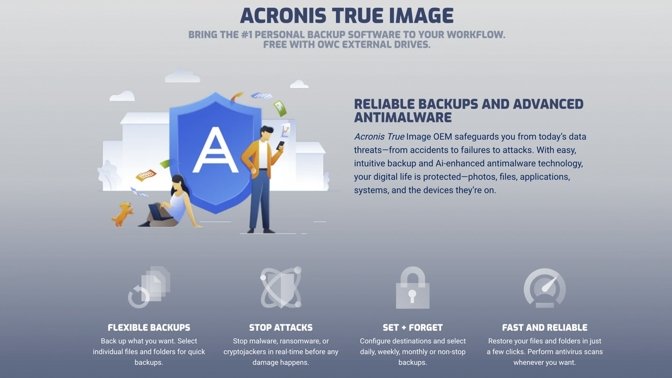 Acronis True Image OEM software is designed to protect users' backup data and recovery from devastating attacks. It does this by monitoring a user's system for ransomware and cryptojacking attacks in real-time, utilizing AI-enhanced anti-ransomware technology.
By monitoring a user's system, the software learns to understand typical behavior, allowing it to pick up on patterns that may signal hostile actions. Acronis points out that the solution stopped more than 600,000 ransomware attacks in the last year.
Acronis True Image OEM can protect photos, files, applications, videos, systems, and more. Users can create "set and forget" backups, allowing backups to be performed on a set schedule. Acronis can also be set to monitor the system for significant data changes and create backups accordingly.
Should a user need to, restores of individual files or entire systems are easy to do in a few clicks.
Acronis True Edge OEM makes its way to OWC storage solutions that feature SoftRAID and will make its way to additional OWC storage solutions in the future. The software is free for those who have purchased OWC storage solutions and can be downloaded from
MacSales.com.