Epic v. Apple trial testimony turns to 'cross-wallet' gaming
So-called "cross-wallet" gaming featured large in the second day of the
Epic Games v. Apple
trial, with Epic and other developers arguing the payment method is not a viable alternative to in-app purchases.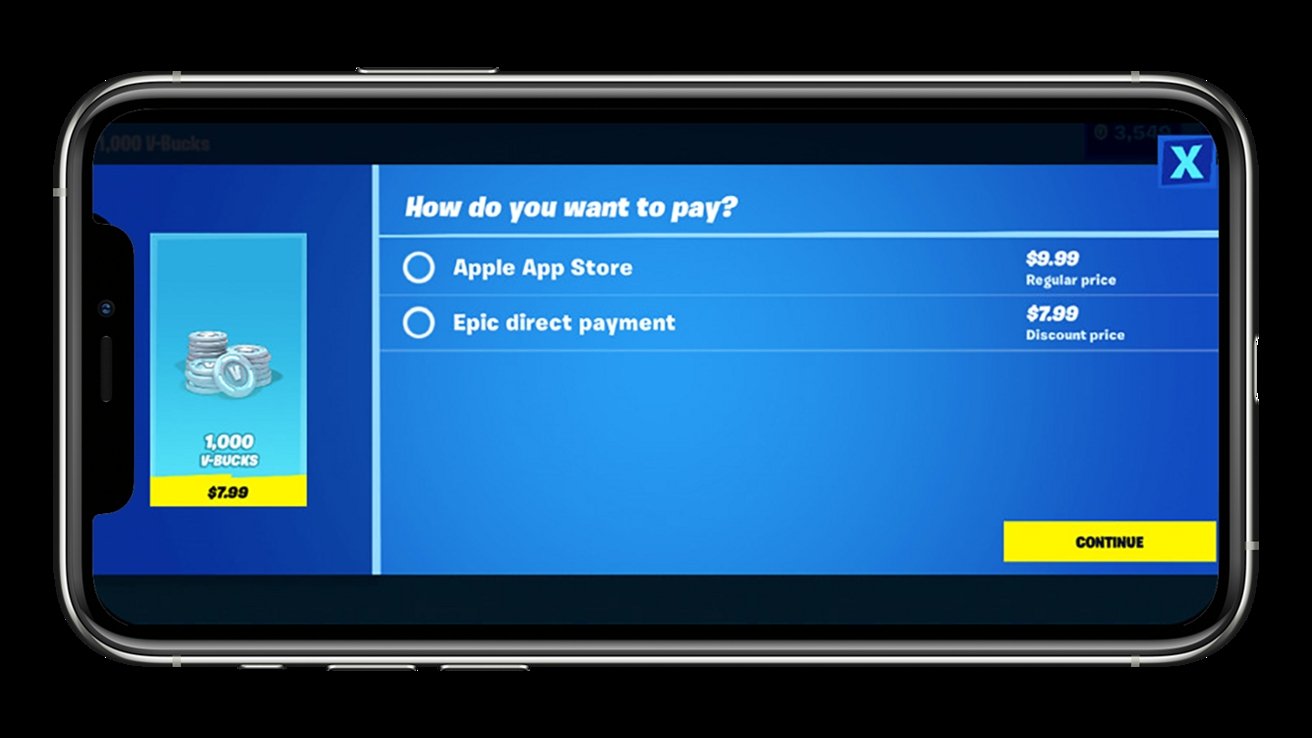 Available as a continuity feature for users, and an option for developers averse to in-app payments (and Apple's cut of those payments), the "cross-wallet" alternative allows for the use of in-game currency purchased from another device or platform. For example, "Fortnite" players can buy V-Bucks on a PC or through Epic's website and use those V-Bucks to buy in-game items on iOS -- or at least they might have when the game was still on the App Store.
As noted by
The Verge
, Apple
allowed Epic
to implement cross-wallet play in "Fortnite" until the game was stricken from the App Store for violating Apple's rules against direct payments. The fact, noted by Apple's lawyers, undermines a central argument that claims developers have little choice but to give Apple 30% of all in-app purchase proceeds.
Judge Yvonne Gonzalez Rogers asked Epic CEO Tim Sweeney why the option was not added to "Fortnite." The executive admitted his company could have instituted the feature, but said "it wasn't a very attractive option for our customers."
"To set Fortnite aside and pull out some device, browse to a website, log in, make a transaction there, it's extremely inconvenient," Sweeney said. "There's a huge amount of payment processing and customer friction associated with selling a user of an app an item outside of that app."
Rogers suggested such friction might not be a bad thing considering "Fortnite's" target audience.
"Why is it so inconvenient that someone can't make what I would call, as a parent, an impulse purchase?" Rogers asked. "Isn't that a responsible way to deal with a young client base?"
Benjamin Simon, CEO of the company that develops yoga app
Down Dog
, took the stand to testify that, while it does offer out-of-network payments to its clients, Apple's rules hinder discovery of the in-app payment alternative. Specifically, Apple rejected multiple versions of
Down Dog
for telling users that they could score a discount on their subscription by signing up through the web. Such advertisements are in violation of App Store guidelines.
Simon added that
Down Dog
is unable to readily communicate the discount to its customers through in-app mechanisms and must instead reach out via email or some other form of communication.
"We're restricted in our ability to communicate with our customers from within our product," he said.
These limitations on open communication between a developer and its customers are part of Epic's argument.