Apple TV+ review: 'Mythic Quest' keeps up the quality in season 2
Just as funny as its first season, the new episodes of Apple TV+ sitcom "Mythic Quest" further explore the relationships between co-workers at a gaming company.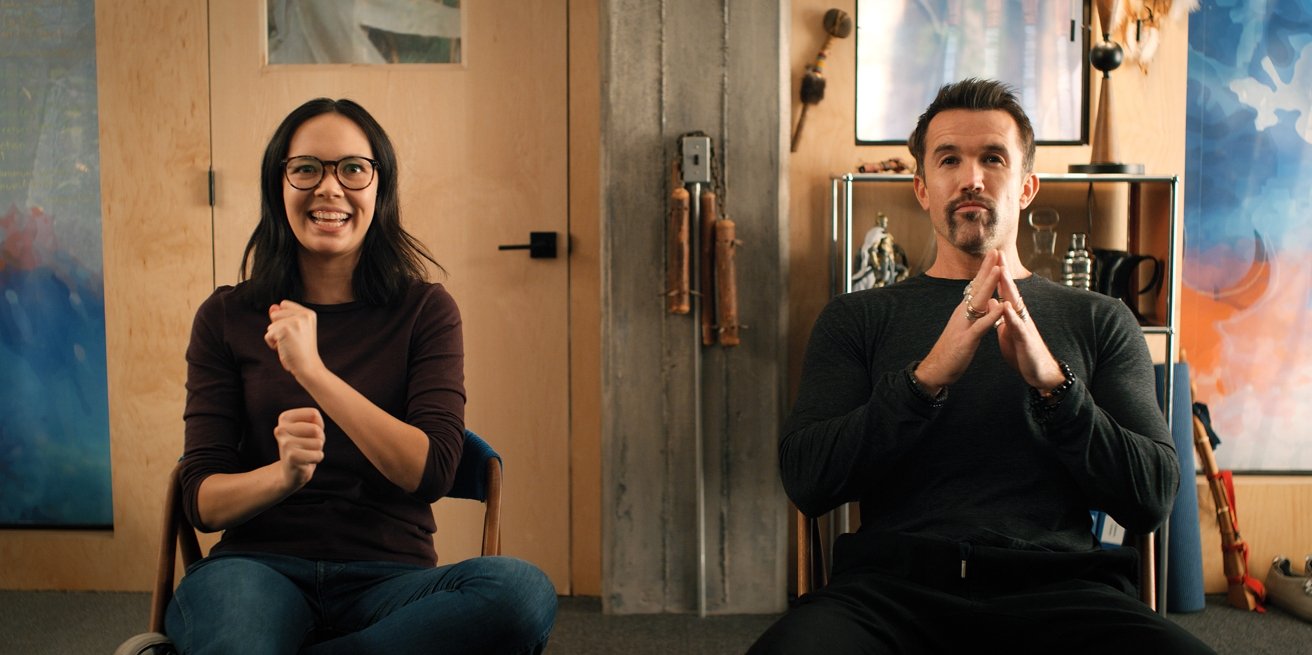 Charlotte Nicdao and Rob McElhenney in "Mythic Quest" season two, premiering May 7 on Apple TV+.
Those who enjoyed Apple TV+'s
Mythic Quest
in its first season are likely to find much to appreciate in season 2 of the show. Following a pair of "special" episodes in between that took the series in some directions that got away from traditional sitcom structure, the second season proper is every bit as funny as the first. The jokes still land, and the character humor is even stronger, with the show mixing up character relationships a bit and drawing humor from that.
The series returned May 7 with a pair of new episodes, and the early shows offer tightly plotted stories featuring the characters we grew to appreciate throughout the first season. Both of the opening episodes of the new season also deliver excellent payoffs at the end.
Mythic history
Mythic Quest
debuted in February of 2020 as
the first sitcom
on Apple TV+. The series was created by several members of the creative team of
It's Always Sunny in Philadelphia
, but it was considerably less raunchy and had much more of a heart, compared with the nihilism associated with
Sunny
. The show is set in the office of a video game company, but appreciation of the jokes never quite depended on extensive video game knowledge.
The first season's nine episodes didn't have a weak link among them, but the highlight was the third one, "Dinner Party," in which the game-within-the-show is overrun by online neo-Nazis. The episode's climax, in which the characters find a way to isolate the Nazis on to a separate section of the game, was not only a satisfying payoff, but represented a solution that could serve as a template for how real-life tech companies could handle hate on their platforms.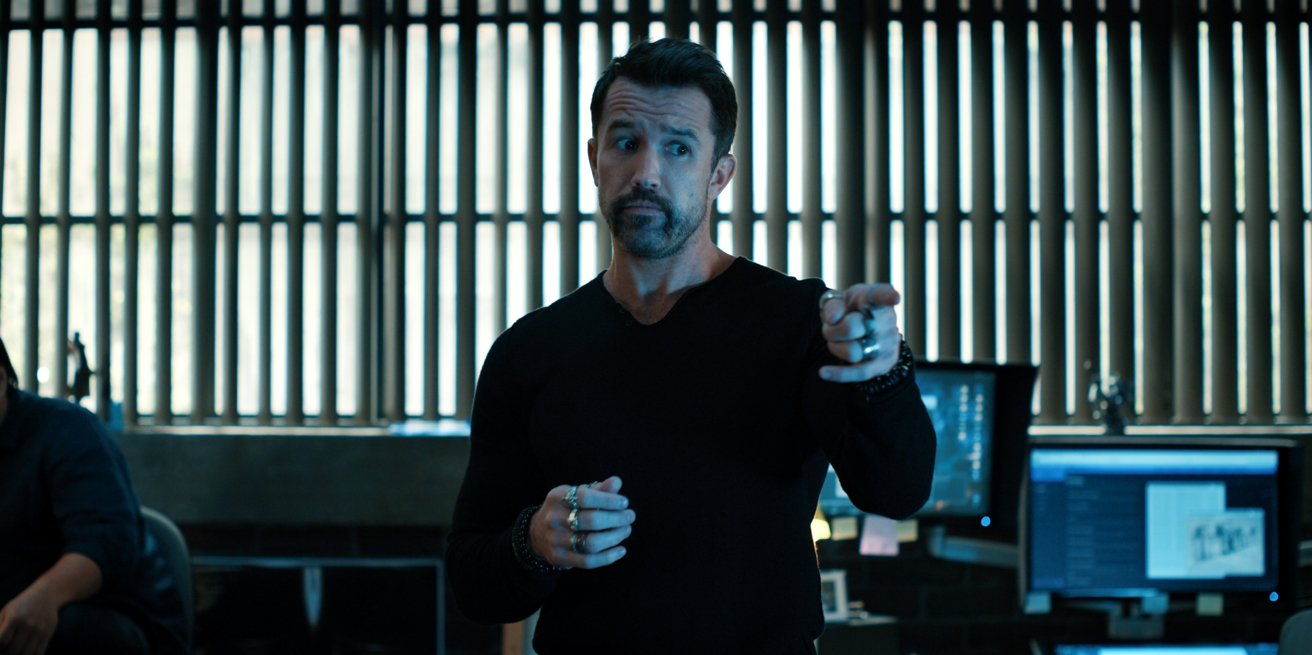 Charlotte Nicdao and Rob McElhenney in "Mythic Quest" season two, premiering May 7, 2021 on Apple TV+.
Apple TV+ aired a pair of special
Mythic
episodes between seasons. The first,
Mythic Quest: Quarantine
, was an exceptional piece of entertainment to have been produced under quarantine conditions. Many movies and TV shows tried to tell compelling stories with all of the characters on FaceTime or Zoom. The BBC's "Staged" was a critical and popular success, but most others have been failures, such as HBO's "Coastal Elites" movie.
But the
Mythic Quest
episode managed to produce an outstanding episode using iPhones and FaceTime calls. The episode ended with both a technical marvel -- a Rube Goldberg stunt, played out with
numerous household props
on 16 different computer screens -- and an emotional climax that was legitimately moving.
Mythic Quest: Everlight
,
the second standalone episode
, arrived just a few weeks before the new season. And while it wasn't quite as inventive storytelling-wise as the quarantine installment, it still found something interesting to do. Namely, it got the cast back into the office and in the same room with each other, for a costume party and live-action role play tournament.
Back in the office
Now
Mythic Quest
is back, having dropped the "Raven's Banquet" subtitle, and it's got new relationships to explore.
Ian (Rob McElhenney) and Poppy (Charlotte Nicdao) are adjusting to their new status as co-creative directors, with Ian's arrogance and Poppy's neuroticism and messiness frequently clashing in funny ways. The main plot is about the company pursuing an expansion of their game and the two executives having occasional disagreements.
The first episode introduces a plot in which Poppy is having sex dreams about her co-boss and grappling with the resulting bad feelings. This seems to be taking the show in a direction that implies the two will have an romance, or perhaps engage in a long will-they-or-won't-they arc. This seems a bad idea, once not in evidence from the groundwork that's been laid about their relationship, and the show already has an arc about a potential couple.
But instead, the show pivots to an inspiring place: It turns out everyone else in the company has those dreams about Ian too, while also finding themselves feeling awful about it afterward. Like in the first season, and on
Sunny
before that, this is another example of this creative team tackling controversial subjects and finding a way to make them funny.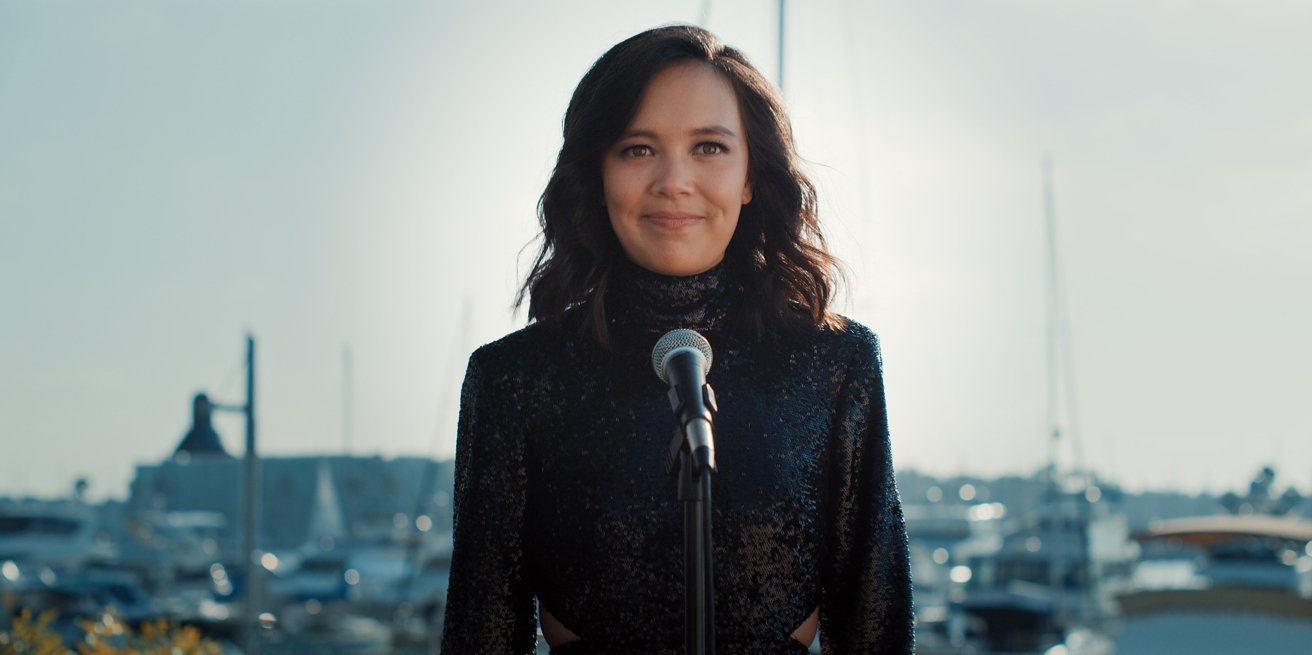 Charlotte Nicdao in "Mythic Quest" season two, premiering May 7, 2021 on Apple TV+.
Nicdao, the Australian actress almost completely unknown to most American audiences prior to this show, continues to be the best thing about it. We got a new sense of the hidden depth of the character in the quarantine special, and the second new episode builds on that, showing her struggling to give a speech at a women's empowerment luncheon. It's a callback to the memorable first season episode in which a Girls Who Code group visits the office and the company has to pretend that they're more feminist than they actually are.
As for McElhenney, he remains a reliably funny television performer, he has great chemistry with Nicdao, and his kicker in the sex dream episode is way too funny to spoil here. He also looks notably more muscular than in the first season, as body transformations are nothing new for the actor. He once thought it would be funny to gain 50 pounds for an
Always Sunny
season, and quickly lose it afterward.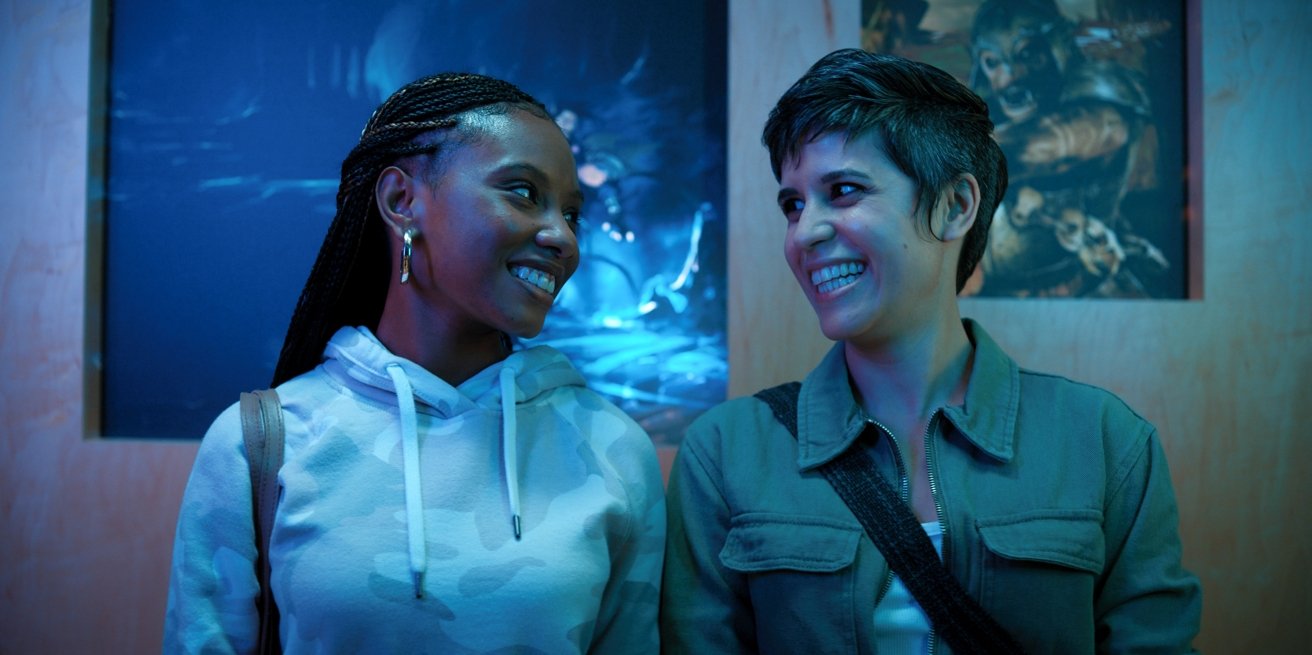 Imani Hakim and Ashly Burch in "Mythic Quest" season two, premiering May 7, 2021 on Apple TV+.
The other notable plot in the early episodes follows Rachel (Ashly Burch) and Dana (Imani Hakim), video game testers who spent most of the first season in a will-they-or-won't-they arc. In Season 2, they're finally a couple, and while sitcoms have a long history of getting less interesting once such couples get together,
Mythic Quest
however, has some good ideas up their sleeve for the pair, including workplace conflict and frequent run-ins with an HR rep.
Meanwhile, the fantasy novelist and elder statesman Longbottom (F. Murray Abraham) is FaceTiming into the office, which sets up some funny gags involving his face appearing in meetings. Sad sack Dave (David Hornsby) and bottom line-oriented Brad (Danny Pudi) remain at odds, this time over abrasive assistant Jo (Jessie Ennis), who left Dave to work for Brad. Last season had "Pooty Shoe," the preteen videogame influencer who was able to strike fear in the hearts of the team, and ended up having a surprising connection to Ian. This season, it appears he's been replaced by an even younger rival.
The Quest continues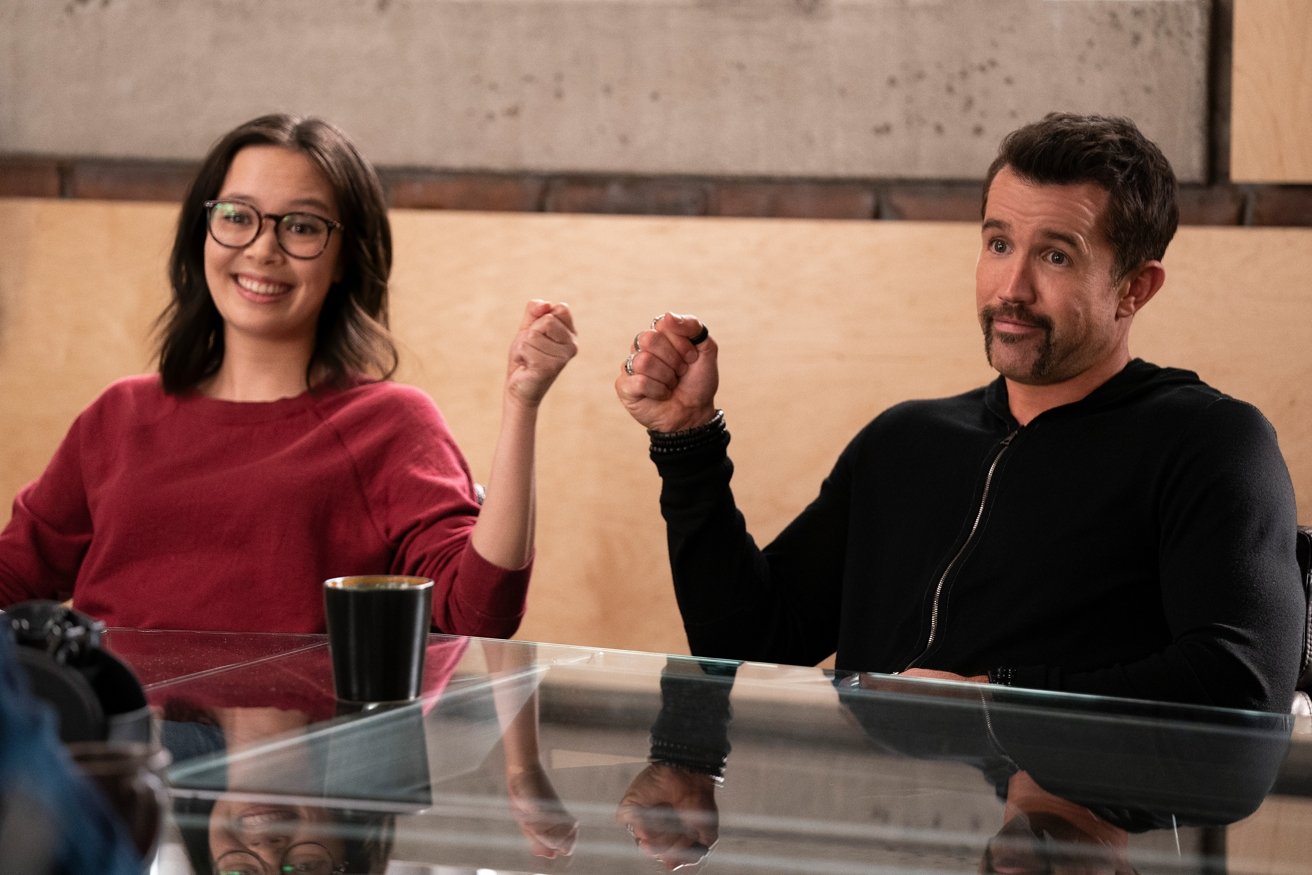 Rob McElhenney and Charlotte Nicdao in "Mythic Quest" season two, premiering May 7, 2021 on Apple TV+.
Mythic Quest
, relies on the workplace ensemble formula utilized by many successful sitcoms from "The Mary Tyler Moore Show" to "The Office," and "Parks and Recreation." It gathered a large ensemble cast of very funny people -- some played by previously famous people, and others by up-and-upcomers -- and combined it with a promising concept and a talented writers' room.
While it's far from rare for promising sitcoms to quickly peter out after a strong first season,
Mythic Quest
has shown no sign of dropping in quality, and looks like it has the potential for a long run. Perhaps not as long as
It's Always Sunny in Philadelphia
, which has already aired 14 seasons and has more coming.
Apple TV+ has a clear winner with
Mythic Quest
, which has kept up the quality in its second season.