Roundup: the best accessories for your M1 Mac mini
Looking to buy an M1
Mac mini
or own one already? Our team has rounded up the best accessories to complement Apple's compact desktop.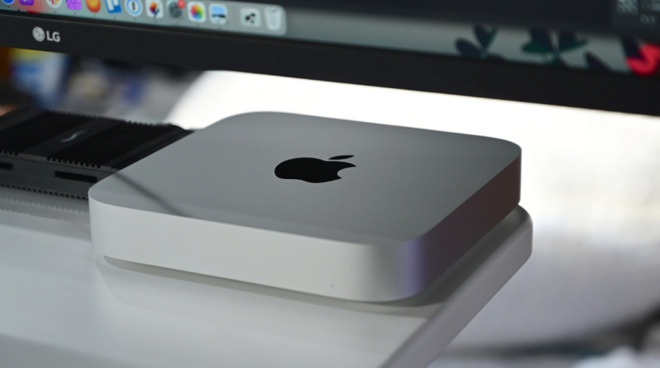 The Mac mini with an M1 processor
The latest Mac mini has fewer ports and a few limitations when compared to the previous models. Consider the differences between Intel and Apple processors when deciding on accessories for your Mac mini.
The move from Intel to
Apple Silicon
has changed port configuration and capabilities. You cannot connect multiple external displays via
Thunderbolt
, nor can you attach eGPUs.
The inclusion of an HDMI port does mean that users can attach two monitors via the Thunderbolt port and the
HDMI port
. Check out our roundup to find the
best monitor
for your
M1-based
Mac.
We recommend the
LG UltraFine
for the most Apple-like experience without having to spend
Pro Display XDR
money.
Hubs
The M1-based Mac mini has two Thunderbolt 3 ports instead of the four found on Intel-based models. This means users are more likely to need a hub or dock for this desktop Mac. Check out our
roundup of Thunderbolt 3 docks
to use with the M1-based Macs for more options.
Satechi Type-C aluminum stand and hub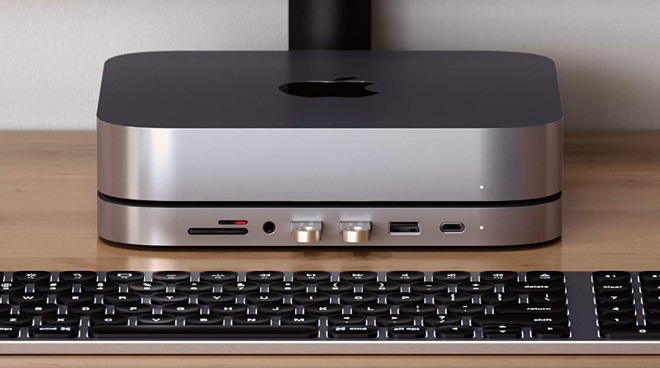 Satechi Type-C aluminum stand and hub
The Satechi Type-C aluminum hub for the Mac mini brings some much-needed ports to the desktop. It is designed to fit directly underneath the Mac mini and takes up only one of the rear Thunderbolt 3 ports.
The added ports are all situated at the front of the Mac mini for easy access.
The ports include:
1 Type-C USB 3.0 port
3 Type-A USB 3.0 ports
micro/SD card readers
3.5mm headphone jack port
You can buy the Satechi Type-C aluminum stand and hub
for $79.99 on Amazon
.
MonitorMate ProBase Gen2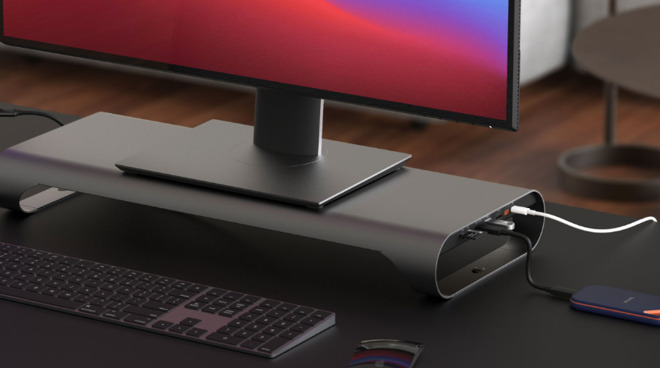 MonitorMate ProBase Gen
The Mac mini is a small device that can be hidden away with ease, but this means losing easy access to much-needed ports. The MonitorMate desk stand hopes to combat this issue.
The MonitorMate ProBase Gen2 elevates your monitor off of the desk and leaves enough space underneath to store your keyboard or Mac mini. It features multiple ports on either side of the stand and a built-in drawer for additional storage.
The ports include:
1 Type-C USB with 100W PD
1 Type-C USB 3.1 Gen 2
2 Type-A USB 3.1 Gen 2x2
1 SD/MicroSD slot with UHS-II
1 Gigabit ethernet port1 4K 60Hz HDMI port
The MonitorMate connects via an integrated 31.5-inch USB-C cable. 100W pass through charging will use 15W for component power and the remaining 85W for a connected laptop. The 100W port is for power only.
You can purchase the MonitorMate ProBase Gen2 on sale from
Amazon for $178.99
in silver or gray.
External Storage
You can configure the M1 Mac mini with up to 2TB of internal SSD. This drives the cost much higher, however, so users may want to use external storage options instead.
OWC 2TB Envoy Pro EX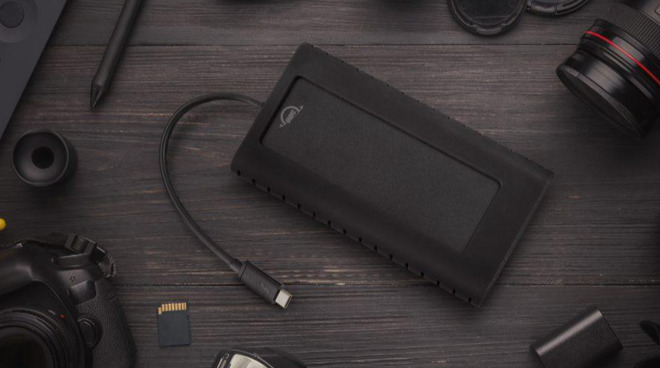 OWC 2TB Envoy Pro EX
Thunderbolt SSDs are very expensive but offer the speed of an internal SSD with the convenience of an external one. The OWC 2TB Envoy Pro EX is built to be rugged and fast.
Upgrading to 2TB of internal storage in your Mac mini will cost $600 and it can't be removed or used elsewhere. You'll save over $100 and have fast-portable memory to use with your Mac mini and other Thunderbolt computers with this SSD.
The drive combines the 40 Gb/s bandwidth offered by Thunderbolt 3 with an M.2 NVMe SSD rated for 2800 MB/s read/write speed.
You can purchase the OWC 2TB Envoy Pro EX SSD from
B&H for $489
.
Samsung 2TB T5 SSD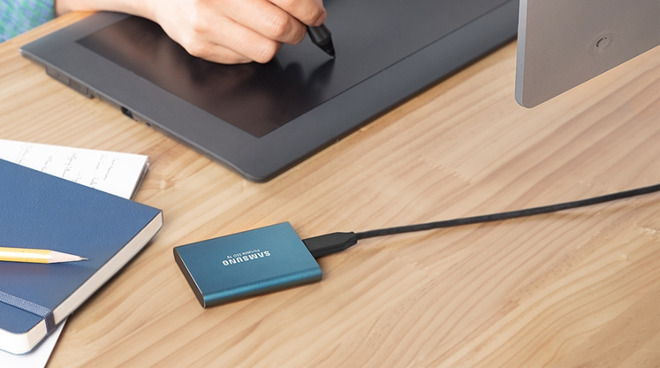 OWC 2TB Envoy Pro EX
The Samsung T5 is a highly popular SSD for good reason. It is easily pocketable and uses USB 3.1 for 10GB/s transfer speeds.
The tiny SSD can easily be connected to your desktop for use at home then carried on-the-go for use with a MacBook Pro or iPad Pro. It features a USB-C port so you can use a Type-C or Type-A cable for connection to the computer.
The Samsung 2TB T5 SSD is $269.99 at B&H and is currently
on sale for $229.99
.
Wired keyboards
Wired keyboards don't need to charge and will never go to sleep or disconnect and are perfect for stationary desktops. There are also great wireless keyboards, so be sure to also check out our
roundup of the best keyboards when working from home
.
Keychron C-series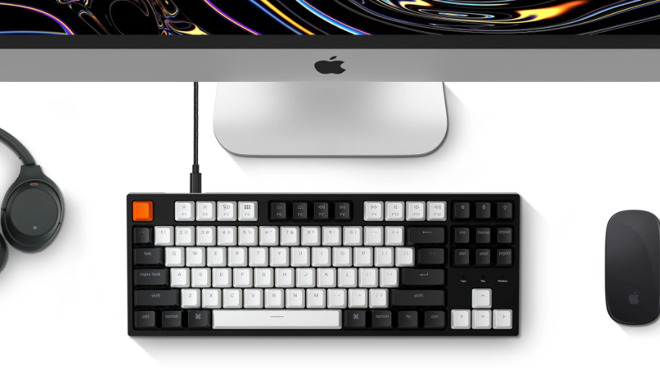 Keychron C1
Keychron is a popular mechanical keyboard maker known for using modern technology and compact design. The C-series of keyboards are wired-only and can be configured with RGB backlighting and hot-swappable keys.
The C1 is a tenkeyless keyboard and the C2 is a full sized keyboard. The two keyboards are identical except of the size class.
The C-series takes everything great about the classic K-series keyboards and removes the complexity of a battery and Bluetooth radio to reduce cost.
The Keychron C1 tenkeyless keyboard with hot-swappable switches is
$64.99 on Amazon
and can be configured with red, blue, or brown switches.. The Keychron C2 full-sized keyboard with hot-swappable switches
is also $64.99 on Amazon
and can be configured with blue, red, or brown switches.
Satechi Slim W-series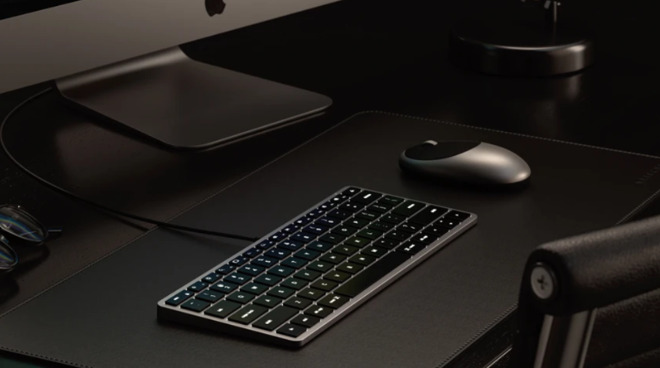 Satechi Slim W1
If you're looking for something more like the Apple
Magic Keyboards
then Satechi has you covered. Their W-series of keyboards are wired and offer a tenkeyless or full-sized option.
They keyboards have backlit keys that are comfortably spaced. The USB-C cable is integrated into the keyboards and cannot be removed.
The Satechi Slim W1 keyboard with a compact layout
is $59.99 on Amazon
. The full-sized Satechi Slim W3 keyboard is
$69.99 on Amazon
.
Mice
The Mac mini doesn't come with a mouse so you'll need to decide on which is best for you. Ergonomics and wired options should be a part of your consideration for your desktop setup.
Logitech MX Master 3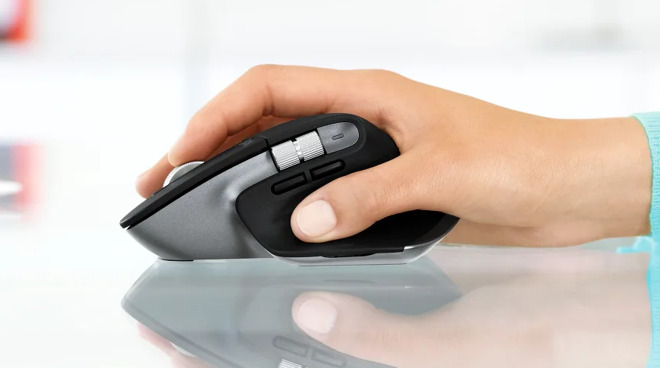 Logitech MX Master 3
If ergonomics are the top priority then the Logitech MX Master 3 is built for you. Logitech designed this mouse for
macOS
and
iPadOS
compatibility and used a space gray finish to match.
This wireless mouse can switch between connected devices on the fly with the press of a button. That means you'll be able to connect this to your Mac mini and
iPad
at the same time and switch easily.
You can buy the Logitech MX Master 3 from
B&H for $99.99
.
Magic Trackpad and Mouse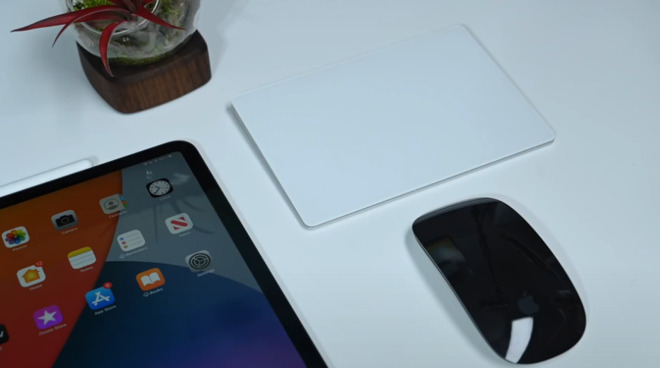 Magic Trackpad and Mouse
Apple sells their own accessories for Mac and they remain among the most popular mousing options for Mac. The Magic Mouse and Magic Trackpad are uniquely designed and take full advantage of the Mac.
The Magic Mouse is sleek and small. It uses a glass surface to detect click and location of the click on the surface. You can also swipe between desktops or scroll using swiping gestures. The greatest weakness of the Magic Mouse is the charging port is under the mouse and cannot be used when charged.
The Magic Trackpad is a large glass-touch surface that works identical to a MacBook trackpad. It doesn't have a physical diveboard but instead uses haptics to simulate a click when pressed.
You can connect the Magic Trackpad with the Lightning cable to use while wired. Swipe, pinch, tap, and drag with this intuitive touchpad. Use it alone or in conjunction with a mouse for the ultimate ergonomic setup.
The Magic Mouse is
on sale for $79.99
for silver and
$94
for space gray. The Magic Trackpad is
$119
in silver and
$136.50
in space gray.
Headphones
Headphones are an important part of today's desktop setup. They are essential for blocking out the dog barking in the next room or crystal-clear audio for video calls.
Sony WH-1000XM4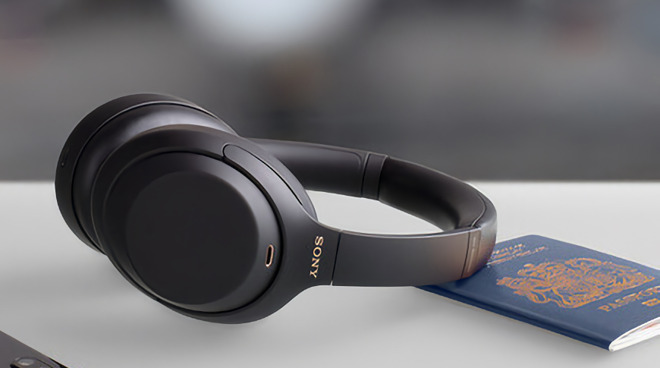 Sony WH-1000XM4
Despite the terrible name these headphones are among the most popular noise-cancelling cans on the market. The Sony WH-1000XM4 headphones have great audio quality at a decent price point.
They have up to 30 hours of listening when noise cancellation is enabled. Ten minutes of charging can get you 5 hours of battery life.
Head detection allows the audio to pause when the headphones are removed. The inclusion of a headphone jack port means no need for an expensive cable for wired listening.
The Sony WH-1000XM4 headphones are available in silver or black for $348 but are on sale for
$278 on B&H
.
Bose Quiet Comfort 35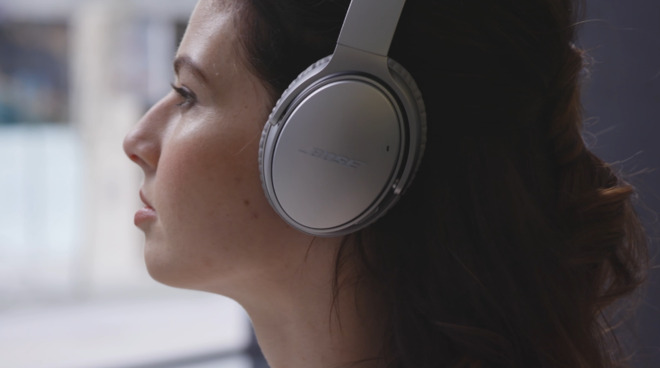 Bose Quiet Comfort 35
The Bose Quiet Comfort 35 are a cheaper option to the Sony XM4 with similar features. They have Bose's noise cancelation algorithm with different levels of cancelation and a comfortable design.
Audio playback with noise cancellation on will last up to 20 hours. Charge the device to a full battery in 2.25 hours.
This set of headphones also includes a headphone jack for easy connection to devices such as the Mac mini.
The Bose Quiet Comfort 35 headphones are
$299 on B&H
and come in silver or black.
Apple AirPods Max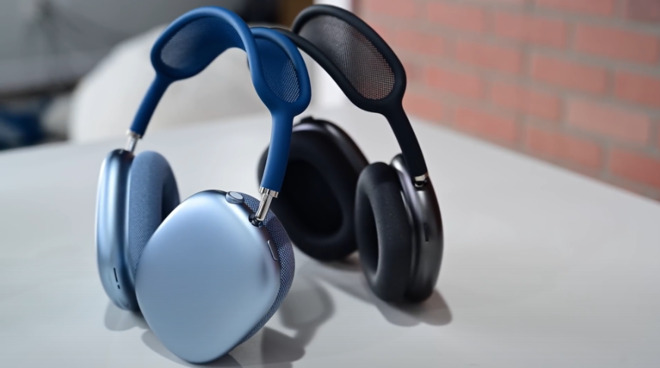 Apple AirPods Max
Apple sells several kinds of headphones including its branded
AirPods
or
Beats By Dre
. The
AirPods Max
released in December 2020 and are
considered
top-notch audio for your Apple devices.
The AirPods Max use multiple microphones to perform ambient noise detection for various audio controls. You can allow external audio in with Transparency mode or cancel it out with Active Noise Cancellation (ANC) mode.
You can play up to 20 hours of audio when using ANC and have up to 72 hours of standby time. Charge the AirPods Max for five minutes for 1.5 hours of additional use.
You can also connect the AirPods Max via a wired connection using a 3.5mm to Lightning cable,
sold for $29.95
. There is no headphone jack port and a dongle or adapter must be used for wired operation.
The AirPods Max are
currently on sale at Amazon
in select colors. AirPods Max come in green, pink, silver, sky blue, and space gray.
Printers
While offices are increasingly digital it doesn't hurt to have a printer at the ready. These printers are great for printing documents or even your iPhone photos so you can display them properly.
HP Tango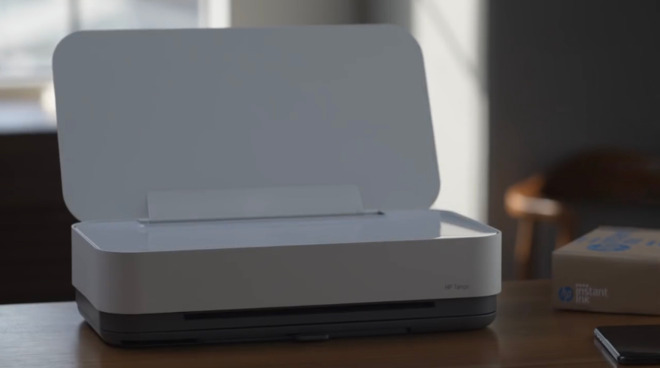 HP Tango
The HP Tango is built to be small and stylish without sacrificing functionality. At only 6 pounds, this printer is built to be moved around the home or office as needed.
HP describes the Tango as the "world's first smart home printer" with smart assistant and smartphone compatibility. You can set up printing jobs from your iPhone and print from anywhere you have an internet connection.
The all-white design will look great with an Apple setup. Connect the printer directly to the Mac mini with a cable or use WiFi or Bluetooth printing options.
Buy the HP Tango from
Best Buy for $149.99
.
Canon Maxify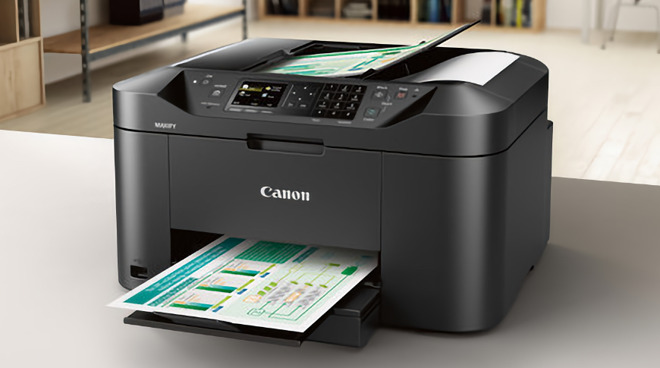 Canon Maxify
If you need a more classic printer for your desk the Canon Maxify offers all the features you'd expect without breaking the bank.
Print, scan, copy, or fax using this all-in-one solution. You can even connect online services like Microsoft OneDrive and Dropbox directly to the printer.
The Canon Maxify is
$149 on B&H
.