Everything in new in Safari 15 and how you can try it yourself right now
Apple is giving
Safari
a fresh coat of paint and some new features with macOS Monterey. Here are all the new features you can expect to see when the update ships in the fall, including a redesigned look, Tab Groups, and Quick Note.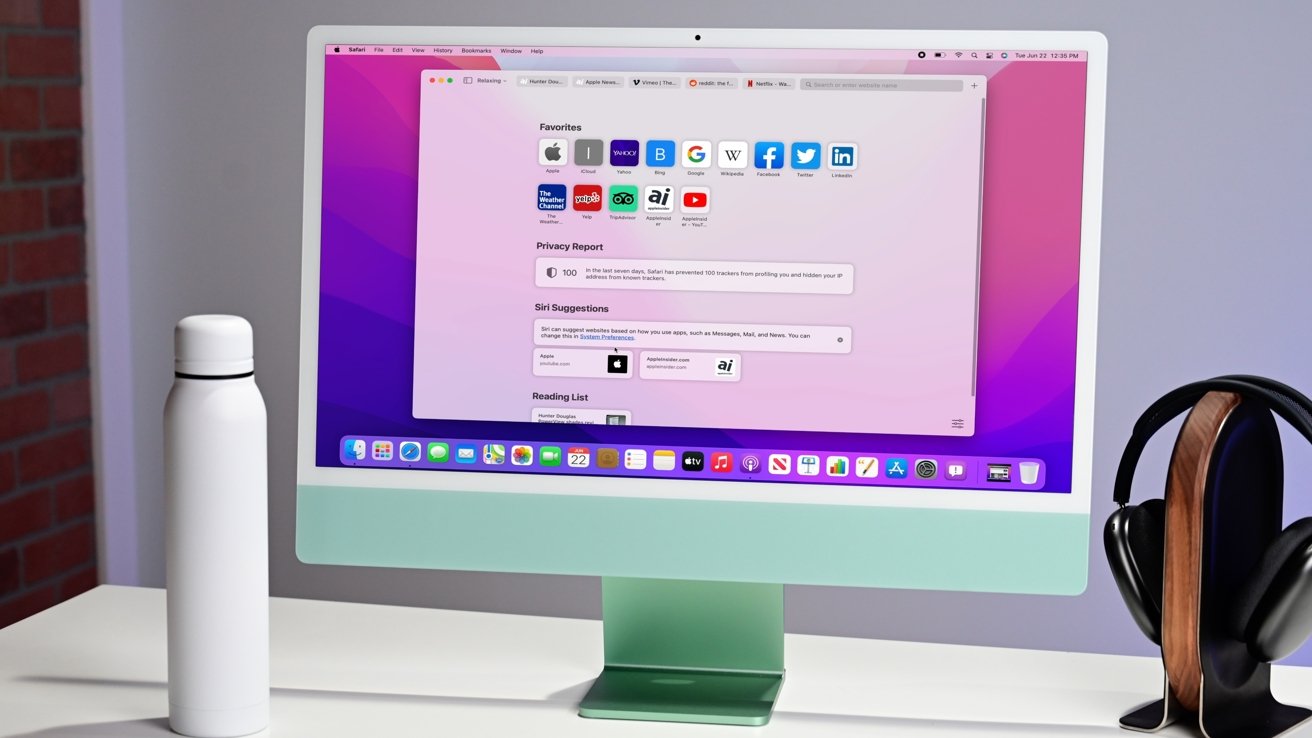 Start page in Safari 15 for macOS
Look and feel
Unlike years past where Apple has provided Safari with more under-the-hood changes, this year, the update is apparent with Safari taking on a fresh coat of paint. Visually, it looks cleaner and more compact than it did before.
Those changes all come to the redesigned unified search bar. Instead of splitting tabs into a top and bottom row, it is all crammed together into a single row. Tabs slide left to right, and when you select a tab, it becomes the combo URL/search box. By combining the active tab with the URL box, Apple has reduced the space requirements significantly.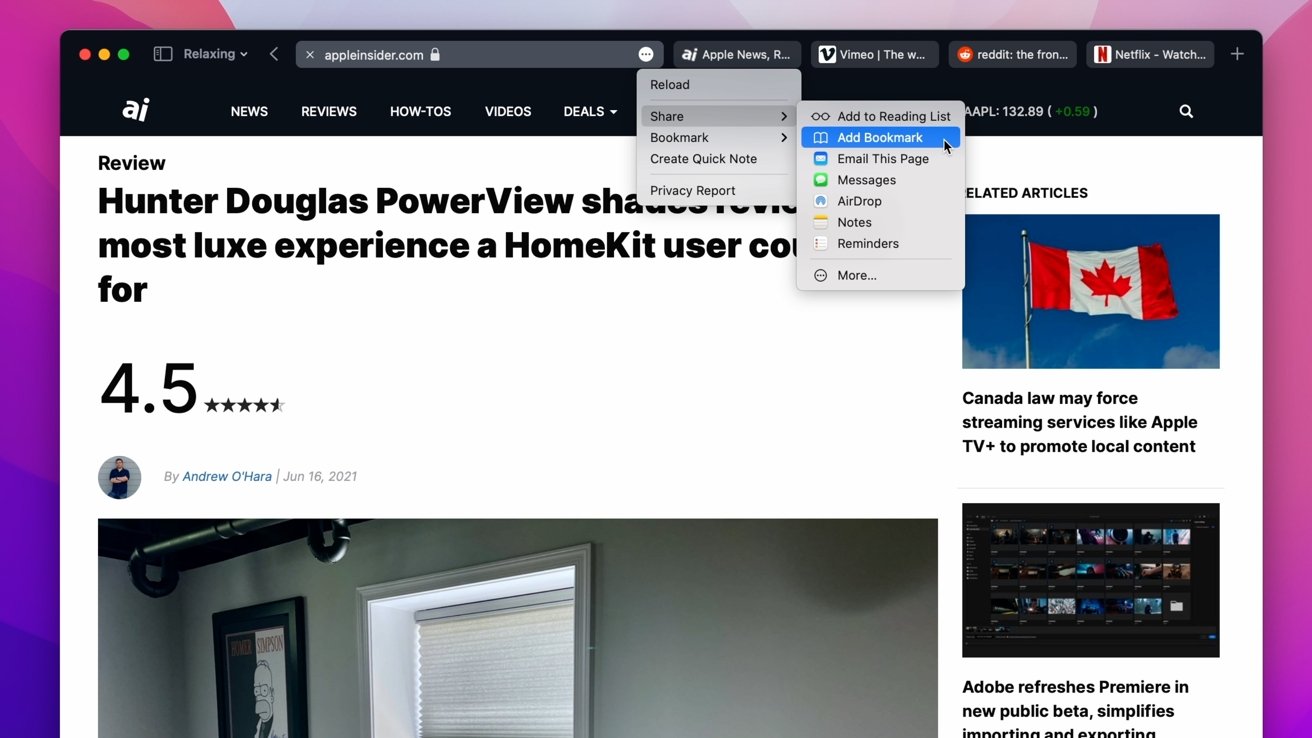 Toolbar ... options for Safari 15
To help fit everything in, Apple employed a few other space-saving measures. Some buttons have been relocated behind an ellipsis in the URL box. You can tap the ellipsis for the share button, add to bookmarks/reading list option, and the reload button.
Moving the page reload button may cause some frustration, but it is still possible to use the keyboard shortcut CMD+R. That makes the button less critical, so hiding it behind the ellipsis will free up some much-needed space for most users. If you did routinely use the refresh button, Apple's repositioning is less than ideal.
Toolbar customization options for Safari 15
Fortunately, you can still customize the top bar. You can right-click the bar to bring up the customization option, and you can drag and drop the remaining toolbar items where you'd like them.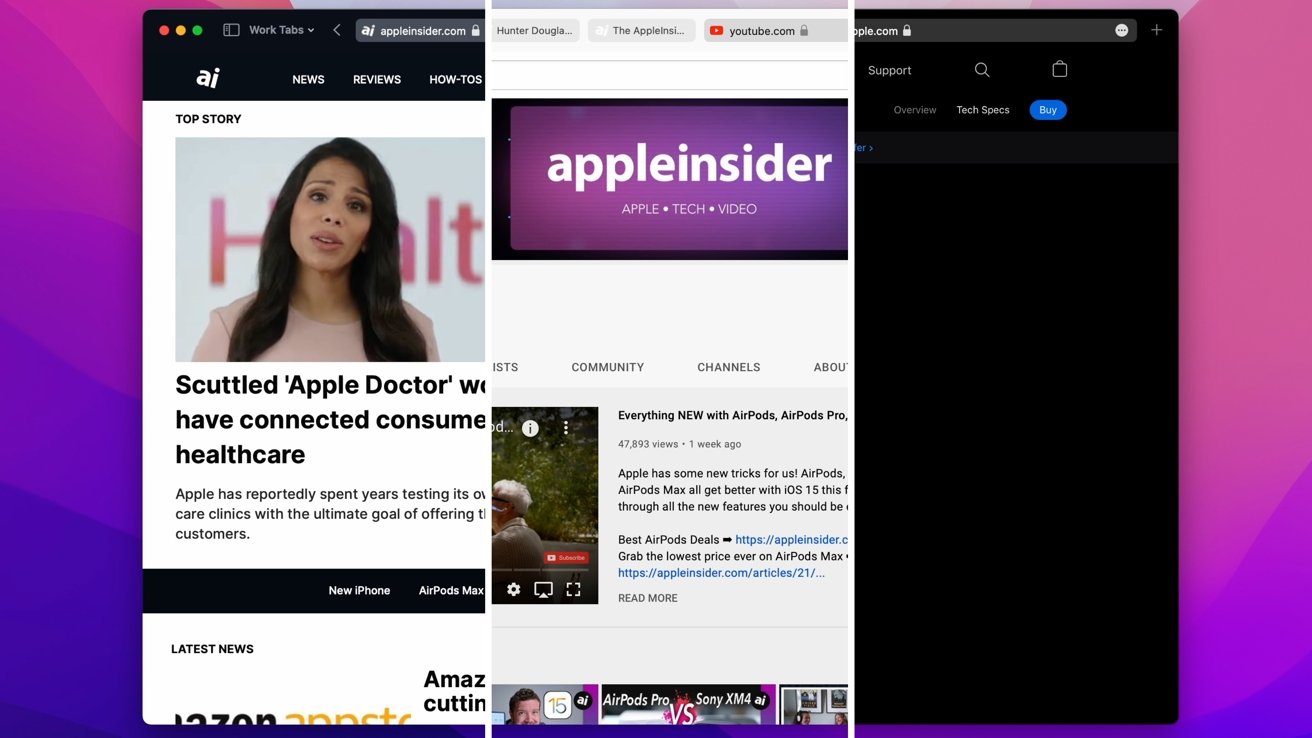 Safari's toolbar adjusting for AppleInsider (left), YouTube (center), and Apple (right)
Another neat feature of the toolbar is its ability to change color. When you visit different sites, the Safari toolbar will take on the color of any site you land on. When visiting
AppleInsider,
the toolbar takes on
AppleInsider's
dark blue. Visiting YouTube turns the bar white and visiting Apple's
iPhone 12 Pro
mini-site makes it black. This creates a more cohesive visual experience where the toolbar doesn't stand out.
Apple made a few modifications to the start page this year, most relating to syncing across your various devices. When you set your background for the start page, it can sync to any device you're signed in to with your Apple ID. Set it on your
Mac
and it will show on your
iPad
. This is a new toggle located within the settings icon in the lower-right corner of the start page.
That same menu has a toggle to display or hide
iCloud
tabs on the start page and a "Use Start Page on All Devices" option.
Tab Groups
Tab Groups are arguably the most significant feature coming to Safari. The more we use them, the more we enjoy them. If you have a habit of opening a bunch of tabs at once, you likely will too.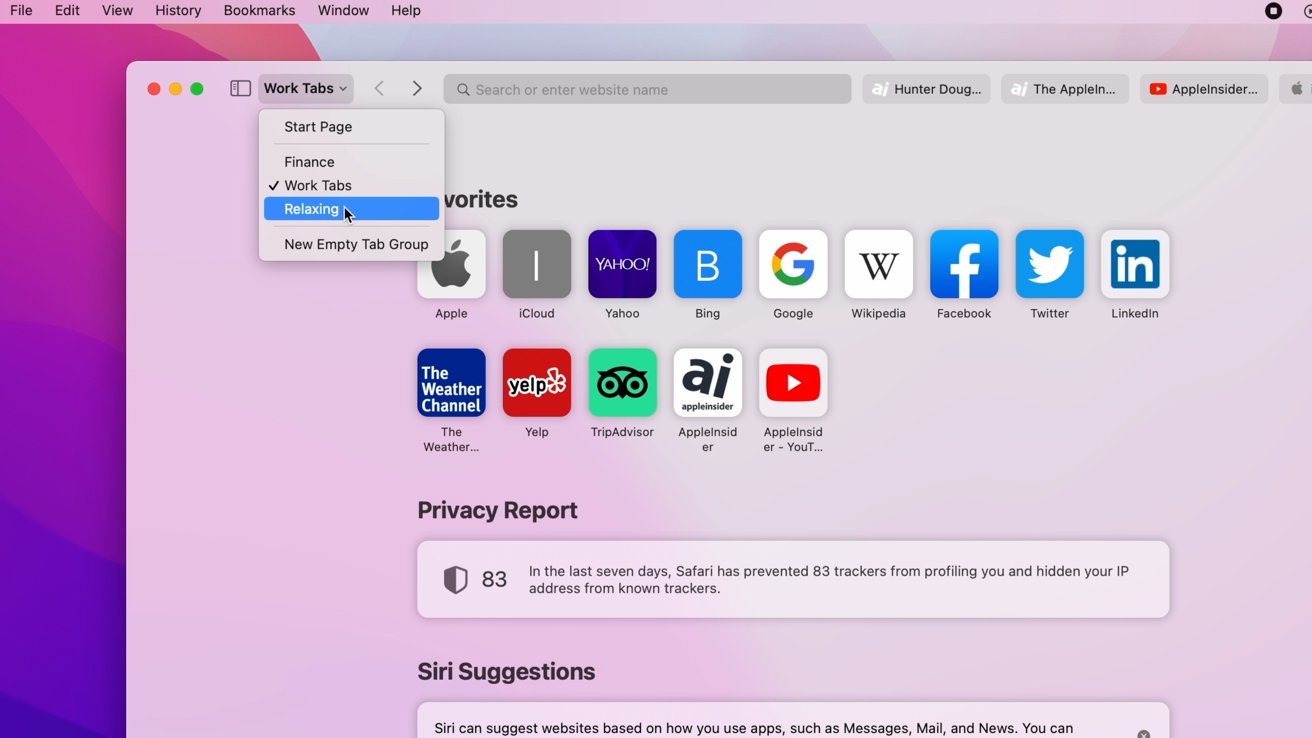 Tab Groups in the toolbar
How it works is that you can group any tabs you have opened into different buckets. Create a group for your work tabs, create a group for relaxing, and create one with your financial or banking sites. Then you can jump between your groups as needed, keeping your toolbar clean and organized.
It can also help you focus if you don't have open tabs for Reddit or Twitter while you're trying to work and you don't have to see your work tabs while trying to kick back.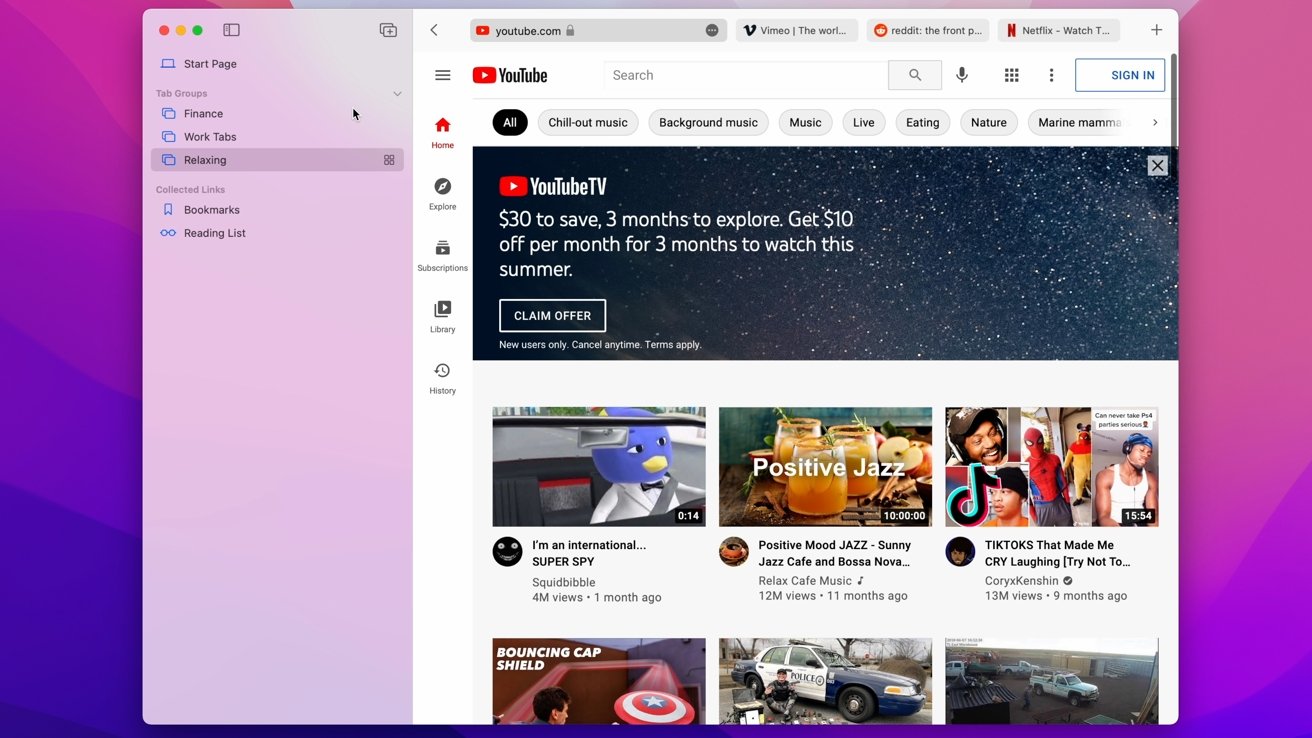 Redesigned Sidebar
You can jump between Tab Groups from the new toolbar option or do so from the redesigned sidebar. The sidebar used to be two tabs -- one for bookmarks one for your reading list -- but now it is a series of folders for both of those two categories as well as your Tab Groups.
A new Tab Group can be created on-demand at any time from that drop down in the toolbar. It can be an empty group or can be pre-populated with your current open tabs.
Quick Note integration



Creating a Quick Note



Quick Notes is another fantastic new feature that is coming to macOS Monterey as well as iPadOS 15. It is a system-wide feature that allows you effortlessly create a note with contextually aware app links to make them even more useful. But Safari has its own specific ties to Quick Note.

The ellipsis in the toolbar features a button to generate a Quick Note. You can also create a Quick Note by highlighting a text block, right-clicking, and adding to a Quick Note.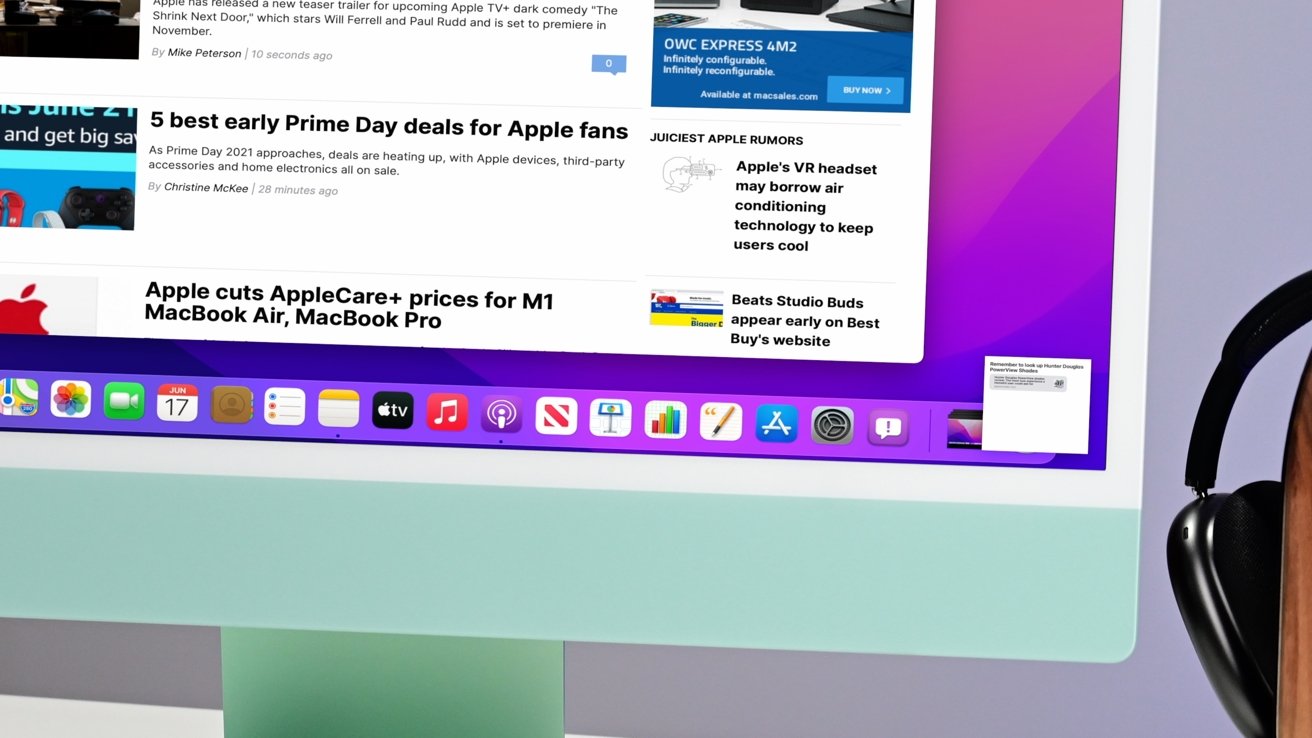 A Quick Note returning



These are easy, and whenever you create a Quick Note with a link to a page, any time you revisit that page in Safari, your note will resurface in the lower-right corner.

Available in beta

The updated version of Safari will land this fall for most users, but you have a couple of options if you'd like to get an early look.

Developers can test macOS Monterey now, though this is strongly discouraged for non-developers and especially discouraged on your daily driver. Apple will be issuing a public beta in July, which is a better option for those eager to give it a try.

Safari Technology Preview
Alternatively, Apple releases what it calls Safari Technology Previews. This is available now for users of macOS Big Sur. You can install Safari 15.0 on your Mac and it will install as a second app, alongside the existing public version of Safari. You can
download the technology preview
from Apple's mini site.
You will have both Safari 14 and Safari 15 Technology Preview on your Mac. You can test out the new features as much as you want, and if it gives you issues, switch back to the public build and remove the Technical Preview without having any risk.
Otherwise, sit back and be ready for a new Safari experience and much more coming soon.