Flexispot Deskcise Pro V9 review: an addictive exercise workstation
It's a desk, an exercise bike, and it can also fit under a regular standing desk. The Flexispot Deskcise Pro V9 practically tricks you into getting fitter.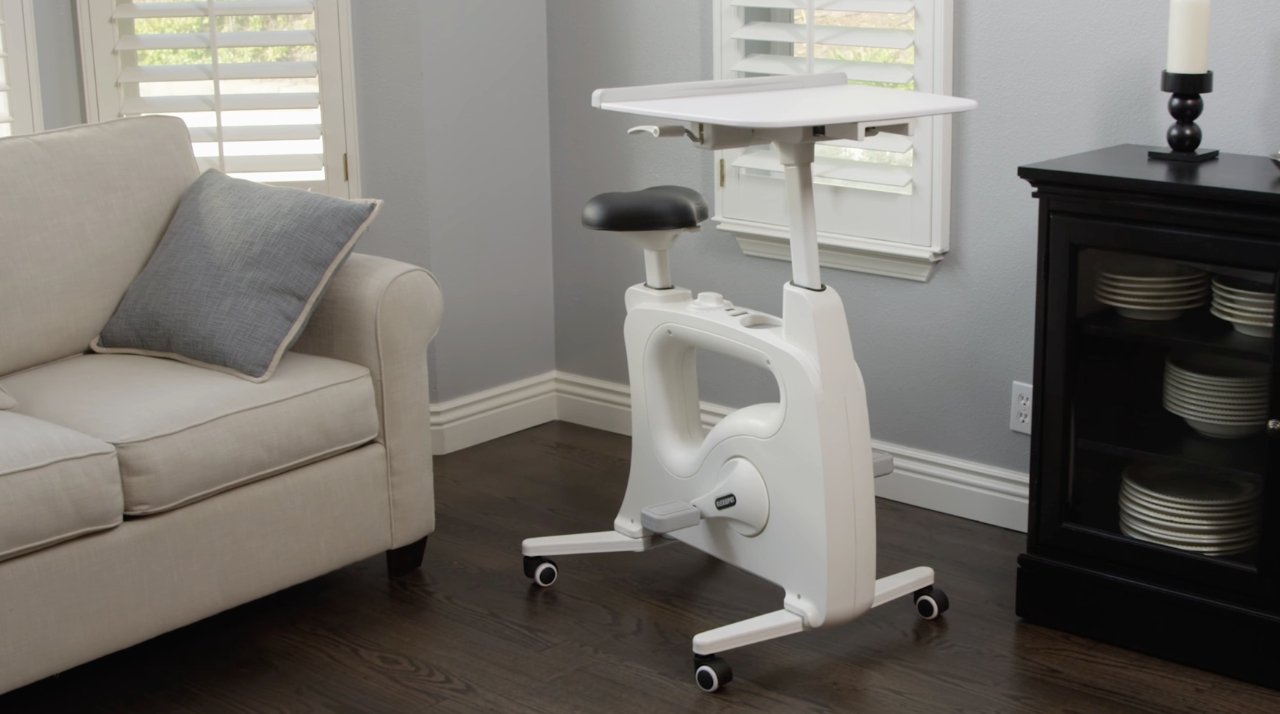 What do you mean, your house isn't this neat? Neither is ours. Hence source: Flexispot
More than a roundup of specifications, more than an analysis of component parts, or a comparison with similar products, here's the real thing about the Flexispot Deskcise Pro V9. It makes me forget I'm exercising.
I can now close all three rings on my
Apple Watch
any day I like, and I do it practically without noticing because of the Deskcise Pro V9. It's the combination of desk and bike, the combination of working and exercising, that means it's become part of my day.
That means I went from thinking, "Okay, gulp, yes I confess I need exercise," to, "Oh, I've just got the thirty-minute activity ring." And then most days to that beautiful moment when you get all three rings and the Apple Watch fireworks going, when everyone you're sharing your data with gets annoyed at you.
And I went from the reluctance to the fan pretty much instantly.
Design - what you get and how it works
Flexispot Deskcise Pro V9 is one machine that aims to serve three slightly but significantly different purposes. That starts with how it can be used as a regular exercise bike, but you won't ever do it because the other two options are better.
The first, and the one I've been exclusively using, is as a desk. A little adjustable desk, a bit bigger than a dinner tray, can be fitted in front of you.
You can alter both the height of that desk and your bike saddle. It's easy in the sense of how you do it, more challenging in terms of actually getting it all to the right level. But part of that difficulty is that it is incredibly sturdy -- nothing moves here without a deliberate effort, nothing slips or slides.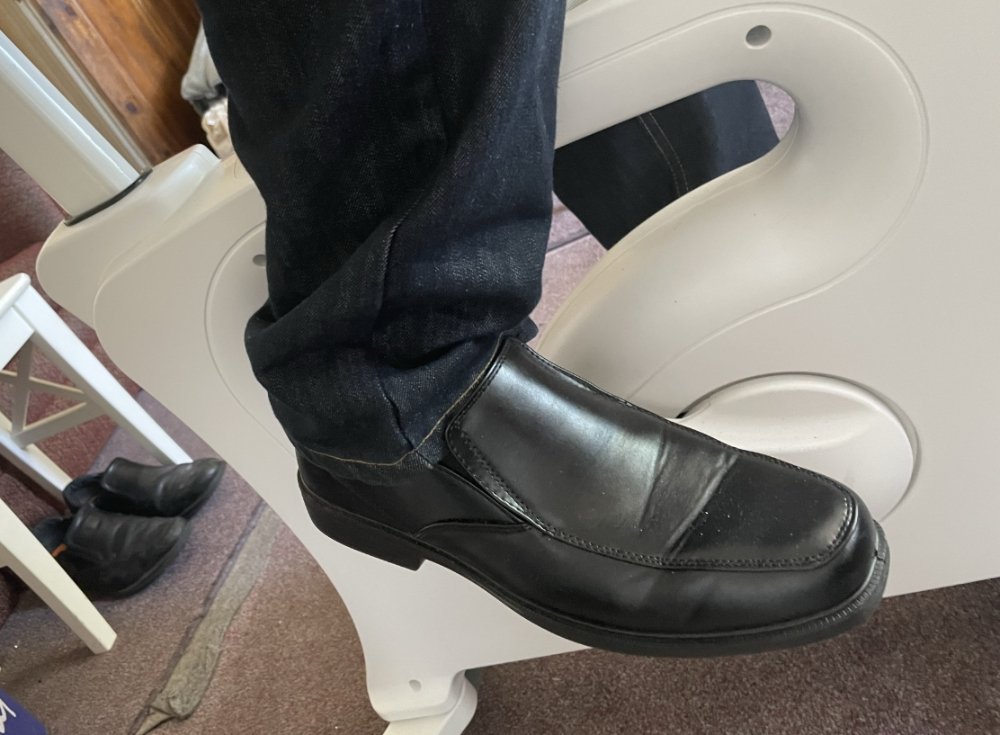 You don't have to get changed into gym clothes to get some exercise in
The Flexispot desk is big enough for a
MacBook Pro
or an
iPad Pro
on a stand with a keyboard. It has its own palm rest, and it is wide enough that you can readily keep your
iPhone
and maybe some papers on there too.
That's certainly enough for half-hour and one-hour exercise runs, but it wouldn't be sufficient if you were to spend a whole working day on it. And that's where the third option comes in.
This Flexispot desk can be removed so that if you have a standing desk already, you can instead move the whole bike into position under it. There's something odd about sitting on a bike under a standing desk, but it works, and it gives you the same key benefit that the standalone Flexispot does.
It makes you forget you're exercising.
Seriously, on the very first day, I was pedaling away, watching the clock, figuring I'd go to the top of the hour, and then I got an email. Read that, wrote a reply, found I'd gone several minutes past the hour and that I'd been pedaling the entire time.
That's when I suspected I might get addicted to this. And in a couple of weeks since, it's become the thing I look forward to doing in the morning.
Well, let's not get carried away here. Flexispot hasn't turned me into a gym fanatic.
But each weekday morning, I get on there for at least half an hour. First, I set my Apple Watch's "Other" workout, and then I open my iPad to start going through my OmniFocus task list for the day.
Before my Watch taps me to say I've closed my exercise ring, I will have done a few tasks, added a few more, and be in the working day without truly noticing it.
Design - controls and features
While I tend to lean on my Apple Watch, you don't need one, because the bike itself has multiple controls and features. There's the horrible one where you can make it so that pedaling takes some more, much more, and even more effort.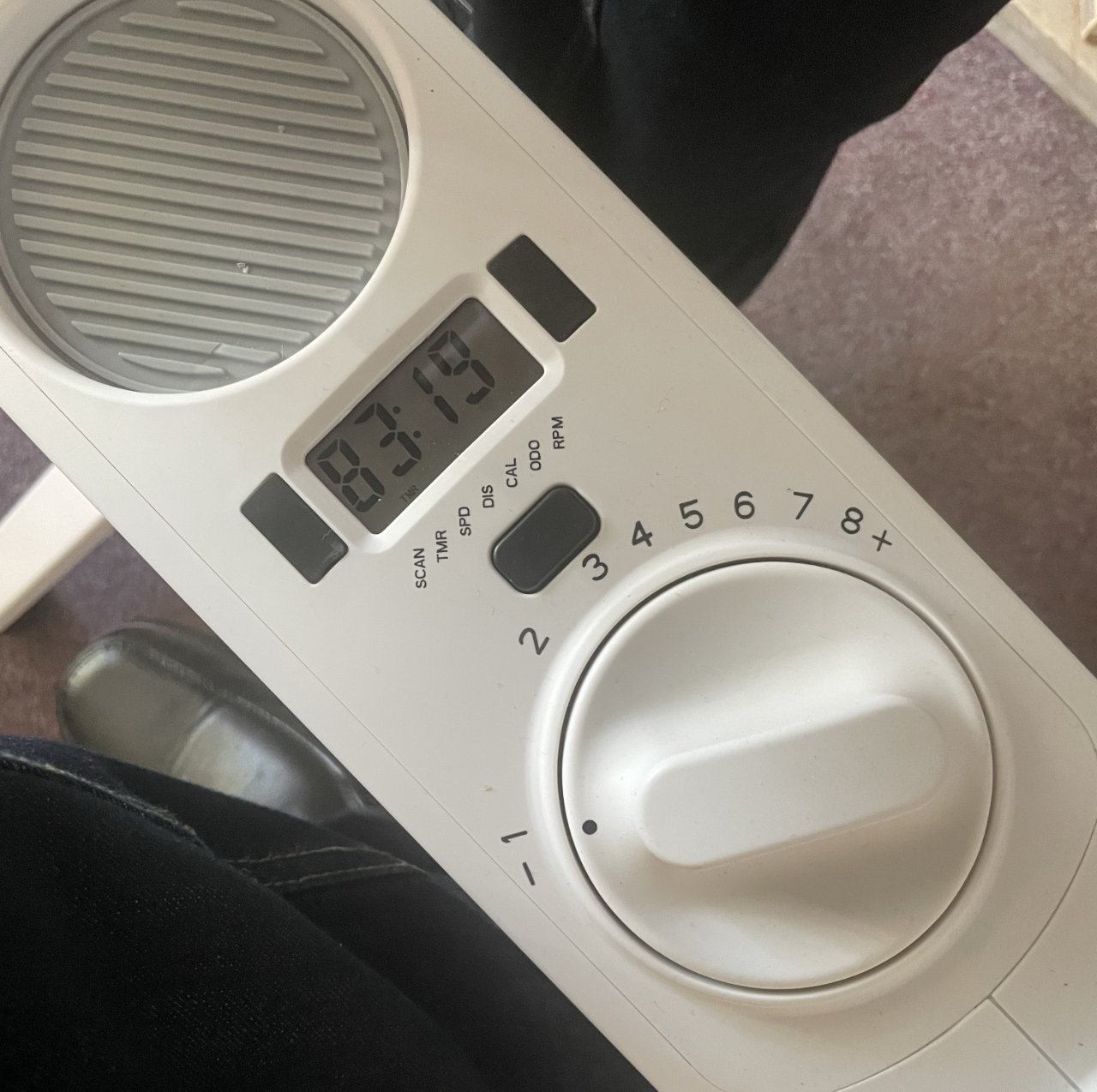 Okay, so it's still on the lowest setting. Give me a break.
But there is also a much happier, more satisfying readout showing time spent and so on.
There's a drink holder in front of the controls and readout, and I've not once used it. There is a rubber mat in it to keep a cup or water bottle steady, but I like the bike so much I don't want to risk spilling anything on it.
And I also like having a mug of tea afterward so much.
Design - construction
Flexispot ships in two enormous boxes, big enough that you regret not turning on a workout on your Watch when you're opening them. The bike itself and the separate desk attachment are not small, but they're more compact than you expect.
They can also be adjusted down when you're done, so that seat and desk are in their lowest position for storage. You won't do that, though, because both seat and desk attachments are firmly held enough that once you get it where you want, you'll leave it.
The bike sits on four small wheels the size of a typical desk chair. They're positioned out from the sides of the bike for balance, and you're not going to budge them when you pedal.
Yet you are quickly going to move them when you want to put the bike away somewhere.
Turns you into an exercise fan
If this sounds like an unqualified hymn of praise for the Flexispot Deskcise Pro V9, it is. And it is all said with the enthusiasm of a convert.
At a stretch, I can say that it was tricky finding the proper heights for me with the desk and seat. The desk can move toward or away from you particularly easily, but for height, I felt I had to tug and wrench at both it and the seat.
There were positions I tried out where I would bang my knees against the underside of the desk. And now that it's set just right for me, I have to clamber onto it, then slide off again at the end.
All of which is more a criticism of my legs and lack of spatial awareness.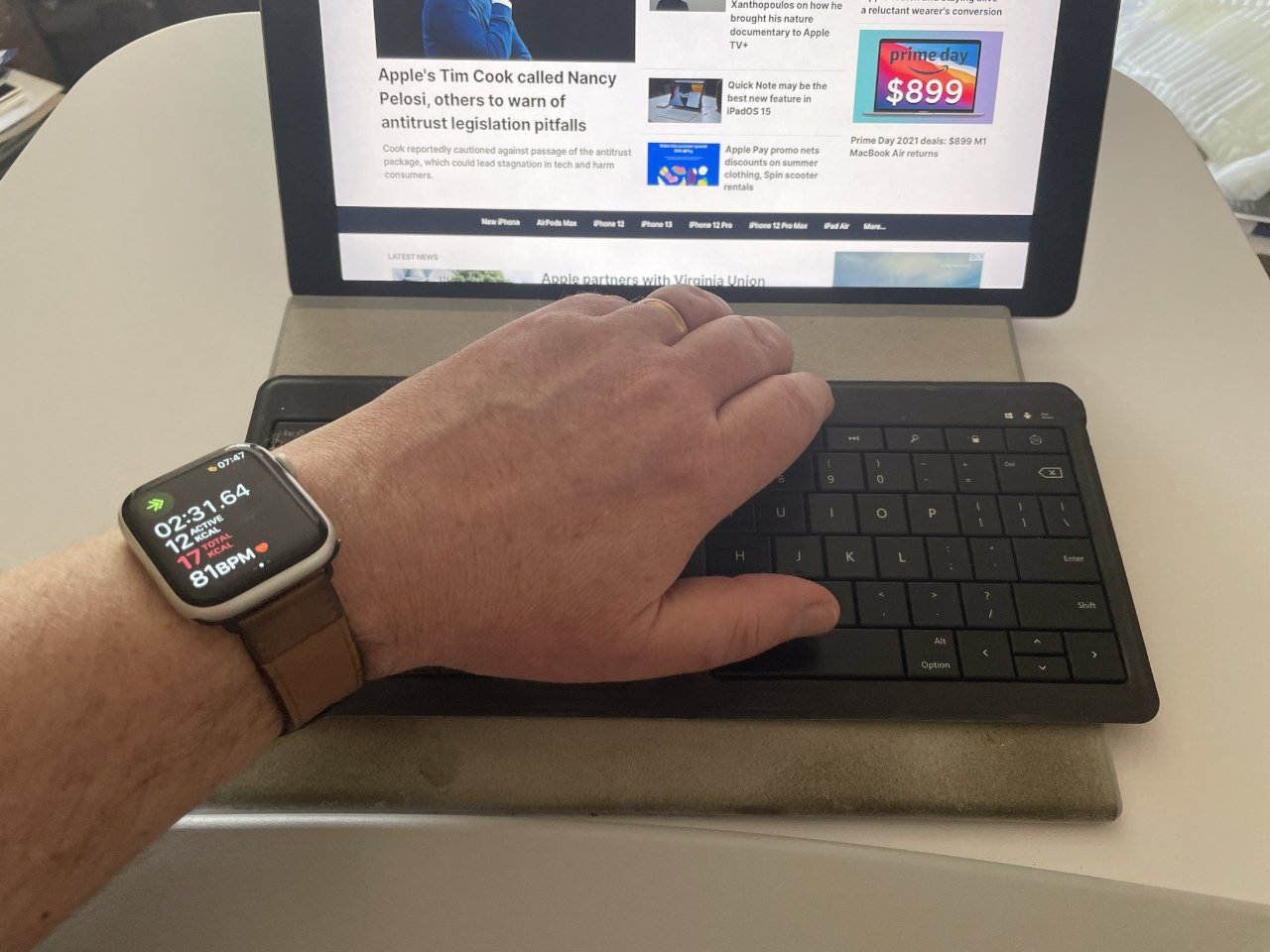 The optional extra desktop is small but big enough to work on. Notice the palm rest at the base of the desk, and my exhaustive exercise timing on the Apple Watch
Should you buy
In the US, the main bike part usually costs $349, although it's sometimes on sale for $299. With the separate desk top, it's $449.99 (or $399.99 on sale). So it's not a casual purchase.
That's especially true since, with any piece of exercise equipment, there is also always, always the risk that you'll only use it the first day you get it.
However, that's precisely the reason I am so keen on this. I did use it the first day but then also the second, third, tenth... If you're at all like me, the idea of an exercise bike doesn't appeal to you. Yet, the ability to exercise while you work, to exercise without truly noticing that you're exercising, that appeals a lot.
Don't get it for the option of solely being an exercise bike. You'd probably be better off getting an actual bike and riding that.
Do get it if you already have a standing desk because even if you have to raise that to its highest position, the combination works well.
I don't have a standing desk and don't particularly want one. However, I'll very often do 12 to 15 hours a day working at my regular desk, and while that means standing up would be exhausting, it does also mean I really need exercise.
And now I'm getting it on this Flexispot bike.
Pros
Addictive
Easy to set up
Sturdy
Optional desk is a boon
Ability to position it under a standing desk
Cons
It's exercise gear
Not light
Quite large
Rating: 5 out of 5
Where to Buy
The Flexispot Deskcise Pro V9 is available on Amazon and direct from the
company's US website
. The unit sent to
AppleInsider
was supplied by the
company's UK division
, where the bike is $399.99 without the desk, $449.99 with.