Man arrested for 2020 Bitcoin-doubling scam that hit Apple's Twitter account
A 22-year-old UK citizen has been arrested in connection with a 2020 hack that promised a doubling of Bitcoin promised through high-profile Twitter accounts, including Apple's.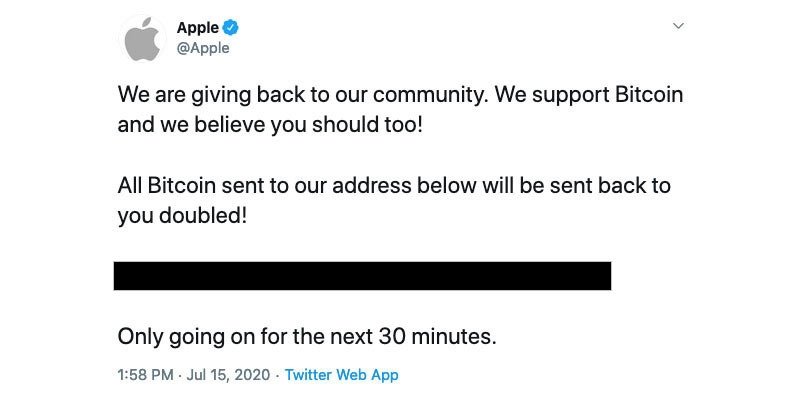 A screenshot of the Twitter hack affecting Apple's account.
The Department of Justice
said that
Joseph O'Connor was arrested by Spanish authorities on Wednesday in Estepona, Spain. U.S. officials had sent a request for his arrest, as O'Connor is being charged by a criminal complaint filed in a U.S. federal court in California.
O'Connor is being charged with multiple charges, including three counts of conspiracy to intentionally access a computer without authorization and obtaining information from a protected computer and two counts of intentionally accessing a computer without authorization and obtaining information from a protected computer.
The hack
occurred on
July 15, 2020, and affected more than 130 Twitter accounts belonging to companies, celebrities, and politicians. As part of the scam, the attackers posted messages on those accounts asking followers to send Bitcoin to a specific cryptocurrency wallet under the pretense that double the amount would be sent back.
In addition to being charged with counts related to the Twitter hack, O'Connor is also being charged with intrusions related to takeovers of Snapchat and TikTok accounts, as well as cyberstalking a juvenile.
The FBI San Francisco Division is investigating the case, along with the IRS Criminal Investigation Cyber Unit, the U.S. Secret Service, and the Santa Clara County Sheriff's Office.
Multiple people have already been arrested in connection to the cyber attack, including a
16-year-old
from Massachusetts and a
17-year-old
from Florida.
Bitcoin ledgers indicated that people responding to the scam sent a total of 12 Bitcoin, worth about $140,000 at the time. The attackers also accessed the private direct message inboxes of up to
36 high-profile accounts
.
In March, one of the teenagers arrested in the scam agreed to
three years in prison
in a plea deal.
Read on AppleInsider