Harber Magnetic Envelope Sleeve review: sturdy, flexible protection for the iPad Pro
Harber's series of leather cases now includes a strong, appealing Magnetic Envelope Sleeve that's officially for the
iPad Pro
, but can be bought for all current iPads.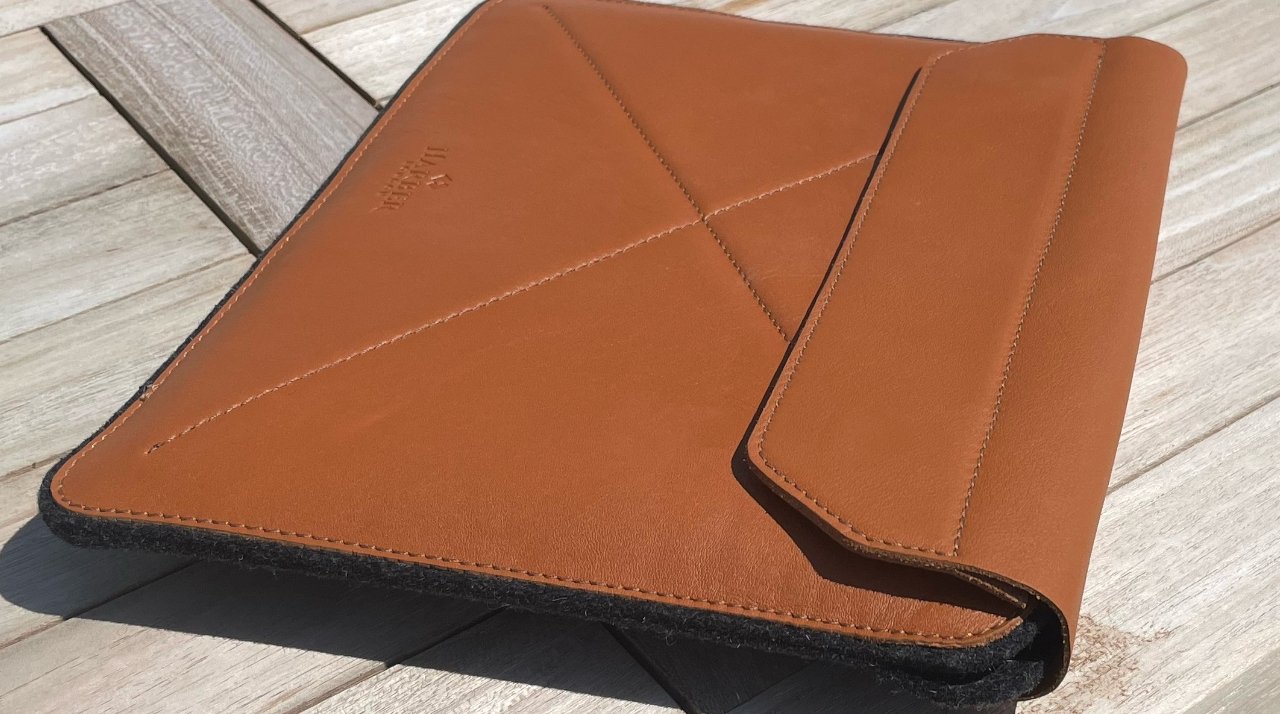 Harber Magnetic Envelope Sleeve for iPad Pro
It's called a Magnetic Envelope Sleeve for the iPad Pro, but really it comes in versions for all iPads. And while it is a strong, durable envelope kind of case, it comes with enough capacity that you don't necessarily have to replace it when you update your iPad.
For instance, the model provided to
AppleInsider
is officially for the 2019/2021
iPad Air
. That fit perfectly, leaving just enough room for a slim external keyboard, and also an iPad cleaning cloth.
However, exactly the same was true when swapping to an
11-inch iPad Pro
. The envelope doesn't feel as if it's in any way loose or not hardwearing, yet this one model could take the iPad Air or the 11-inch iPad Pro readily.
And then it could take the 11-inch iPad Pro with an Apple
Magic Keyboard
. That did, though, fill up the space entirely. Harber does offer different sizes, and there is one that will take the
12.9-inch iPad Pro
with Magic Keyboard.
Design - materials
The Magnetic Envelope Sleeve has a hand-stitched front and flap, made from what the company calls Full Grain leather. It's attached to a softer, 100% Dense Wool Felt, with a single piece comprising the back and interior.
There are no extra pockets, but the folding flap contains a holder for an
Apple Pencil
. This flat also contains two pairs of magnets, not visible from the outside, which form the seal.
In use, those magnets are more than strong enough to make a satisfying seal, with a clear snapping sound as they attached. They can also unexpectedly attach to the iPad if you're not careful when placing that on top of the case.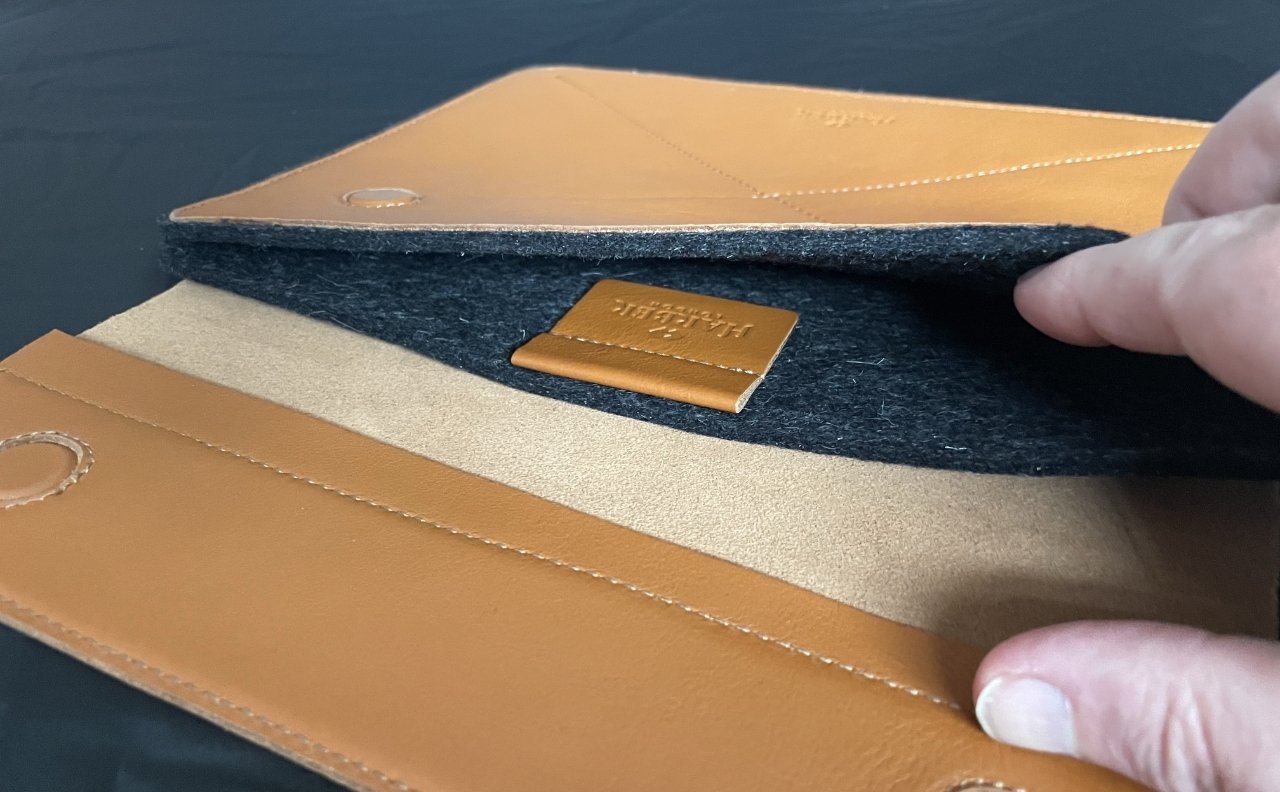 Interior with Apple Pencil holder
There's a small cutout to one side in the back piece of material. It allows a Lightning or USB-C cable to be connected and so charge the iPad or iPad Pro while in the case.
Similarly, the top of the sleeve has a small cut to both left and right, which makes it flexible when putting an iPad inside. But it also makes it easy to access the USB-C charging port on Apple's Magic Keyboard.
Design - options
The Magnetic Sleeve is available in tan or black. In both cases, the wool back remains the same, and it is solely the leather front that changes.
Optionally, you can have laser engraving. This can be text or an image file you can upload, and the engraving is done on the flap of the sleeve.
Harber officially sells this sleeve in eight variations, or at least that's what it offers on the order page. In practice, those eight include ones for iPads with the Smart Keyboard or the Magic Keyboard.
Given how the iPad Air one we tested could certainly take anything from an iPad mini to at least an 11-inch iPad Pro, though, the sizes may not be too constricting. The 12.9-inch iPad Pro model would likely need you to select that size option, and the iPad mini would inevitably rattle around a bit.
But otherwise, it's as close to one size fits all as can be. And that's therefore very usefully reassuring after you buy, because you know you've at least got some room to upgrade.
Limited protection
Harber describes this sleeve as being for avoiding bumps and scratches. That feels like it's underselling the sleeve a little, though, as this is a sturdy, well-made item.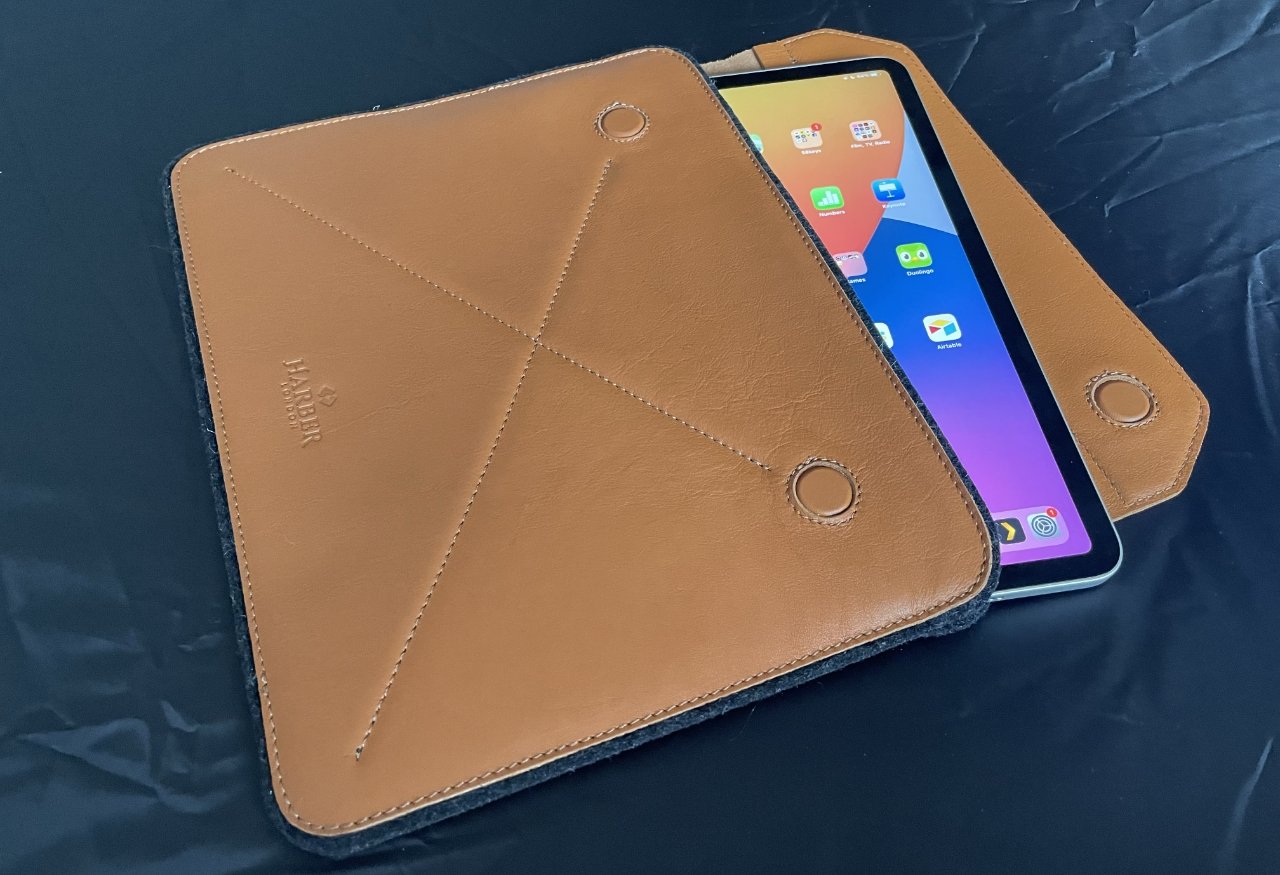 Harber Magnetic Envelope Sleeve with iPad Pro
It doesn't, though, have any extra protection for the corners of an iPad. Those are the most vulnerable parts, so it's true that this isn't an extra-rugged protective cover.
Nonetheless, it's a pleasure to use. It feels solid enough with just an iPad in, but with an iPad Pro plus Magic Keyboard, it's firm without seeming to add much weight or heft.
Should you buy
Yes. The combination of quite reassuring protection and flexibility over which iPad you use makes this a good buy. It's also desirable in how very well made it is, and for the handmade nature, plus the leather material, the price of $127 is reasonable.
You have to think about what something is worth to you at the point of purchase, and $126 to protect an iPad is more than some rivals. There's also that important issue that the corners of the iPad get no extra protection.
But the fact that this sleeve could outlast your current iPad makes it good value.
Enough with the economics and the practicality, though, this Magnetic Sleeve is also just excellent. Strong, light, attractive, it's a fine piece of work and we appreciated its quality every time we took out our iPads.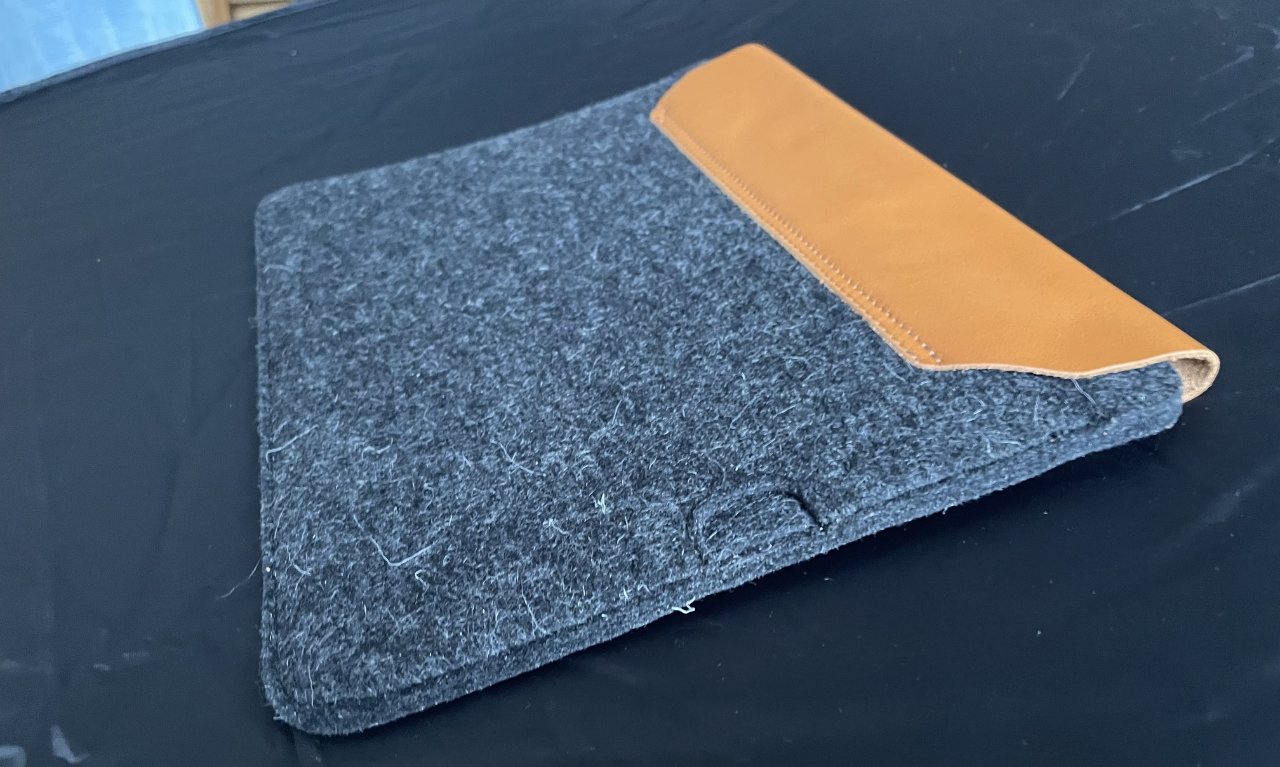 The rear and interior are made from dense wool.
Pro
Flexible on which iPad it can take
Has room for Magic Keyboard
Or slim, small external keyboards
Sturdy even when empty
Looks and feels great
Cons
iPad can stick to the case magnets
No extra padding on the corners, where an iPad is most fragile
Rating: 4.5 out of 5
Where to buy
You can get the Harber Magnetic Envelope Sleeve for iPad Pro
directly from the manufacturer
where it costs $127.
Read on AppleInsider