Hands On: Glass is an iOS app to bring photographers together
Posted:
in iOS
edited August 2021
Glass is an
iOS
app that aims to rekindle the feeling of an early Instagram by being a photo-sharing app designed for photographers. While it is early in its journey, the app seems to be starting strong.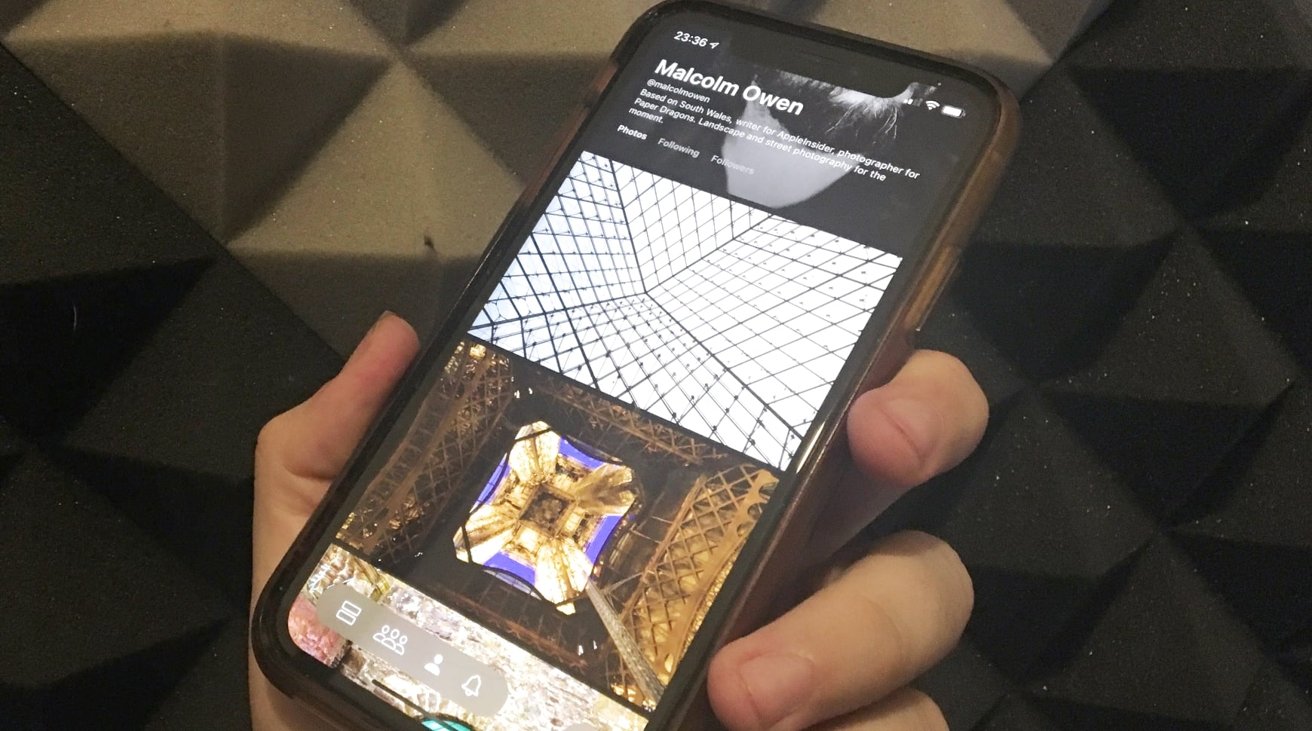 In the early days of Instagram, the Facebook-owned social app was seen by photographers as a way to share images. As time passed, Instagram became a more video-focused service, one where photographers could find themselves competing against influencers and people following social media trends.
With the greater use of video and an attempt to go after TikTok with its Reels feature, Instagram
decided in July
that it would carry on along the video path, potentially at the detriment of photographers.
"We're no longer a photo-sharing app or a square photo-sharing app," said Facebook's Instagram chief Adam Mosseri. "People are looking to Instagram to be entertained, there's stiff competition and there's more to do. We have to embrace that, and that means change."
The declaration indicates that browsing Instagram to see great photos may not be a significant element of the app for that much longer. For photographers and those who want to appreciate the art of photography they will probably have to look elsewhere.
One of those directions could be
Glass
.
Photo-focused
Launched in August, though in development for over a year, Glass is an iOS app that bills itself as a "distraction-free home for photographers." It's an app that puts images and photography first, rather than engagement, while including social elements without algorithmic assistance.
In short, it's a simplified early-days Instagram, crossed with Apple-style assurances.
The sign-up flow can easily express the simplified nature of the app. Once you have created an account with Sign In with Apple and elected to either pay for access or sign up for the free trial, you add a profile picture, select a few photographers from within the community to follow, and decide whether or not to enable notifications.
Right after that short list of instructions, you're presented with an image feed of the photographers you have selected to follow. All of the images are nice and big, with only a tiny interface at the bottom of the screen.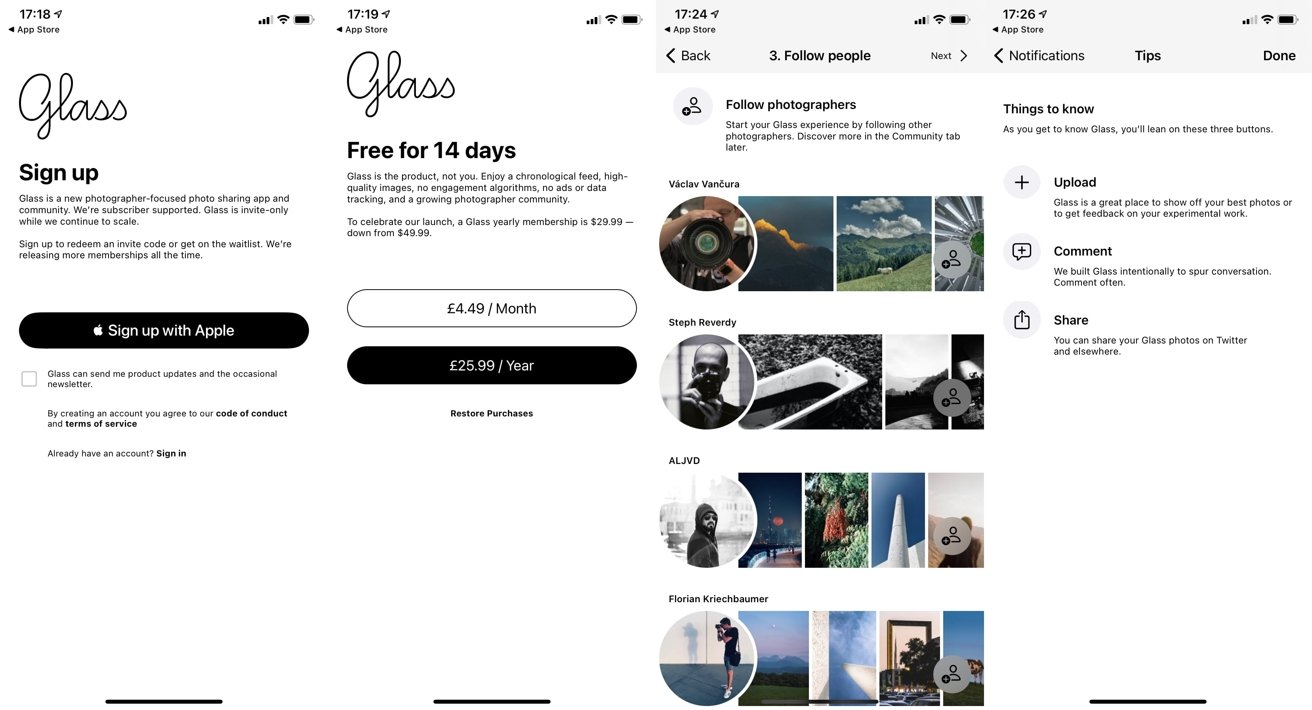 The Glass signup process is straightforward, and tells you that there's a subscription due after the trial.
If you tap the inviting plus icon, you can share an image from Photos to the service, just like many other apps. This is very useful for
iPhone
photographers but less so for those who use separate DSLRs or mirrorless cameras, as favored by many professionals.
You can upload images from other apps and services, such as Lightroom Mobile, but you have to share it within that app's share sheet to import it into Glass, rather than within the app itself. This isn't immediately obvious, but the option is available.
On submitting an image, you can set a caption for it, which is to be expected. However, you can't apply hashtags to image descriptions nor use SEO or similar techniques to make the images more viewable by using keywords. It's just text that goes with the image.
Anyone viewing the image in the app can see it in high quality and in fullscreen, along with your name, the description, and some EXIF data. This includes the type of camera used, the focal range, aperture, shutter speed, ISO, and when and where the image was taken.
You don't typically get that data from a service like Instagram unless the user included it in the caption.
Social, but not too much
For a social app, there are some obvious elements it offers, including a feed showing recent images from photographers you've followed, a tab to search for other photographers to follow, your profile page, and a notifications tab. You can post comments on other people's images as well.
These seem like the essential functions that a social app requires to function, though it does have its limitations.
For example, while the app provides a list of photographers on the community tab to browse through, there is no rhyme or reason for why the app selected some to appear first. Searches in the tab can be used against photographer names but not against content, so hashtags have no power.
Your feed is chronological rather than based on what an algorithm thinks you want to see.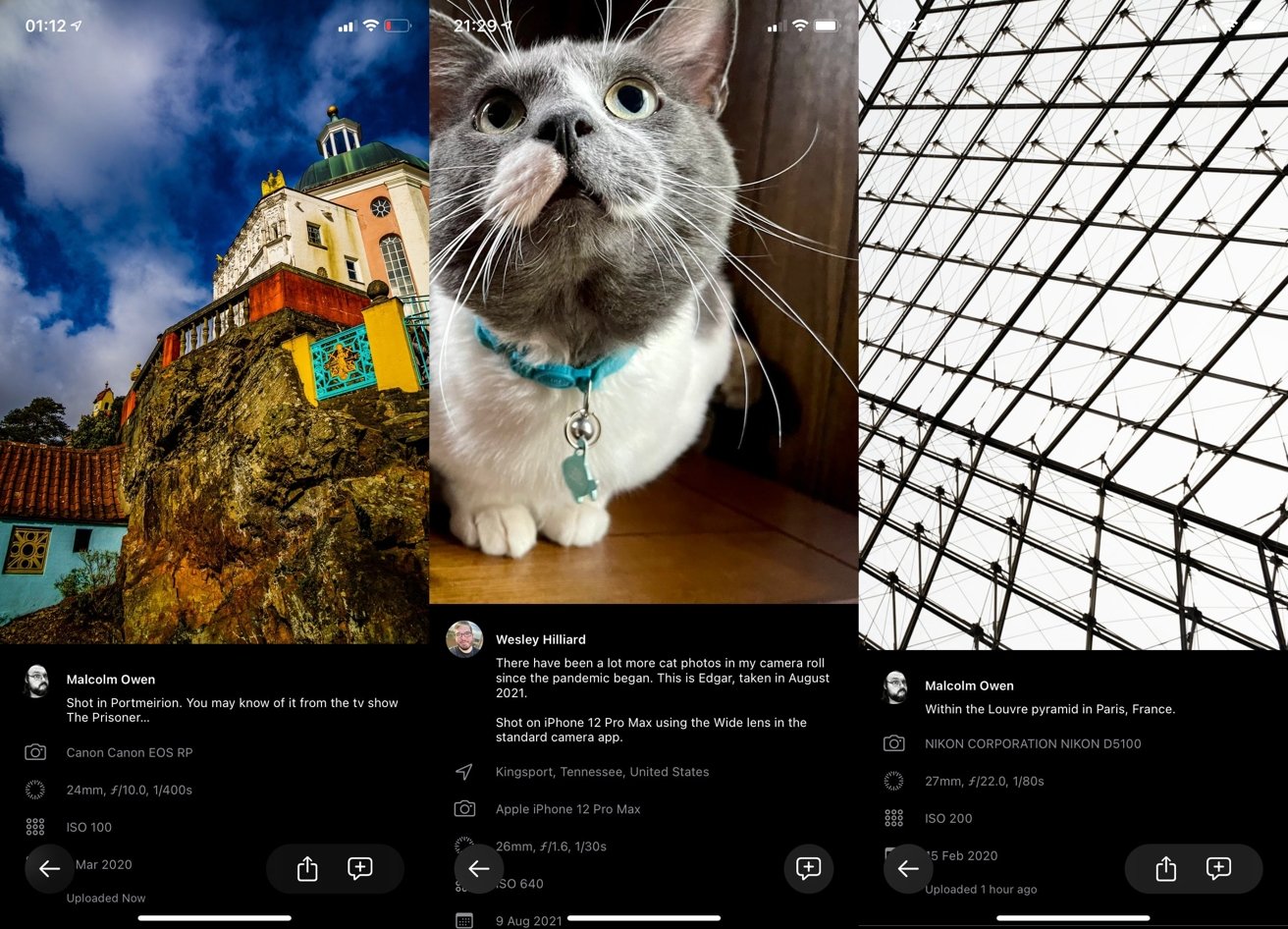 You can view images in fullscreen, as well as see EXIF data.
You can also share images
you've posted
on Glass for yourself via other social media platforms, with photographs opening up in a web browser in high quality, complete with EXIF details, and a link to join Glass. However, others viewing images this way cannot respond unless they are also on the same app.
A lot of this is by design, as Glass is keen to stress it isn't the same type of app as Instagram, with repeated assurances users won't be "manipulated by algorithms." There are no advertisers to suddenly crop up in your feed either, which should appease those fed up with seeing Amazon product carousels while scrolling.
Glass also touts its privacy and security, with user data not being tracked and sold on to third parties because the app claims it doesn't do that sort of tracking at all. User data can also be downloaded at any time, with a relatively straightforward account deletion process available if you don't want the account anymore.
The privacy even goes as far as only allowing users to share their images on other social network platforms. There are no tools offered for sharing anyone else's image through social media, which can undoubtedly help a photographer keep their posts away from the public at large.
While you can comment on images posted by others and reply to comments, too, there's no private messaging at all. You can't "slide into the DM's" of someone else, but then again, there are countless other ways to get in contact with another photographer.
A small, cultured collective
The app presents itself as a photographer-friendly community for sharing ideas and improving the craft. This is obvious from the way the app presents itself, with an image-heavy appearance and a privacy-focused agenda, but it's also something it hopes to create via other measures it has put in place.
Members have to agree to a code of conduct and terms before being allowed on the service, while the inclusion of blocking and reporting tools from the start may help alleviate worries about abuse.
You also have to know someone to get into the app. You can sign up and wait for an invitation to be provided by the developers, but if someone else on the service gives you an invite code, you can jump the queue to get it.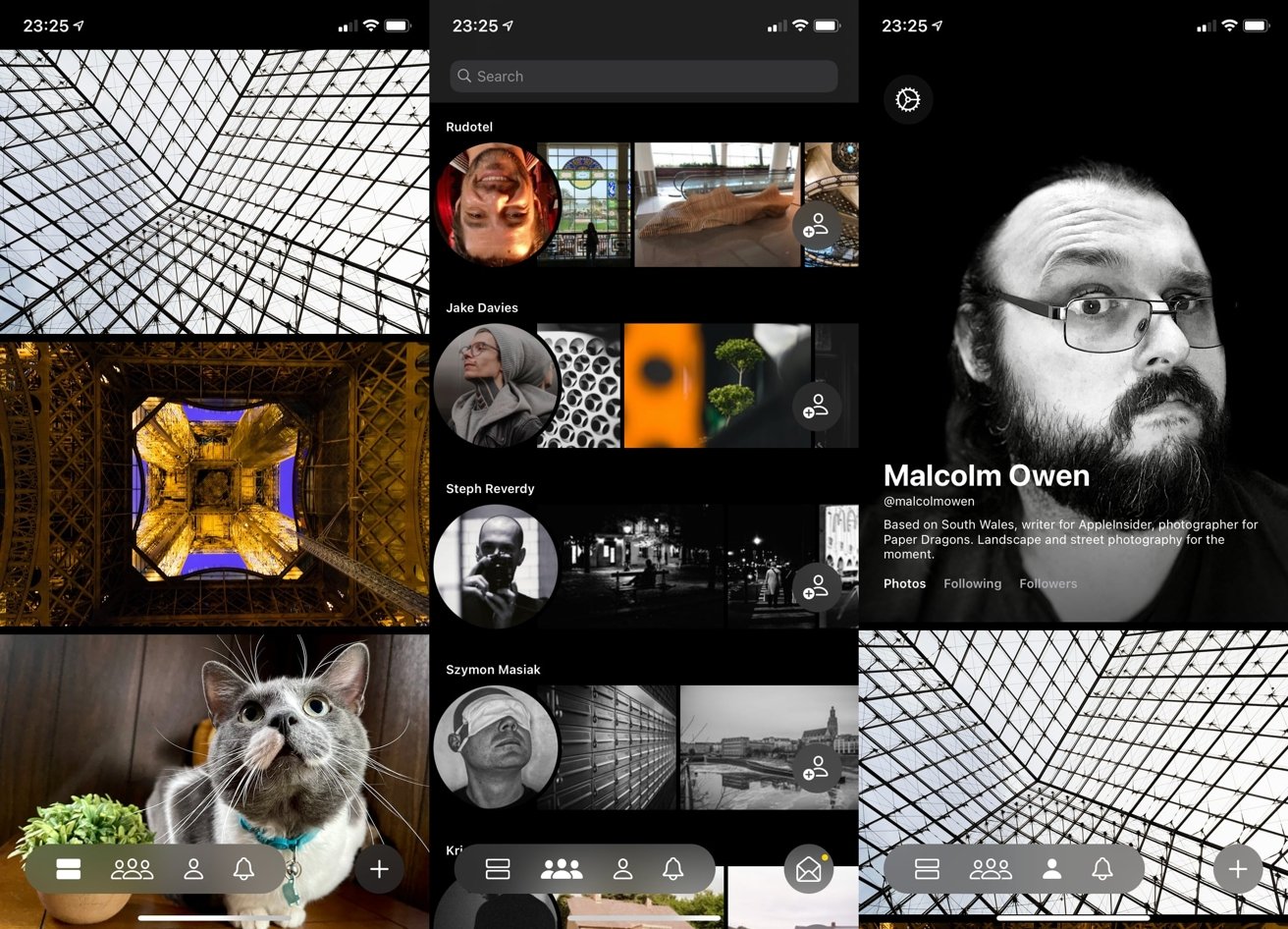 Glass' UI is simple and functional from the start, though that could change as the app grows.
This is an excellent way to keep the community on-topic rather than becoming a free-for-all. Still, arguably the most significant reason it may limit its audience to photographers is that it's not a free app. After a 14-day trial, users can pay $4.99 per month or a yearly $50 subscription to retain access, though the annual plan is currently $29.99 for launch.
The paid element creates a hurdle, one that allows people interested in the app to have a peak during a trial but truly tests whether they want to be in the community when it becomes time to actually pay for access. The charge isn't huge, but it's probably enough to fend off people wanting to cause trouble and to keep the service restricted to those who want to participate.
Early days but a good start
At this early stage in the app's existence, it's evident that a lot of work and care has gone into its creation. The app's design is at a high level, and features are well thought out, especially regarding security and privacy.
In trying to become a social app for photographers, it certainly matches the brief while also putting in a lot of effort to avoid becoming a data-hungry social network that relies too much on the almighty algorithm to function.
It's not without its teething issues, such as the quite limiting invitation system and the lack of being able to search for content. While it's nice to search for photographers by name, adding some form of image tagging capability is undoubtedly a step towards Instagram's territory, but one that could be necessary.
Those looking for inspiration may want to search for street photography, or studio portraits, or simply cat photos so they can see what others have done. This is not possible with the app in its current form, but it's entirely possible the developers could introduce something like that in the future.
It's still very early days, both for its attempt to form a community and in extending its list of features to further service photographers. Even so, Glass looks like a promising proposition for those keen to improve the images they can create.
Glass
is free in the iOS
App Store
, with monthly and yearly subscriptions of $4.99 and $29.99 respectively, following a 14-day trial. It requires an iPhone or iPod Touch running iOS 11.0 or later, and is rated 12+.
Read on AppleInsider