Apple Maps 'Ratings and Photos' feature debuts in US [u]
Posted:
in iOS
edited August 2021
Apple this week began a U.S. rollout of a new
Apple Maps
feature that lets users provide ratings for businesses, points of interest and other notable locations.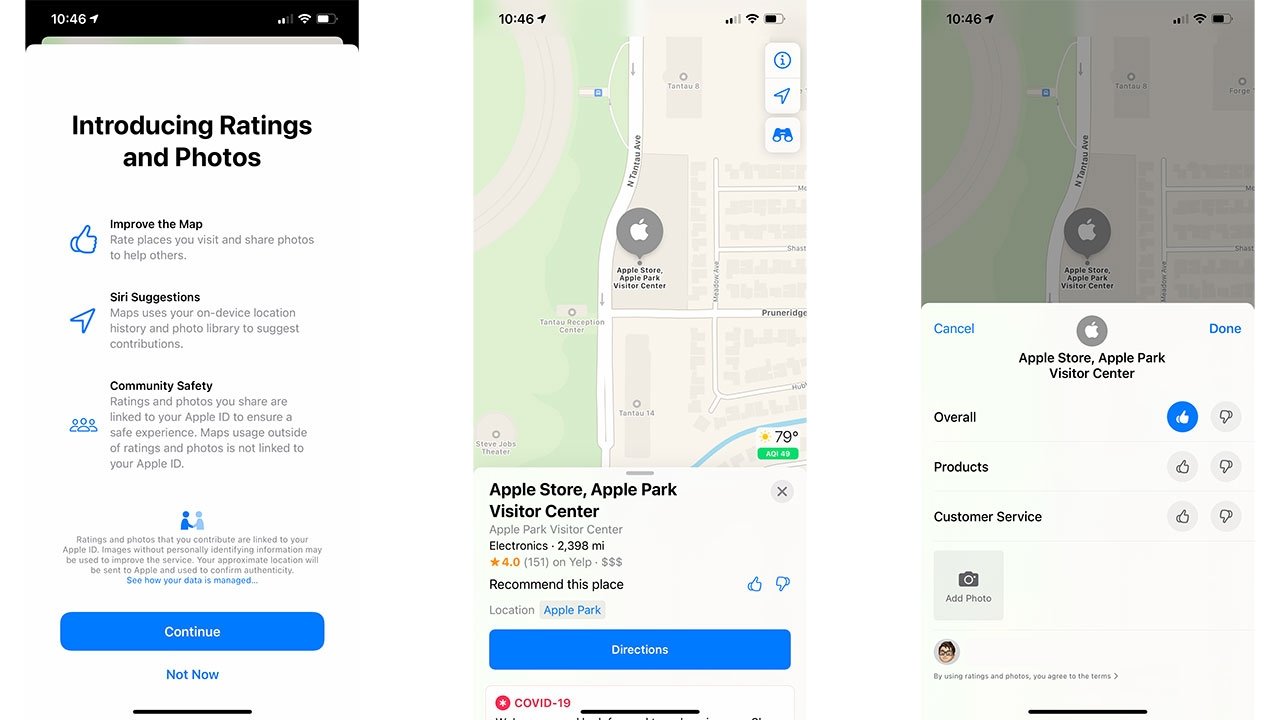 Dubbed "Ratings and Photos," the feature could one day replace or serve as an alternative to Yelp, a third-party rating and review service that currently provides Apple Maps users with at-a-glance star ratings and reviews when browsing Maps listings.
Apple's system utilizes a "thumbs up/down" method of providing feedback across a number of categories that vary depending on business or location. For example, users can rate products, customer service and overall experience at the Apple Park Visitor Center in Cupertino, Calif., a dual-purpose facility that also acts as a retail outlet.
Users can also upload photos to be displayed alongside ratings, though Apple's system does not include support for text reviews.
As noted by
MacRumors
, which
reported
on the feature addition on Monday, other rating categories include food quality, atmosphere and more. A total of three categories are typically offered up for ratings per location.
The option to rate with Apple's built-in system appears in a POI's informational section below large interactive buttons to request directions and perform other actions. The row also provides up-to-date data on opening hours, cost, distance from current location and "good to know" information like wheelchair accessibility. Ratings also show up prominently on other Maps cards.
While the option to deliver ratings is now live in many regions across the U.S., the ratings themselves cannot be readily accessed individually. Personal recommendations and photos are linked to an Apple ID and can be viewed by the poster, but the information is not viewable by other Maps users.
Users in other countries where Apple Maps ratings are available are seeing the same behavior. In April, Ratings and Photos
launched in Japan
with identical thumbs up/down classifications and the ability to add photos of businesses and POIs. As of this writing, that information can only be viewed by original posters.
Apple says ratings are used to improve Maps, suggesting the data is being leveraged to surface high quality results when conducting searches and generating Siri recommendations. For now, photos are provided by third-party services like Yelp, FourSquare and TripAdvisor.
Update:
Apple Maps is showing some photos uploaded through the Ratings and Photos system in the U.S., according to
AppleInsider
readers.
Read on AppleInsider