Apple Podcasts gains SiriusXM 'Marvel Podcasts Unlimited' channel
Marvel fans can now tune in to Apple Podcasts to hear brand new exclusive audio content geared around their favorite superheroes and villains.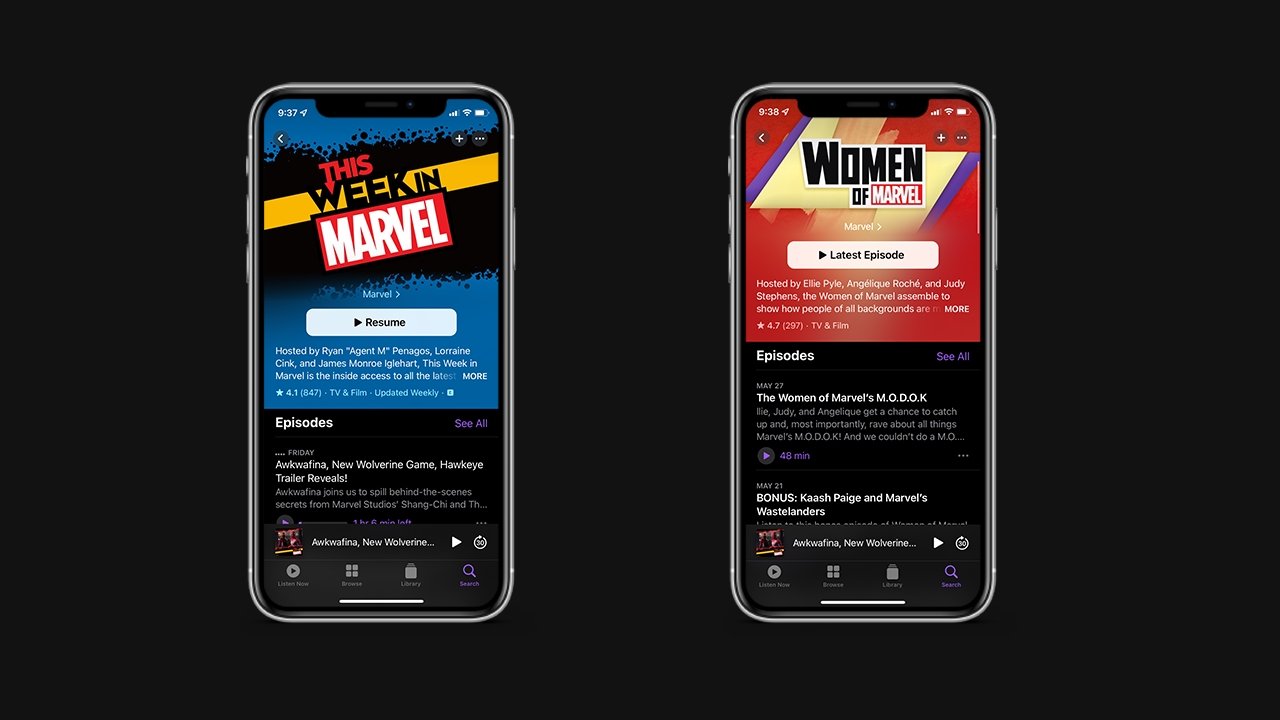 On Tuesday, SiriusXM, alongside Marvel Entertainment, launched a brand new premium audio entertainment subscription geared toward Marvel fans worldwide, available exclusively through
Apple Podcasts.
Listeners can tune in for early and exclusive access to scripted and unscripted podcast series from Marvel, featuring fan-favorites like Wolverine, Star-Lord, Black Widow, Hawkeye, and Doctor Doom.
There are two tiers available to fans. The free tier allows fans to listen to popular Marvel + SXM Podcast original series such as "Marvel's Wolverine: The Long Night" and the sequel "Marvel's Wolverine: The Lost Trail." Also available is "Marvel/Method," an unscripted series where actor and rapper Method Main interviews celebrity guests about all things Marvel, "This Week in Marvel," and "Women of Marvel."
The premium tier, dubbed
Marvel Podcasts Unlimited
, unlocks access to exclusive programming, including "Marvel's Declassified," a documentary series that explores the history of Marvel Comics, and early access to Marvel's first Spanish-language "Marvel's Wolverine: La Large Noche" -- an adaptation of "Marvel's Wolverine: The Long Night."
On October 4, Marvel Podcast Unlimited subscribers will receive early access to the first two episodes of "Marvel's Wastelanders: Hawkeye." Upcoming series, such as "Marvel's Wastelanders: Black Widow," Marvel's Wastelanders: Wolverine, and "Marvel's Wastelanders: Doom" will also be available to subscribers in the future.
Marvel Podcast Unlimited is available as a paid subscription exclusively through the free Marvel channel on Apple Podcasts for $3.99 and comes with a free seven-day trial.
Read on AppleInsider