iPad used for bogus Walt Disney World tours in the Apple Crime Blotter
Federal indictments for multiple SIM-swapping conspiracies, Uber driver sues over iPhone seizure by police, and a botched iPhone sale leads to "malicious wounding."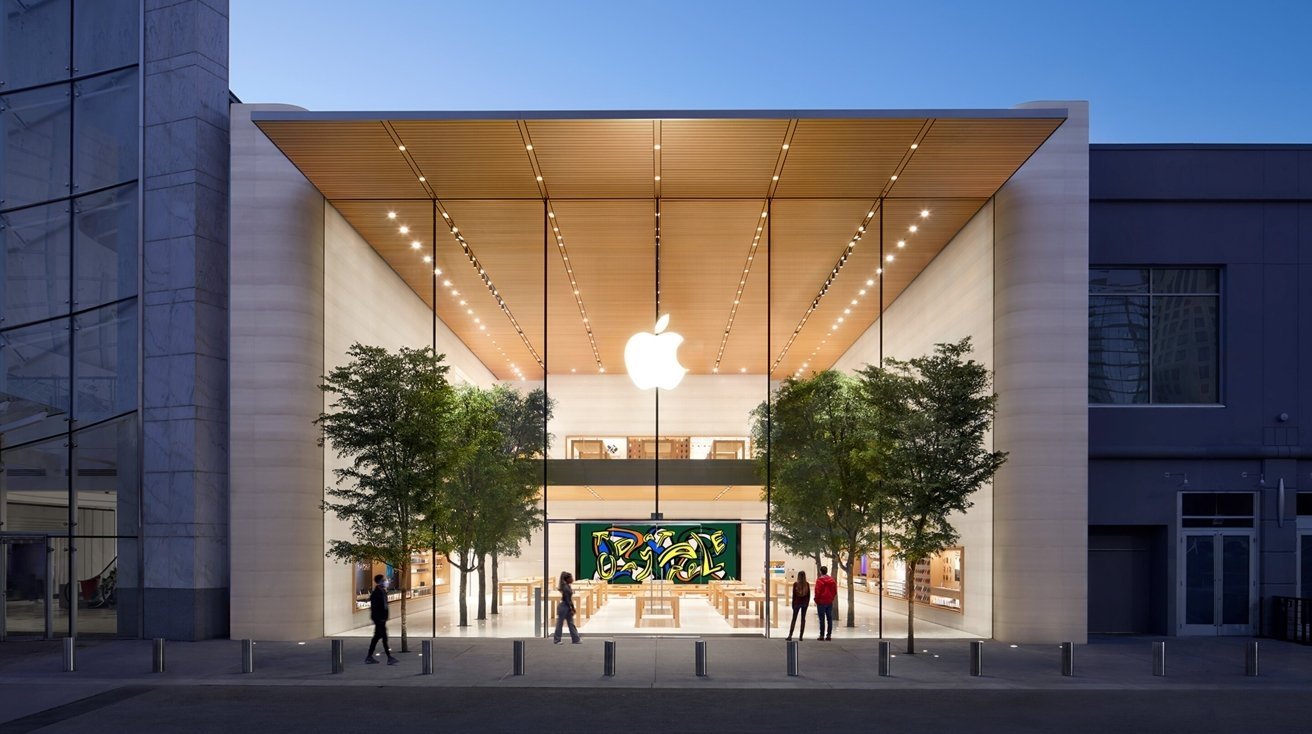 The Apple Store at Lenox Square in Atlanta
The latest in an occasional
AppleInsider
series, looking at the world of Apple-related crime.
Man accused of using stolen iPad for Walt Disney World tours
A man was caught trespassing
after he used
a stolen iPad to conduct tours at Walt Disney World's Hollywood Studios in Orlando. According to
WESH
, Disney employees discovered the iPad had been used to override reservations on an internal app, which the man had apparently been using to skip to the front of ride lines.
The bogus tour guide was caught when a Tickets and Resort Fraud investigator at Disney World saw him "giving an unauthorized tour within the park and leading the group into a line of one of the rides."
More than 100 indicted in international cell phone trafficking conspiracy
A federal indictment in Texas has
charged 101 people
in a "cell phone trafficking" conspiracy, which began with a series of robberies of AT&T, T-Mobile, and Verizon stores throughout the Dallas area. The perpetrators, the indictment said, later sold the stolen goods overseas.
The operation, per the U.S. Attorney's office for the Eastern District of Texas, was centered on a Texas retail store called Global One Wireless, and also included SIM-swapping, fake identities, and other methods, such as the use of "compromised store employees."
Charges in the case include conspiracy to interfere with interstate commerce; interference with interstate commerce; use or brandishing of a firearm during a crime of violence; conspiracy to transport stolen property in interstate commerce; mail fraud conspiracy; wire fraud conspiracy; and money laundering conspiracy.
The U.S. Attorney's announcement did not specify the brand of phones, but a separate
Fort Worth Star-Telegram
story said that in the
store robberies
, "suspects gained access to store safes for new Apple iPhones."
Man charged in SIM swap scam involving iPhones
A California man was charged in late August with a four-count federal superseding indictment for his part in a SIM swap scam involving several iPhones that targeted about 40 people, according to an
announcement
by the U.S. Attorney's office for the Eastern District of Louisiana.
The man who was charged is accused of defrauding Apple after he told the company he had not received an iPhone 8 that had been ordered. The man and his co-conspirators, the announcement said, "then arranged for victims' telephone numbers to be swapped to SIM cards contained in cellular phones in their possession, including the Apple iPhone 8," later doing the same with nearly 40 other phone numbers.
Foreign national sentenced for AT&T unlocking scheme
In more news from federal prosecutors, a man who is a dual citizen of Pakistan and Grenada was sentenced to 12 years for his role in what the Department of Justice
described
as "his leadership role in a seven-year scheme to unlawfully unlock nearly 2 million phones to defraud AT&T."
"Cellular phones such as iPhones cost hundreds of dollars. To make the phones more affordable, during the relevant time, AT&T subsidized the purchase cost of phones or sold phones to customers under installment plans. Unlocking a phone effectively removes it from AT&T's network, thereby allowing the account holder to avoid having to pay AT&T for service or to make any payments for purchase of the phone," the DOJ announcement said.
Man whose lost iPad received selfies from the cloud is subject of podcast
An Arkansas man made news back in 2013 when he left his iPad on a plane. Soon after, he began received selfies, through the cloud, of the person who he said stole the device.
Now, the story of that iPad and its viral fame is the subject of an episode of a
podcast called Strangeville
, titled "The Reappearing Gnome."
Uber driver sues police over iPhone seizure
A Ghanian immigrant who worked as an Uber driver has sued the Worcester Police Department in Massachusetts after they
seized his iPhone
three years earlier. According to the
Worcester Telegram and Gazette
, the driver had been filming a local prostitution sting when police accused him of "interfering." At that point, they took his iPhone and kept it for six months.
The plaintiff has sued on civil rights grounds, claiming that police called him a "monkey" and "twisted his handcuffs so tightly he defecated after he refused to provide the phone's password."
Adult supervision now required at Atlanta mall that was the site of shooting near Apple Store
A few months after a
security guard was shot
near its Apple Store, Atlanta's Lenox Square Mall has adopted a new adult supervision policy.
Fox 5 Atlanta
reports the mall is
now requiring
anyone younger than 18 years of age to be accompanied by an adult after 3 p.m.
In the June shooting, in which the guard survived, the perpetrators were reportedly both 15 years old. The previous November, there was
a shooting
near the mall's Apple Store, on the very day the store had opened its doors after its relocation from another part of the mall.
Botched iPhone sale in Virginia leads to "malicious wounding"
A teenager in Chesterfield County, Virginia,
was slashed
with a knife in what police described as a cell phone sale gone wrong. According to
WTVR
, four teens met during an elementary school for an iPhone sale, but once one of them realized he had been tricked, he chased one of the others, who pulled a knife.
Police told the victim, who was hospitalized, that he had been a victim of "theft and malicious wounding."
Fake AppleCare number led to $3,000 fraud
A couple in Cleveland looking for
tech support
for their MacBook computers found an AppleCare number online that turned out to be bogus, leaving them to be defrauded out of $3,000.
Cleveland.com
reports it took the couple a few hours to figure out that they weren't talking to real AppleCare personnel- but not before they had paid out $3,000 across multiple means of payment.
Arrest made in hate crime assault in Brooklyn in which iPhones were taken
New York City Police have
made an arrest
in the attack on a gay man and his friend in early September in Brooklyn. According to
The Washington Post
, the man and his friend were "were stabbed with a screwdriver and a glass bottle" by a pair of assailants who made anti-gay statements. The assailants then took an iPhone and cash from both men.
The 31-year-old man who was arrested was charged with attempted murder and robbery, "among other violations connected to hate crimes."
Read on AppleInsider